Running in the city can be trail based at the best of times.
Whether you are following a trail the city has made specifically for runners, or just following your nose, being informed about these trails before you embark on them can be super useful and help you focus on your time and miles instead of the trivial things.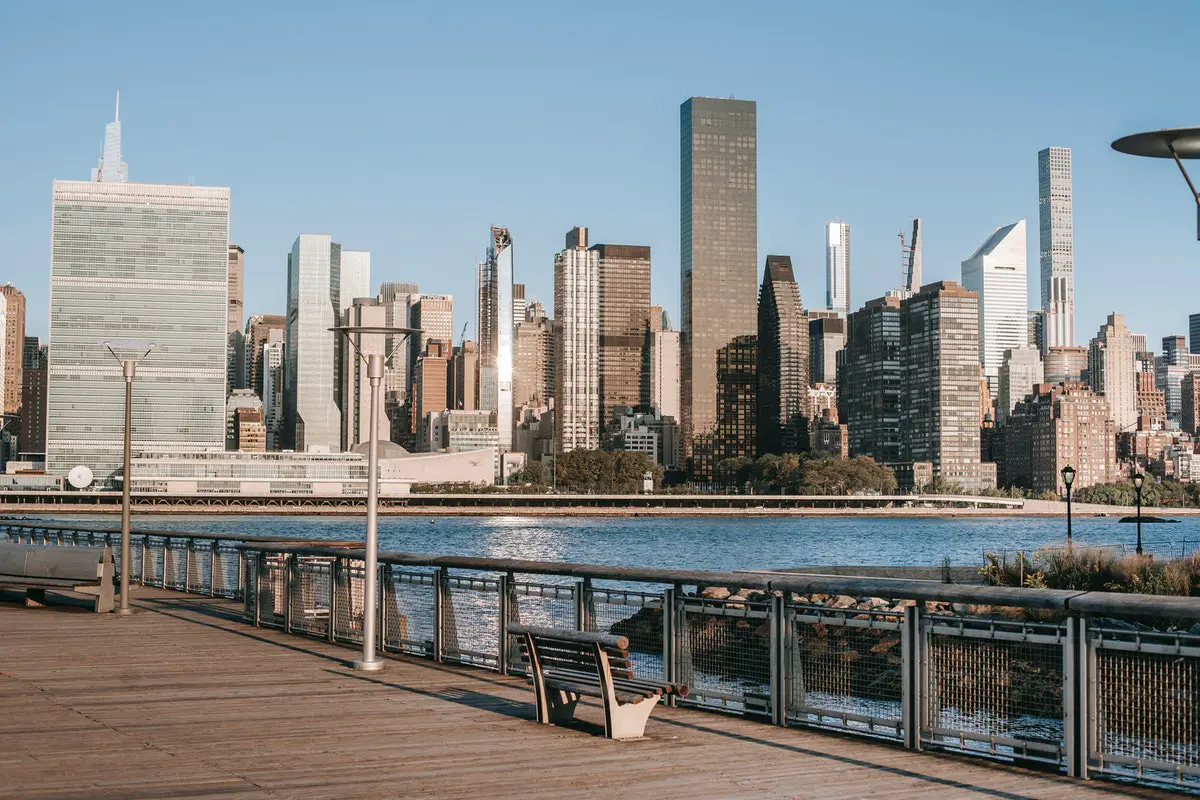 In this guide we're going to explore what you need to know about the East River Greenway trail. This is a great trail to run in the Big Apple.
But, it's broken down into segments, so it can do with a little explaining before you first embark on the journey this can at least prevent you from getting lost.
We also have loads of tips to help you run.
The Route
The East River Greenway, as you may expect, follows the East River of New York City. It begins at Battery Park and follows the East River to 125th Street in the Northern Quarter of the city.
The whole trail is around 9 miles with a mile gap between 34th Street and 60th Street. The gap is there to accommodate the UN headquarters as it can be quite busy.
Yet, there have recently been plans assigned to develop this gap as the rest of the Greenway is developed, making it safer for runners, especially at night.
Reports suggest that this development of the route will be achieved by 2024.
Battery Park To 34th Street
This leg of the run is around 4.5 miles.
The main parts of this route worth noting are the East River Waterfront and East River Park, you can see right across to the Manhattan Bridge as well as the Brooklyn Bridge, not to mention the amazing aquatic views of the East River.
As you move northbound you will encounter Kips Bay, Stuyvesant Cove Park, as well as some great skyline views including the Statue of Liberty.
Let the redbrick path lead you all the way to 34th Street where you will encounter the gap.
34th Street To 125th Street
This leg is around 5 miles. On this leg you will encounter the sights of East Harlem, the Carl Schurz Park and the Upper East Side.
There are some truly magnificent sights of the Northern tip of Roosevelt Island – look out for the lighthouse on the bay!
Get ready for bridge appreciation, as many of these waterfront trails entail, as you will see Randall's Island as well as Robert F. Kennedy Bridge as well as the Willis Avenue Bridge.
You can even run to Randall Island if you want.
All together this route can be around 10+ miles.
How Safe Is The Trail?
This trail is pretty safe, all in all. The running path is separated from the cycling paths so you don't need to worry about dodging bikers like you might in the city.
Moreover, there are no cars so the whole route, bar the gap in the middle, is essentially free ground to break.
At 10 miles, this route can be considered relatively far if you were to do it all.
For those inexperienced runners it may be best to see how you fare on the first leg, and continue onto the second if you can.
One way to keep running when you feel like you can't anymore is to simply take a break.
Running isn't always about getting the best time, sometimes it's about reading the signals from our bodies and knowing when rest can ultimately lead to endurance in the future.
The gap in the middle of the run is a great place to stop and recoup.
If you have never got past this point before, we suggest you should try having a 15 minute rest, re hydrating and then try the second leg.
This rest could be what you need to push further forward on your run.
Soon enough you may find yourself running straight past this gap and onto the next leg without a rest before you even realize you have done it.
Running is all about endurance training, so this is another way to stop yourself getting cramps too!
One great way to avoid cramping and run further for longer is to make sure you're not dehydrated.
This is one of the biggest causes of cramp, and cramp can often lead to worse situations and even falls.
Especially if you are a new runner making sure to hydrate is especially important to avoid muscle strain.
Consider investing in an electrolyte powder to keep your muscles on top performance, you can easily shake this into your normal water bottle.
If you are running at night we would always recommend a head torch to make sure you are safe from pesky cracks and other unexpected obstacles when running.
A rechargeable one like this means you can simply charge it in your car and it's always ready for usage.
Running without music is also recommended at night too because then you can be doubly aware of anything that could cause you to stop or could cause danger, keeping your head on a swivel.
Running Tips 
Before you leave us, take a look at some of our running tips! These will help beginners, seasoned runners, and those that want to find out how to keep running when you want to stop!
Instead of coming to a stop, slow down to a slower run or jog. You will keep your body moving without stopping. 
Remember to keep breathing. Focus on deep inhales and longer exhales to help stop panting and keep you moving. 
Keep hydrated. Drink plenty of water to prevent dehydration and keep your body moving. 
Focus on why you are running. Remind yourself of your goals to keep you moving and working towards your goal. 
Listen to your body. If it needs to rest, let it rest! Powering through any pain can cause more serious injuries, and no one wants that! 
Final Thoughts
Running around the metropolitan jungle that is New York City can be a daunting experience, the addition of these well marked and lit trails such as the East River Greenway is a great way to encourage us New Yorkers to get out and about in the fresh city air, as is a very welcome sight to runners who want to run without being impeded by roads and other commuters.
Moreover, this trail is constantly under new renovations to make it safer and better for runners.
The current gap in the run splits it into two legs which can be good for less expert runners who want to take a pleasant break in the middle.
Taking this break could really be the difference between stopping and keeping going.
Take a break by the UN center and you may be able to keep going and finish the whole run. Happy Running!