Running is one of the most freeing and liberating feelings, when it all goes to plan.
The Northern states of the US have many amazing running routes that are safe, well-maintained, and designed for runners and other commuters.
Using these trails is great as they are designed to go through the natural beauty that we find amidst the metropolitan jungle of the city.
Being able to hide within a horde of other runners and commuters is a helpful way to remain depersonalized in an exercise setting, and can make us feel more comfortable and safe.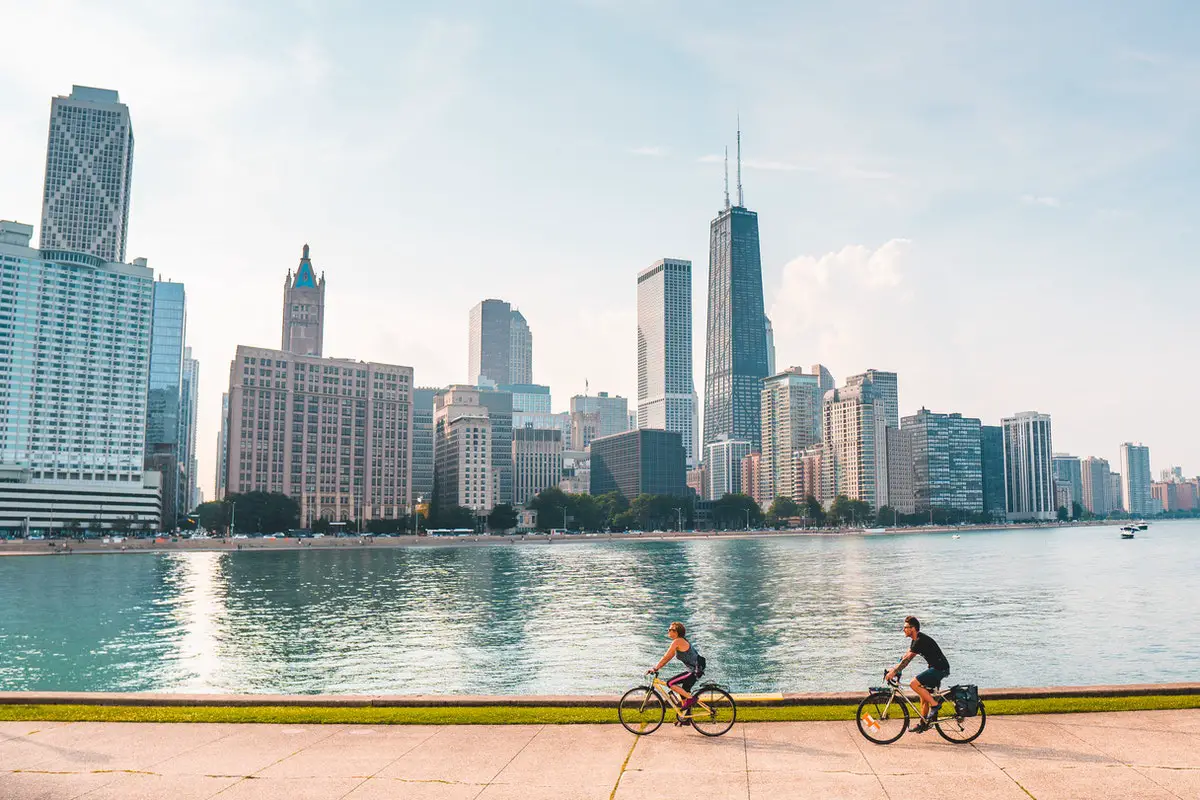 Yet, there are some dangers to running that we should always be aware of so that our minds can focus on running rather than the external anxieties of life.
The Chicago Lakefront Trail is a particularly popular route not just in the state of Illinois, but across the temperate North for its marine beauty and maintenance by the state.
If you want to go running in metropolitan Chicago, this route shouldn't be glossed over – yet there are some safety tips to be aware of when running this route as well as others in the country.
Let's explore the route and its safety together.
What Is The Chicago Lakefront Trail?
The Chicago Lakefront Trail is a commuting route that follows the Western shore of Lake Michigan, the trail is around 18.5 miles long and goes through four of Chicago's green parks.
It is a shared path used by any commuters from walkers, bikers, skaters, runners, and anyone who wants the fresh sea air while they exercise and commute around this great city.
The trail was originally Chicago's first bike trail in 1963 by Mayor Richard J. Daley.
As time grew on, the bike trail became very popular, and it became clear more additions could be added to increase people's recreation and safety.
In 2017 the Trail Separation Project pushed for these additions so that bike and pedestrian traffic would be less by introducing dedicated lanes as well as widening paths for greater traffic.
When construction finally finished in 2021 the trails became popular among many as it was now much safer and easier to use, no matter how you choose to commute.
The trail remains open 24 hours a day, great for night running or cycling, remaining safely lit too. Yet, the parks and other attractions may close around 11pm.
Attractions
There are some cool attractions to see on the trail.
If you take a break on your run, a relaxed walk around any of these attractions is the perfect way to rest your mind and your body before embarking on the rest of your journey.
South Shore Country Club and Cultural Center – This country club is the peak of Chicago's high society, but among other things, it is simply pleasant to walk around the gardens and have a look inside the cultural center. It was listed on the US National Register of Historic Places in 1975, and was also the home of Barack and Michelle Obama's wedding reception.
Museum of Science and History – If Science and History take your fancy, this is a great place to visit, even for a family day out to just walk along the trail! The Museum is full of interesting scientific curiosities as well as historical exhibitions, it may be a day trip rather than a break on your run but the grounds and architecture are just as worthy of appreciation.
Museum Campus – This is one of the four parks that the Lakefront Trail passes through. The park is home to some of Chicago's best attractions such as the Adler Planetarium, the Shedd Aquarium, Soldier Field, McCormick Center and much more. If you want an area to rest and rehydrate, then Museum Campus is full of attractions to see and people to watch.
Navy Pier – It's not hard to be tempted to explore the sights of Navy Pier, a truly historic pier that was once used by the military and is now home to a myriad of amusements and recreation. Just don't get too tempted by the donuts when you're on a run, this could be a good one to finish off a family bike ride and burn the calories on the way home!
In addition to these specific attractions, the trail goes past three skate parks and connects most of Lake Michigan's beaches.
So, there is plenty to distract you on your run, but the trail is still great for purely running and commuting, all while being in the heart of the Windy City.
Is The Chicago Waterfront Trail Safe?
While there are many running trails in the North, there can be a plethora of safety issues to confront when running on any trail.
Here are some tips to help you avoid cramps and tripping up, as well as the general dangers of the city.
Running At Night
Running at night is a freedom for many, but some can find it a little daunting. Your main goals are to remain visible and aware while running.
One thing we would suggest is using a headlamp or some other torch when running.
A torch can help you remain visible yourself, to potential bike riders in the night, as well as being able to see others too.
This headlamp has the ability to recharge with a USB and is super lightweight and comfortable, perfect for running.
Another tip we would suggest is to run without music, while this sounds impossible to some, it's actually the best way to remain aware and alert while running.
This makes you super aware of your surroundings and keeps you on your toes for any danger or hazards.
How To Avoid Cramp While Running
Cramp is probably one of the biggest physical dangers of running beyond blisters and general falls and is something that can affect beginners the most. So let's look at how to prevent cramping when running now!
One of the main causes of cramps is general fatigue and dehydration.
To avoid dehydration and allow your muscles to work at an optimum rate, we recommend drinking lots before your run, and making sure you are full of electrolytes.
You can get electrolyte powder which you can add to your water bottle to ensure hydration.
Avoiding cramping is also to do with endurance training. If you are trying to beat your times every day, you will be pushing your body a lot.
You need to get your endurance training right by building up to the harder stuff in small increments rather than pushing yourself hard.
Training hard will always lead to better results when racing or running marathons.
Final Thoughts
The Chicago Lakefront Trail is one of the best in the Northern states.
It has been well maintained over the years and is full of great sights, natural beauty, and all the best attractions the city has to offer.
You can travel the trail on foot or on a bicycle or any other mode of transport.
Whether you want a day of family exercise ending in a lovely day at Navy Pier, or a day of hard running training, Chicago's Lakefront Trail has you covered. Happy Running!