When you go for a run, there is a pretty slim chance that you will be completely content with just listening to your trainers slapping the sidewalk. Most people will want to listen to music or a podcast or something other than their heavy breathing while they are running. Also, running with your phone is a pretty sensible thing to do – not just to keep you entertained but to keep you safe.
You might need to make a call, or you might end up taking a tumble and in that case, you will more than likely need to call someone. So, what are you waiting for?! Read on to find out exactly how to run with your phone.
Not Everyone Likes Running With A Phone Armband
Here's the thing… We've all been there. We've all tried to find the ideal solution for carrying a phone around when on a run. Whether this is wedging your phone into your waistband, or whether you have tried to slip it into your sports bra, or whether you have struggled to stop your phone from slipping out of your sweaty hand – phone armbands came along.
The phone armbands have helped a lot of people, and they are a pretty big advancement in the running world – they are not for everyone.
This is especially true if you have a pretty big phone, you will inevitably feel like you are running with a house brick attached to your arm. A lot of people tend to find phone armbands pretty distracting and also inaccessible to an extent.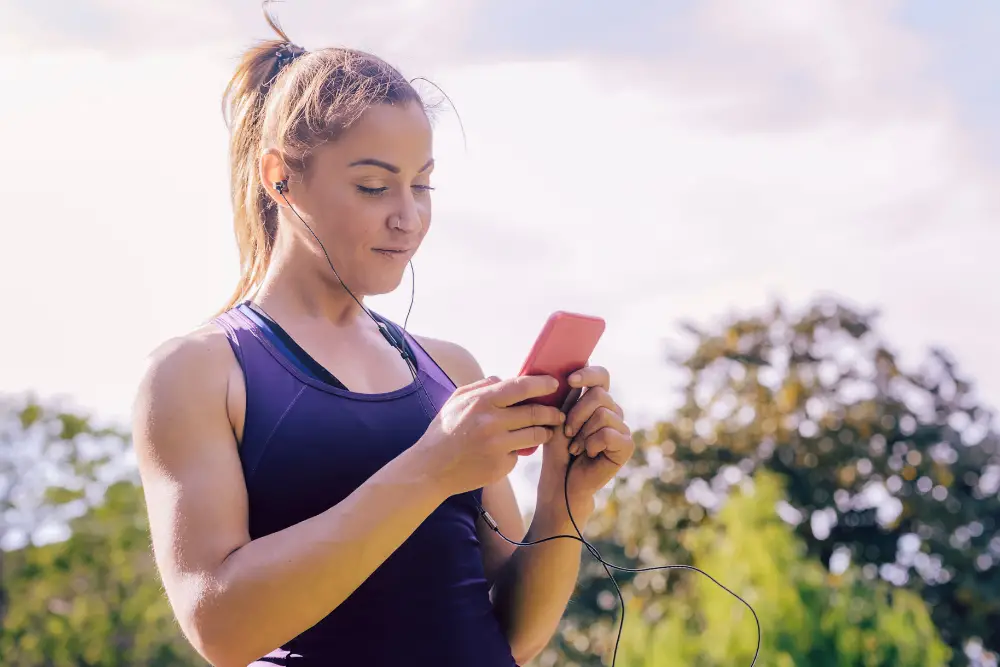 There are a lot of options on the market for you – and you will be able to find a whole host of techniques along with savvy products that will help you on your run. After all, you do not need one little thing to prevent you from going for a run.
You need to look and feel completely ready to head out for a run. The best way that you can do this is by getting yourself fully equipped with all of the right running gear.
Use Your Waist
An easy way to hold your phone while you are running is by using the flip belt as a way to hold pretty much anything while you are on your run. The flip belt is perfect for holding your phone but it can also be used to hold your keys too. 
When the flip belt is around your waist you will be able to just slide your items straight into the slits that the belt has. The way that the belt works is that when you have done this you can flip it over and this should sit pretty securely without there being any kind of bounce.
This is what makes this belt so amazing. Your items will be easy to access but they will also be super secure and they will not run the risk of falling out.
Revolutionary Waist Gear
If you are a fan of investing in waist gear, then you will enjoy the running buddy for sure. You should really consider purchasing this product because it is super compact and it is also really portable.
The running buddy comes with a side-zipper headphone port, and it also has a water-resistant inner pocket which is perfect for taking out when the weather is miserable.
The running buddy also picks two large pockets and it will definitely hold your phone and your keys along with any other essentials that you are keen to take out on your run.
It is also really important to add that the reason why this product is so great is that the running buddy does not have a belt or a band and it also prides itself on not having any kind of bounce.
This is especially important because we all know that there is nothing worse than running and having all of your possessions fly around on a waistband. Not cool.
Shorts With Built In Pockets
Another great way that you can get around carrying your phone while on a run is by purchasing shorts that have pockets. This can be especially hard to come by in lycra shorts but you will be pleased to know that you can purchase shorts with pockets for men and also shorts with pockets for women too.
These shorts are really great because the pockets are big enough to be able to hold your phone comfortably. It all really depends on how many pockets you are wanting in your shorts as to whether or not they will suit you. For instance, you may want shorts that have multiple pockets – it all depends on what suits you the best.
You Can Still Hold Your Phone When You Run
If you feel reasonably comfortable with holding your phone while you are running then you will find that actually, there is a safer way that you can do this that will eliminate the fear of you dropping your phone mid-run.
You can't stop your palms from getting sweaty while you are on a run, but you can purchase a handheld running pouch that will allow you to hold your phone safely and securely while you are on your run. 
Doing this will allow you to access the capabilities of your phone whilst you are on a run, and the secure pouch will be comfortable for you to hold too. The pouch has a handle which is key to ensuring that your phone pouch does not just slip out of your hand. This is also complemented by the non-slip and the breathable fabric which makes the handle lightweight and therefore easy to carry.  
In Conclusion
It is pretty clear to see that there are a whole host of ways that you can carry your phone while you are on a run – and you can work out which way suits you the best by sampling a few different products on the market.
Ultimately, to find out which product will suit you the best then you need to decide whether you like to hold your phone or whether you would prefer to have a hands-free running experience.
Either way, you will be able to find a product on the market that will suit you the best and give you a great running experience every time.