A half marathon is a road running event, just like a normal marathon, except it's a 13.1 mile trek (or 21.1 km). If you can comfortably run a 10k distance, your next big challenge might be to complete a half marathon. 
Signing up for a half marathon can be pretty daunting, especially as it's more than double the distance of a 10k (6.2 miles). But don't let that discourage you.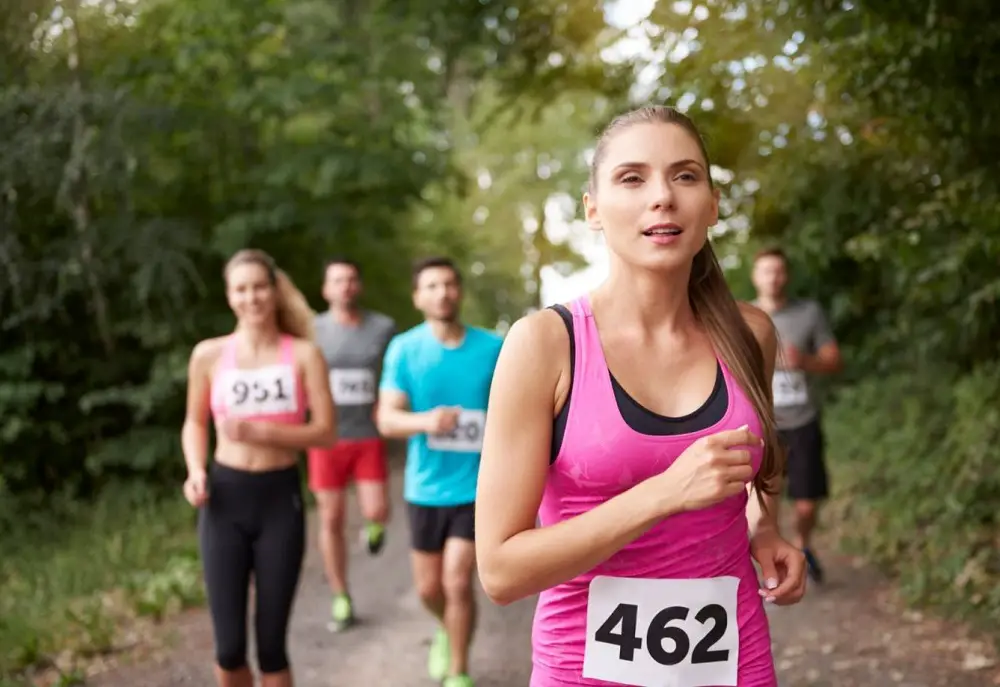 If you safely build up to a higher weekly mileage, and participate in a variety of different running techniques and activities, you will be able to develop the endurance and speed needed to complete a half marathon.
Why You Should Run a Half Marathon?
Running a 13 mile distance might sound crazy, but it's a lot easier to train and prepare for than a full marathon (26.2 miles), and can be a great way to challenge yourself. 
It can be hard to run a full marathon, as somewhere around the 20th mile a lot of runners hit "the wall". This is where their energy and motivation to keep running starts to dwindle, and completing the rest of the race is a massive struggle. 
If you train well for a half marathon, it is highly unlikely you'll hit a wall during the race. 
How to Train For a Half Marathon?
If you're setting your sights on running a half marathon race, you need to set aside an appropriate time to train for it. It can take anywhere between six to fourteen weeks of dedicated training to prepare for it, but on average, most people need around ten to twelve weeks. 
Of course the amount of training you need will depend on your current fitness level, your running experience, and your personal race goals. Just keep in mind that you can't cram training for a long-distance race into a short period. This is not healthy and you can risk injuring yourself. 
People who are new to long-distance running may need longer to prepare in comparison to more advanced and experienced runners. Just remember to take a slow and gradual approach to training to avoid any burn out.
Beginners 
If you've been running for a few months, and have tried shorter race distances, you've most likely completed a 5k. After completing a 5k you should be ready to start training for a half marathon – just keep in mind that it's over four times the distance, so you'll need to prepare thoroughly. 
Expect to train for about twelve to fourteen weeks if you've never ran a half-marathon before and you're running under 10 miles a week. To begin, start by completing around three runs in a week, then build up to four runs a week as your training progresses. 
During training you should notice a build up in your endurance and strength. You'll also notice that long runs begin to feel easier, and you should look to add on extra miles at this point.
Although you should be strict with your training plans, you should take a step back if you suffer from an injury. If you continue to train whilst injured, this will only worsen it and cause long term damage. If you feel any pain that isn't general post-run ache or soreness, seek medical help.
Beginner Training Plan
As stated above, start by running around three to four times a week. Keep your pace light – you should be able to talk whilst running without struggling to breathe. Keep this pace but continue to slowly increase your distance. At the beginning you should aim to run around 10-15 miles a week, and build yourself up to 25-30 miles a week. 
As well as running, incorporate cross training at least one to two times a week. This will help build up your fitness and increase your injury resistance. This can include swimming, cycling, walking and Pilates, as these are all great exercises to do alongside half-marathon training. 
You'll want to complete your high mileage weeks during week three, four and five before the race. During the final two weeks you need to lower your weekly mileage as this should be your "tapering phase".
The key is not to overexert yourself during this time as your body and mind needs time to recover just before the big race. 
Intermediate and Advanced
If you already have a little running experience under your belt, you may only need around six to ten weeks to prepare for a half marathon. Similarly, if you have already completed a half marathon you won't need as long to train, but if you're hoping to get a Personal Best time, add in a few more training weeks. 
Intermediate and Advanced Training Plans 
If you're an advanced runner, you should be able to start running around 25-30 miles a week already. You should build yourself up to around 40 miles a week, running around four to five times a week.
Like beginners, you'll want to include one to two days of cross training. You should notice an increase in your distance and pace as your training progresses.
Top Tips for Half Marathon Training 
Acknowledge your abilities: One of the worst mistakes you can make is overestimating your abilities, as this can lead to injury. 
An easy run is better than no run: If you're not up for completing a long distance run, even going out for a short run is better than not running at all, and will give you a sense of achievement. 
Have achievable weekly goals. 
Run short distances and incorporate walking breaks: Interval training can help a lot when you're trying to build your fitness and strength up for a long-distance race. 
Slowly increase your distance: Pick one day a week where you go for a longer run as slowly incorporating longer distances into your training is better than rushing in. 
How Fast Should You Complete a Half Marathon? 
The average time to complete a half marathon is around two hours – most runners tend to perform better over half marathon distances than they do compared to 5k and 10k distances. 
Did You Know… 
The world's fastest recorded half marathon time was 57 minutes and 32 seconds, and was achieved by Kenyan long-distance runner Kibiwott Kandie in 2020. 
The world's fastest recorded female half marathon time was 1 hour 4 minutes and 2 seconds, and was achieved by Kenyan long-distance runner Ruth Chepng'etich in 2021.