When in a new place or at home, it can be important to try to vary the different trails you're using to run on.
Alternating where you run can be good for a few different reasons – firstly it will test your body and skills as a runner against more difficult terrain, and secondly, it will allow you to have more interesting surroundings to look at and enjoy whilst you're running.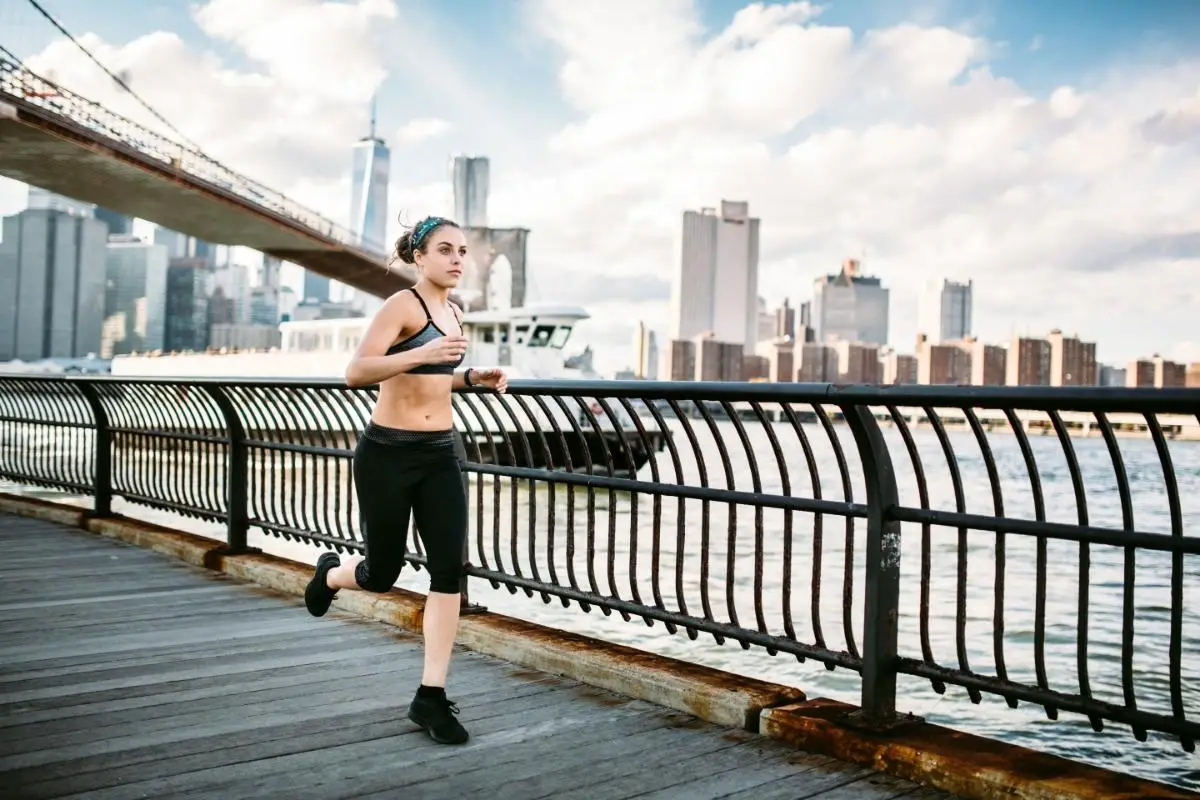 New York – the Big Apple, the City that Never Sleeps. It's hard to imagine that a place so urban could be so great for running.
With such a large area, it's easy to imagine that there might be multiple different running routes around the city – but New York has seen generations of runners set goals and meet them! 
If you find yourself looking for new running trails in and around New York City, then this is the article for you!
Below is a list of some of the best and most unique trails for you to try. Some will test you, some have been picked purely for the iconic surroundings or classic routes – but there should be something for everyone!
We've also included a short FAQ section at the end of the article, to answer some important questions about running. 
Let's lace up our running shoes and get running in the big city!
Central Park Full Loop
Let's begin with a classic. Central Park is one of the most impressive places in the city – a forest and lake within the middle of endless blocks of houses and skyscrapers.
This full loop is a great trail to follow if you're looking for something with nice views. Sometimes when you're in the city running, constant concrete and tall buildings can get boring – so it's nice to have a place that feels more like you're within nature. 
It will take you up to 6km, which makes it a really good trail to focus on if you're working towards a 10k. It's worth noting that this trail is primarily pavement terrain, so make sure you wear good running shoes so as not to damage your feet, shins, or knees. 
Coney Island Boardwalk
Coney Island is a classic location that has a great little boardwalk for you to run on. This route is more or less a straight line but will take you a while and push you to the limit.
The entire length of the beach is just over 5 miles, and it's a great route because you'll be able to see your goal in the distance.
This trail is hard to miss because it's right across Coney Island beach. If you wanted to try running on sand, you could use the beach to its full extent.
There are a few benefits to running on sand – including burning extra calories whilst being softer on your legs. You can choose between this and the pavement if you like, whichever you want will get you to the end of the trail! 
Across Brooklyn Bridge
Here's another iconic trail that revolves around a straight line. Is there anything more poetic than running across the Brooklyn Bridge?
If you choose to pick this one you're going to be afforded gorgeous views of Manhattan in the near distance, but with a clear goal in the distance that you can run towards.
This trail is 3.9km long, which makes it good for beginners/intermediate runners. The terrain type is concrete and it is worth noting that the bridge can sometimes be congested, so it's best to avoid it during the busiest times of the day. 
Where better to train every so often than one of the most famous bridges in the world? 
Astoria Park Loop Trail 
This is a shorter run that is great for beginners. It is 1.9km in length with a 15km elevation gain, which can be looped if you need a little more distance.
Astoria Park is one of the smaller parks located at the edge of the river. A great part of this run means you'll be right down by the river, which can make for some great views.
Prospect Park
If you haven't guessed yet, parks are a great place to run. This trail is in Brooklyn's classic Prospect Park. There are multiple running trails here, which peak up to 3.5 miles in length.
Prospect Park is a great place to go if you're looking for a variety of different loops which will allow you to exercise at different levels. 
Roosevelt Island Loop
This is another great running trail that is for those who are looking for a longer distance to train. Roosevelt Island is a small Island between Astoria and the Upper West Side that gives you a great, thin looping trail to run around.
It has some pretty good elevation gain to around 25m at peak, so you'll be able to get some good views and some good tests for your body should you choose this trail.  
Final Thoughts 
New York City has a diverse and large number of parks to choose from when selecting a running trail, but that's not all that is available!
One of the benefits of living in such a large and impressive city is the sheer variety of different terrains and surroundings you can find in just a short subway ride!
We hope that this article has given you some ideas for the best trail runs in New York City and that you'll be able to choose one that will be right for your current training goals.
As with all things, we recommend properly researching your root and making sure it is suitable for you before embarking!
We wish you the best of luck on your trail running journey! Below is a short FAQ section to answer some of the most common questions about running and New York City.
Frequently Asked Questions 
Get your last-minute questions answered here!
Can You Run In New York City?
Of course! New York City has a lot of acres of parkland, including 843 acres just in Central Park alone. If you're looking for a diverse selection of running locations then New York City rates among the best in all cities. 
Can Running Burn Muscles? 
Does running burn muscle? It's a question that we get a lot here and will address now! There are some misconceptions about burning muscles and running. Although it's certainly possible to lose muscle mass from running, it doesn't burn muscle.
Running will use up energy from your body because it is a purely cardiovascular activity. Running is likely to burn mass because your body needs extra fuel. This only happens, however, when you are running frequently for distances that are challenging for you. 
Runners do tend to be leaner than, for example, bodybuilders – because the kind of exercise that the two disciplines engage in is different.
Running can help to maintain and tone your body depending on how much you are running, as well as what other training you are doing at the same time.
What Is The Most Popular Park In New York City? 
It should be obvious that Central Park is by far the most popular park in New York City. At 843 acres, it is large enough to feel as though you have left the city, which makes it the perfect place to relax, detach, or exercise.
If you choose the Central Park Loop trail from the list above for your run, you're very likely to come across a lot of other runners.
That said, Central Park isn't the largest park in New York – with that title going to Pelham Bay Park in the Bronx, which is nearly 3k acres in total. This also isn't a bad place for a run and gives you a lot of options for additional trail runs.