Shin splints are a common ailment on the running scene, but that doesn't make them any less painful. 
You might think that nothing could deter you from training for that next marathon, but the reality is that shin splints can stop even the most dedicated runner in their tracks. 
For anyone who isn't aware of how shin splints can affect athletes, this is a condition characterized by pain in the tibia bone (more commonly known as the shin). The pain is exacerbated by exercise and might be accompanied by mild swelling.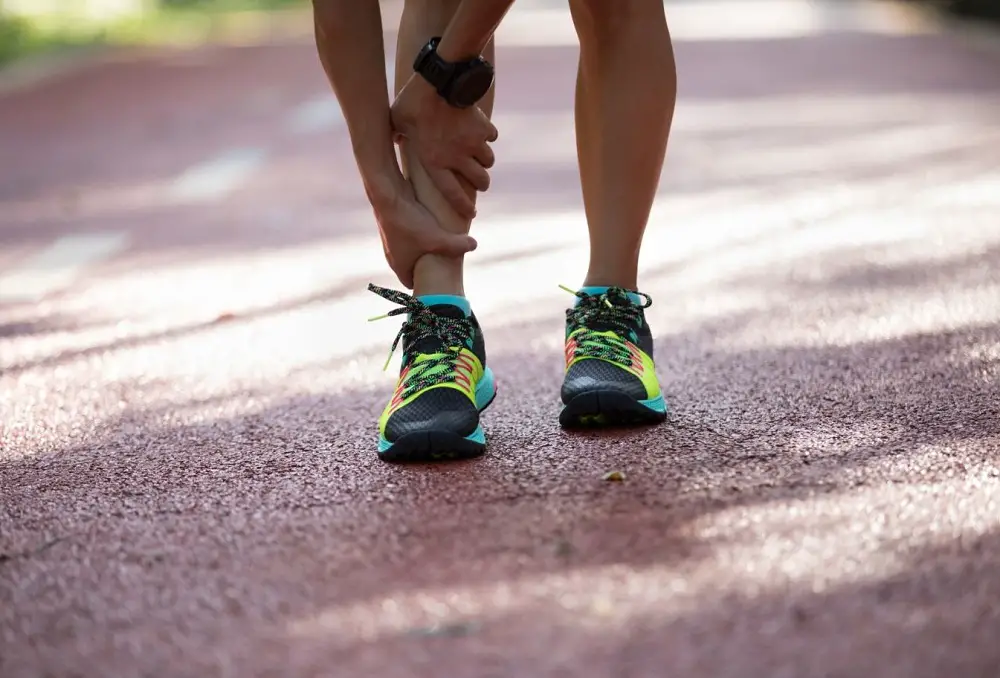 If you experience shin splints, it's important to rest and recuperate before you jump back into exercising. However, when you're ready to hit the track again, you should think about preventative measures to stop this injury from recurring. 
One of the best steps you can take to keep shin splints at bay is to invest in some supportive running shoes that minimize the impact on bones and joints while running. 
Today, we'll be recommending 5 incredible pairs of running shoes for shin splints so you can get back on form as soon as possible!
The Best Running Shoes for Shin Splints 
The Brooks Adrenaline GTS 20 running shoes are the top-rated running shoes for shin splints. 
These men's shoes are designed to provide high levels of support while reducing shock vibrations for a comfortable, injury-free running experience. 
Thanks to the DNA Loft Crash Pad cushioning built into the soles of the shoes, the Brooks Adrenaline GTS 20s provide excellent support. The cushioning helps to prevent vibrations from high-impact exercise such as running from traveling up into the shins, minimizing the risk of developing shin splints. 
In addition to the cushioning, the Brooks Adrenaline shoes feature the brand's Guiderails support system, which reduces excess movement in the knees and lowers the risk of injury. 
The engineered mesh upper of the Brooks Adrenaline GTS 20 shoe provides a lot of structural support while remaining streamlined, so the shoe won't feel bulky. All the cushioning does weigh the shoe down slightly, though, which means it won't be everyone's first choice for long distances.
You can purchase these running shoes in men's sizes 5 to 15, and the sizes come in narrow, wide, and x-wide fits. This means that no matter what shape your feet are, you can find the Brooks Adrenaline GTS 20 running shoes in a fit that works for you. 
Pros
Crash Pad cushioning – Highly supportive 
Guiderails support system – Reduces excess knee movement
Engineered mesh upper – Structured but streamlined
Sizes 5 to 15 – Wide size range 
Narrow, Wide, and X-wide fits – Inclusive of various foot shapes
Cons
On the heavy side – Not the optimal choice for very long distances 
Brooks Mens Adrenaline GTS 20 Running Shoe - Grey/Blue/Navy - D - 10.5
THIS MEN'S SHOE IS FOR: Runners who need a perfect blend of support, cushion, flexibility, and reliability. The modernized, streamlined design satisfies runners who crave a low-profile look.
SUPPORT AND CUSHION: Provides just the right amount of stability and support, great for overpronation while providing high energizing cushioning. Ideal for road running, cross training, the gym or wherever you might want to take them! Predecessor: Adrenaline GTS 19
BALANCED, SOFT CUSHIONING: The DNA LOFT Crash Pad cushions each footfall and works with BioMoGo DNA to adapt to your every stride.
MODERNIZED FIT: A new streamlined, engineered mesh upper with 3D Fit Print offers the structure and proven fit the Adrenaline is known for-without excess bulk.
GUIDERAILS HOLISTIC SUPPORT SYSTEM: We've shifted our focus beyond the feet to the most injury-prone part of a runner's body: the knees. GuideRails keep you moving comfortably by keeping excess movement in check.
Many of the running shoes we'll be reviewing in today's article come in both men's and women's sizes. However, finding the perfect running shoe if you're a woman involves more considerations than simply sizing. 
Women are actually up to 5 times more likely than men to develop shin splints. Researchers aren't yet sure why as of yet, but in any case, it's clear that women need even more structural support and cushioning to avoid the pain of shin splints. 
In our opinion, the best running shoes for women hoping to keep shin splints at bay are the Hoka One One Clifton 7 shoes. 
These shoes have a full-length midsole made of EVA foam, which provides support and cushioning for your entire foot. 
The combination of the beveled heel, which reduces impact vibrations in the heel area of the foot, and the MetaRocker, which allows for smooth transitions from heel to toe, ensures that your feet and lower legs won't be jarred while running. This is key to preventing and managing shin splints. 
Hoka One One's Clifton 7 running shoes are lighter than earlier designs, so they won't slow you down on your way to a personal best time!
Additionally, the sandwich construction of the mesh upper ensures a comfortable fit. However, the downside to the multiple mesh layers is that the thickness of the material might cause sweating. 
Pros
Full EVA foam midsole – Supportive cushioning
Heel bevel – Minimal heel impact 
MetaRocker – Smooth heel-toe transition
Sandwich mesh upper – Very comfortable
Lightweight – Effortless running experience 
Cons
Thick upper material – May cause sweating 
If you have wide feet, finding running shoes that fit correctly can be a struggle. However, the New Balance 1080 V11 shoes cater to wide feet while minimizing both the risk and pain of shin splints. 
The New Balance 1080 V11 running shoes have a Fresh Foam insole, which manages to provide an impressive level of support while remaining lightweight and comfortable. The level of comfort is further enhanced by the Ortholite sock liner inside the shoe. 
One of the unique features of this running shoe is its bootie upper construction, combined with the Ultra Heel design. Together, these elements of the shoe hug both the front and back of the foot, creating a stable and snug fit that won't let you down. 
You can get the New Balance 1080 V11 running shoe in sizes 5 to 13, including narrow, wide, and X-wide sizes.  The wide size options are some of the best on the market for wide-set feet. 
These shoes might not be the best choice for individuals with very high arches, though. That's because the lacing is tight on top of the foot, which can cause some discomfort if you have a very pronounced arch. 
Pros
Fresh Foam midsole – Lightweight but supportive 
Bootie-style upper – Snug fit 
Ultra Heel construction – Improves stability 
Ortholite sock liner – Extra comfortable 
Sizes 5 to 13 – Suitable for most foot sizes 
Cons
Tight on top of the foot – May cause some upper foot discomfort 
Sale
New Balance Women's Fresh Foam 1080 V11 Running Shoe, Black/Thunder, 13
Fresh Foam midsole cushioning is precision engineered to deliver an ultra-cushioned, lightweight ride
Bootie upper construction hugs your foot for a snug, supportive fit
Synthetic/mesh upper
Ortholite sockliner for comfort
Ultra Heel design hugs the back of the foot for a snug, supportive fit
For runners with narrow feet, we recommend the ASICS Gel-Nimbus 23 shoes. 
These shoes are excellent for those recovering from shin splints because they provide a lot of support. The gel cushioning inside the shoe is thick, making for a supportive and comfortable wearing experience. 
With the help of Flytefoam technology, the ASICS Gel-Nimbus 23s deliver additional, lightweight padding for extra protection against painful impact. The Ortholite sock liner should also help to increase comfort in the instep area. 
The multidirectional mesh that makes up the shoe's upper ensures proper ventilation, minimizing overheating and sweating. 
However, if you have fallen (or simply less pronounced) foot arches, these shoes may not be right for you. The amount of arch support built into these shoes is, according to a good portion of ASICS' customer base, on the excessive side, and this can feel painful if your arches aren't used to this position. 
Pros
Gel cushioning – Comfortable and supportive 
Flytefoam technology – Lightweight and soft 
Multi-directional mesh – Effective ventilation
Ortholite liner – More comfortable on the instep
Narrow construction – Ideal for narrow feet 
Cons
Excessive arch support – Uncomfortable for fallen arches 
ASICS Men's Gel-Nimbus 23 Running Shoes, 12.5, Hazard Green/Black
Engineered Mesh Upper: Multi-directional mesh material improves ventilation and stability.
Engineered mesh upper improves breathability:
Engineered Mesh Upper: Multi-directional mesh material improves ventilation and stability.
GEL technology cushioning provides excellent shock absorption:
GEL technology cushioning: Provides excellent shock absorption
While all the shoes we've reviewed for today's article are suitable for runners who struggle with shin splints, not all of them are ideal for long-distance running. Long-distance running shoes need to be able to sustain more wear and tear while delivering comfort and protection over longer periods of time. 
The Saucony Triumph 18 running shoes are perfect for long-distance runners who suffer from shin splints.
These shoes feature PWRRUN+ cushioning, which is both durable and springy. This ensures that the structure of your new running shoes will stand the test of time, while also providing some added spring in your step to minimize impact. 
The Formfit upper is designed to hug the shape of your foot for a fit that feels custom-made. Because the upper is made from high-quality, engineered mesh, the shoe is also very breathable. 
We love that Saucony has incorporated a blown rubber outsole into the design of the Triumph 18 shoe because this ensures better traction. When you're running long distances, you can't afford to slip and fall, so traction is essential. 
Saucony's Triumph 18 shoes are built with Triflex construction, so you get to benefit from enhanced flexibility. This improves the overall comfort and functionality of the shoe because it doesn't limit the natural movement of your foot. 
Unfortunately, because the fit of this shoe runs narrow, it's not a good choice for runners with wide feet.
Pros
PWRRUN+ cushioning – Durable and springy
Formfit upper – Custom fit feel 
Blown rubber outsole – Improved traction
Engineered mesh – Breathable 
Triflex construction – Enhanced flexibility 
Cons
Fit runs narrow – Not suitable for wider feet 
Saucony Men's Triumph 18, Alloy/Red, 7 Wide
PWRRUN+ midsole cushioning provides more flexibility, durability, and springiness in a foam that's 25% lighter
New midsole geometry makes for a snappier ride
New blown rubber outsole makes for a snappier ride and increases durability and traction
TRIFLEX design makes for quick transitions and enhances flexibility
Engineered mesh upper with 3D Print overlays provides strategic flexibility and structure
Buyer's Guide
Shin splints might not be a serious condition from a medical standpoint, but they're not something to take lightly, either. Shin splints can have a significant impact on your performance as a runner, which is why choosing the best running shoes to alleviate and prevent the condition is crucial. 
Below, we've detailed some of the key features to look out for in a pair of running shoes if you want your shins to stay pain-free.
Cushioning 
Possibly the most important feature of a pair of running shoes for shin splints is cushioning. Cushioning provides both comfort and support, both of which are essential for decreasing the risk of shin splints and managing the condition if it occurs.
There are several types of cushioning you can find in running shoes, but the main ones are EVA foam and gel cushioning. 
Gel cushioning will typically come with a bigger price tag, but it has several advantages over foam cushioning. 
For one thing, gel cushioning is more lightweight than foam by about 50%. Lightweight construction is important in a running shoe because it helps to improve speed and minimize muscle fatigue while running. 
It's also estimated that gel cushioning provides up to 20% more shock absorption, which is one of the main things that will help to prevent shin splints. Shin splints are primarily caused by repetitive stress to the bone, connective tissue, and muscles in the area. Shock vibrations are one of the most common causes of such stress. 
Finally, gel cushioning is thought to be about 10% more durable than foam. Foam cushioning often starts to compress and fall flat after a lot of use, while gel cushioning will hold up better. 
Overall, thick foam cushioning is a good choice for runners with shin splints who are also on a budget. However, gel cushioning will provide additional shock absorption and durability while remaining lightweight. 
Arch Support 
Cushioning isn't the only feature responsible for providing support in running shoes. 
Proper arch support is key to managing shin splints because it helps to ensure that your feet are in proper alignment. This reduces strain on your stabilizing muscles, which both minimizes the risk of developing shin splints in the first place and helps them to heal faster. 
However, it's worth noting that if you have fallen arches, some arch support systems will feel uncomfortable. If your arches are not very pronounced, extremely high arch support is likely to cause discomfort, so it's best to find a happy medium where your arches are supported without being pushed too far out of their natural comfort zone.
Upper Construction
When it comes to managing shin splints through running shoes, a lot of the focus is placed on soles and insoles. However, upper construction is important, too. 
In order for your foot to remain secure and stable inside your running shoe, you'll want to minimize sweating. Excess moisture inside your shoe not only feels uncomfortable but can cause your foot to slide around, which isn't ideal when you're trying to reduce strain on your stabilizing muscles. 
For this reason, we recommend an engineered mesh upper construction. Mesh material will allow for proper ventilation and moisture-wicking, keeping your feet sweat-free and stable.
Size and Fit 
Pay close attention to the size and shape of a running shoe before you buy it. The size and fit type will determine how comfortable the shoe is as well as how effective it is at preventing and managing shin splints. 
We recommend having your feet professionally measured at a footwear store if you can. Footwear stores have the correct equipment to accurately measure the length and width of each of your feet, taking the guesswork out of the process. This will help to ensure that your new running shoes don't cause you any extra pain by being too tight, or throw off your form and contribute to bone and muscle stress through excessive looseness. 
The fit of the shoe in terms of width is also important. You won't be able to enjoy proper stability during your runs if your shoes are too wide or narrow for you, so this is crucial. 
Some running shoes only come in one width, in which case, it's important to verify whether the fit is narrow or wide so you can be sure they'll be comfortable for you. 
Alternatively, other manufacturers produce running shoes in different widths, from narrow to x-wide. This is ideal because it allows you to choose the fit that best suits your foot shape. Much like arch support, this will help to maintain the alignment of your feet for minimal stress on your bones, muscles, and joints.
Additional Features 
If you're looking for extra comfort from your running shoes, one of the best features you can invest in is a sock liner. 
A sock liner is a relatively common additional feature in running shoes, and its purpose is to simultaneously cushion the foot while providing extra moisture-wicking. Both of these benefits should be provided by the shoe itself, but a sock liner is a great way to enhance them.
Frequently Asked Questions 
Do I really need new running shoes for shin splints?
Developing shin splints is a good sign that your current running shoes are not providing enough support. 
The onset of shin splints essentially means that the bones and muscles in your lower legs have been subjected to excessive stress through shock vibrations. If you continue to run in the same running shoes, the problem is unlikely to get better anytime soon. 
For this reason, if you develop shin splints, you should take this as an indicator that it's time to get some new and improved running shoes. 
Can I continue to run with shin splints?
Generally speaking, if you find yourself suffering from shin splints, it's not a good idea to continue running as usual. Your body needs time to heal itself, and continuing to put more stress on your tibia won't help the process. Most experts recommend not running at all until the pain has resolved. 
However, if you're training for an important marathon or simply can't afford to get out of shape while you rest, there are some ways you can continue to run without exacerbating the damage. 
If you absolutely must keep running, we recommend investing in some new running shoes with more cushioning and support first. We'd also advise that you limit your running sessions to the treadmill and cut down on both time and intensity. Stretching intermittently throughout your sessions (every 5 minutes or so) will help.