Though the temperature can seem off-putting, there are some great outdoor sights to see in Las Vegas. One of the best ways to see the surrounding areas is by going for a run to see the city in a different light. 
Some trails head off from The Strip while others will require a car yet you can guarantee some unforgettable sights. Let's take a look at the top ten running trails in Las Vegas to help you find the best one for you!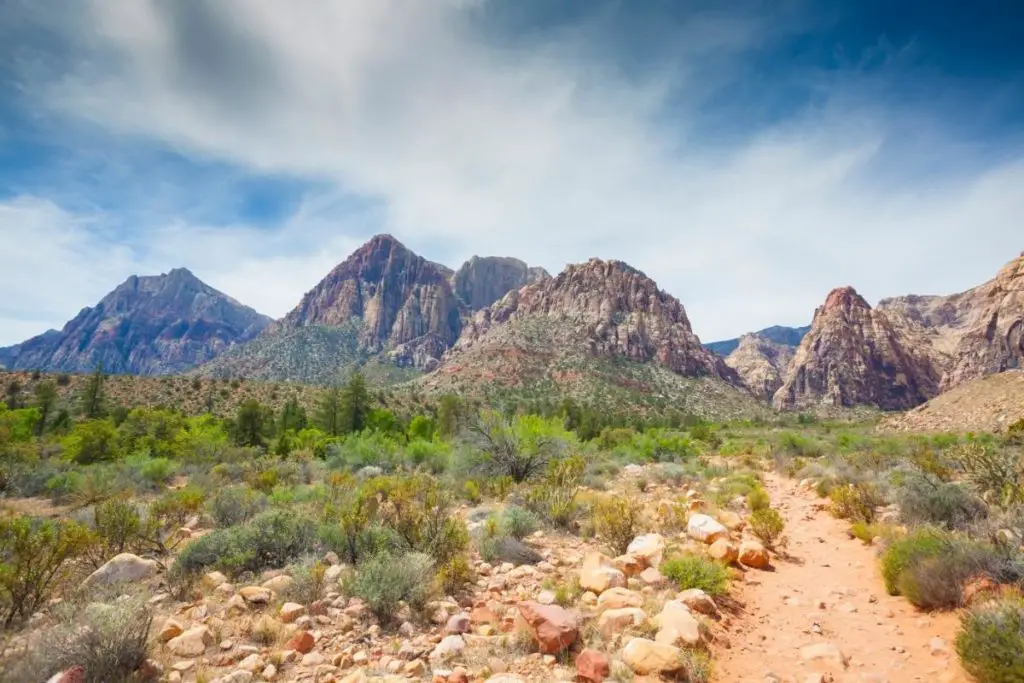 The Strip
Running is a great way to see a metropolitan area as you can cover so much ground in so little time. If you want to see a large chunk of The Strip then try to go as early as possible for a one-way 3.3-mile route from Las Vegas Boulevard and West Tropicana Boulevard (highlighted by the MGM Grand) to West Sahara Boulevard. 
Not only will the temperature be down in the morning but a lot of the streets will be quieter than usual too.  
Downtown Las Vegas
For a running trail that is easily more accessible than The Strip, try downtown Vegas. The route starts at Las Vegas Boulevard and Fremont Street for a 3.6-mile long loop. Consider going at night too as you may get a sense of travelling back in time to see what 'Old Las Vegas' looked like decades ago.
From the dated neon signs to some typical Fifties and Sixties style residential areas and a few pawn shops. The route ends back at Fremont Street and their pedestrian mall, you should also see The Golden Nugget, one of Vegas' prominent old hotels. 
The area is notably quiet so you can go at more acceptable times during the day. You should still see some amazing tourist sights and get a decent run in too. 
East Harmon Avenue And The University Of Las Vegas
For a tidy 5.7-mile run, start at Las Vegas Boulevard & East Harmon Avenue which is near Bally's. This is an ideal route for making your way out of The Strip so you can begin with running 1.2 miles east along a wide sidewalk.
East Harmon Avenue leads directly to the University of Las Vegas campus where you can enjoy your run. Take your time and choose from a variety of paths as this can be a really pleasant route.
At North Mall, you can enjoy a lack of cars and even some trees. Once you get to the northwestern section of the campus you can find the athletic campus and an outdoor track. If you want to add up to a certain distance then try a few different paths and test yourself on the track if it suits you. 
The Lakes Neighborhood
Despite the sheer number of hotels that Vegas contains, there are residential trails too. One is The Lakes Neighborhood which is a planned community amounting to two square miles about five miles west of The Strip. The quiet streets, man-made lakes, and spectacular homes make this an area you can enjoy for as long as you like.
River Mountains Loop Trail
>
One truly unforgettable trail run has been constructed by the state of Nevada to provide an outdoor recreation area. The River Mountains Loop Trail is around 34 miles long and connects Lake Mead, the Hoover Dam, Boulder City, and Henderson, all of which are contained in the Las Vegas Valley. 
If you do decide to head out, you may be wondering 'why do my ears hurt when I run?' That may be down to altitude sickness as the highest points in the River Mountains hit 963m (3,159ft). Some incredible sights are cutting through the canyons yet this can be a tricky route if you decide to test yourself.
The Historic Railroad Tunnel Trail
For a memorable trail that feels far removed from The Strip, you should go 30 miles for The Historic Railroad Tunnel Trail. This is ideal for a history buff or a nature enthusiast who wants to get away from the hustle and bustle of downtown Vegas.
Once you get to the trailhead parking lot, a 3.7-mile out and back trail can begin. Though you could double it up if you go all the way to the Hoover Dam Parking Garage and back. 
This is a designated National Historic Trail so you can look forward to seeing the Black Mountains of Lake Mead, which is close to Boulder Harbor. The railroad was an effort to connect Boulder Harbor to the Hoover Dam and this trail is the sole remaining section of the rail system. 
The prime attraction is Hoover Dam if you decide to go on the longer route. However, the views of the Boulder Islands, Lake Mead, Fortification Hill, and the Mojave Desert are also well worth seeking out.
Clark County Wetlands Park
After a 20-mile drive from The Strip, you can find Clark County, Wetlands Park. A 210-acre nature preserve and wetlands park have over three miles of paved paths that wind through the desert vegetation. You can also try the 14-mile Wetlands Loop Trail from the Las Vegas Wash to Lake Las Vegas. 
Red Rock Canyon
>
Red Rock Canyon is only 17 miles away from The Strip and presents a welcome contrast with vast open spaces. This is a trail run on a paved road though there is an entrance fee. There are three routes available, starting with the six-mile White Rock Loop, going up to the 11-mile Grand Circle Loop, and finishing with the 13-mile Scenic Drive Loop.
If you go early enough you can enjoy seeing the light hit the rocks and epic views. You will need a car and plenty of water just in case.
Downs 5 Trail
A specific five-mile running trail can be found in the neighborhood of Henderson, which is a suburb towards the south of Las Vegas. The loop route is on paved trails in John H.Down's Memorial Park so you can enjoy going through the woods. 
This is a short route that you can take from Newport Drive in the north to Saguaro Park towards the south.
Sunset Park
If you go south of McCarran airport, you can easily find Sunset Park. Once you get there you will be rewarded by a green space that makes you feel you are a long way from Vegas itself. You can enjoy running around a small pond and easily rack up a few miles going around the park.
Do be aware that not all of the park is paved so make sure you have the correct footwear.
Final Thoughts
For such a congested metropolitan area, you can be forgiven for wanting to take yourself away from the busy neon lights. With a car and following a short drive, you can find the Mojave Desert, canyons, mountains, and even the Hoover Dam.
There are also some rewarding runs in the suburban and residential areas. Make sure you find room for your running shoes and plenty of water.