Here's the thing – running is like a long-term investment.
You really have to put in a lot of work and this will usually be to reach a big end result.
For a lot of people, this big end result will be to run a marathon.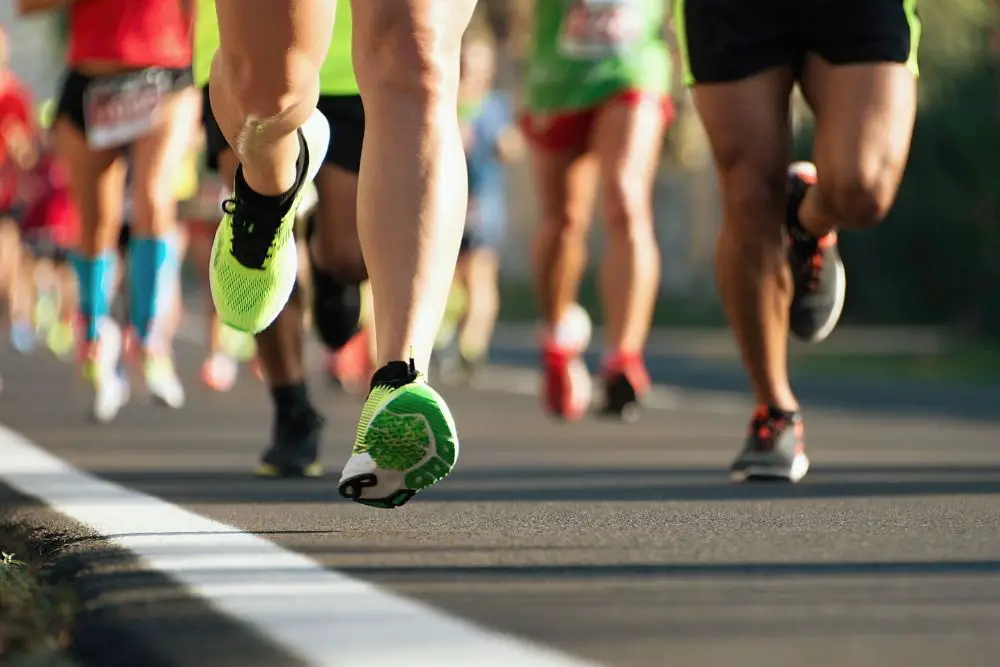 Hitting this milestone and reaching this huge target is a pretty great achievement for any runner, and this is something that can really prove to yourself that you have worked hard and that it has paid off.
The Importance Of Planning Ahead
When it comes to running a marathon, there really is not much that you can have in your control.
This is mostly due to the fact that running a marathon is an outdoor activity. As such, you cannot pick or predict the weather conditions of the day. 
However, if you have the right marathon gear you can really push yourself through the marathon, and you can push yourself to work harder and to ignore the weather conditions.
This is especially important because you can end up getting unexpected chafing or even unexpected running blisters which can really hinder your marathon process.
This is without the added extras of sweat and also additional friction. And, when you are running a marathon you might be running for longer than you have ever run before.
This means that it is super important to plan ahead, and then you will know which gear works and this is what is the most important thing that you can do.
Time To Talk Marathon Gear
So, now it is time to get into the details of what exactly you will need for your marathon.
This can be something that comes with practice though because we're all different, and we are all going to want different things on a marathon.
So, this is more of a generalized answer to the question, but you can obviously tweak elements just to suit you as a person.
Invest In An Anti-Chafe Stick
One thing that you should definitely consider purchasing as this could be a life-saver in a marathon situation is an anti-chafe stick.
You will find that the anti-chafe stick will glide on super easily and – plot twist – this is something that actually works.
Here's the thing, you will need to anti-chafe every kind of crevice before you head on your marathon because the last thing you want is a small annoying reason to just give up.
That's right, get that anti-chafe in between your toes, under your arms, in between your fingers – just general places that you would never even consider if you weren't going out for a run.
Sweat can get into the most annoying places so preparation is KEY.
Get Yourself Some Running Sunglasses
You also need to consider investing in some running sunglasses for men or running sunglasses for women.
You don't want to be struggling on your run and be squinting in the sun, and a lot of people will be thankful that the sun is shining. You don't want this to be a hindrance at all. 
Also, not to state the obvious, but if your marathon is starting off in the dark, the sun might show up eventually, so you are going to want to be prepared for this momentous occasion.
So make sure you have your running sunnies at the ready!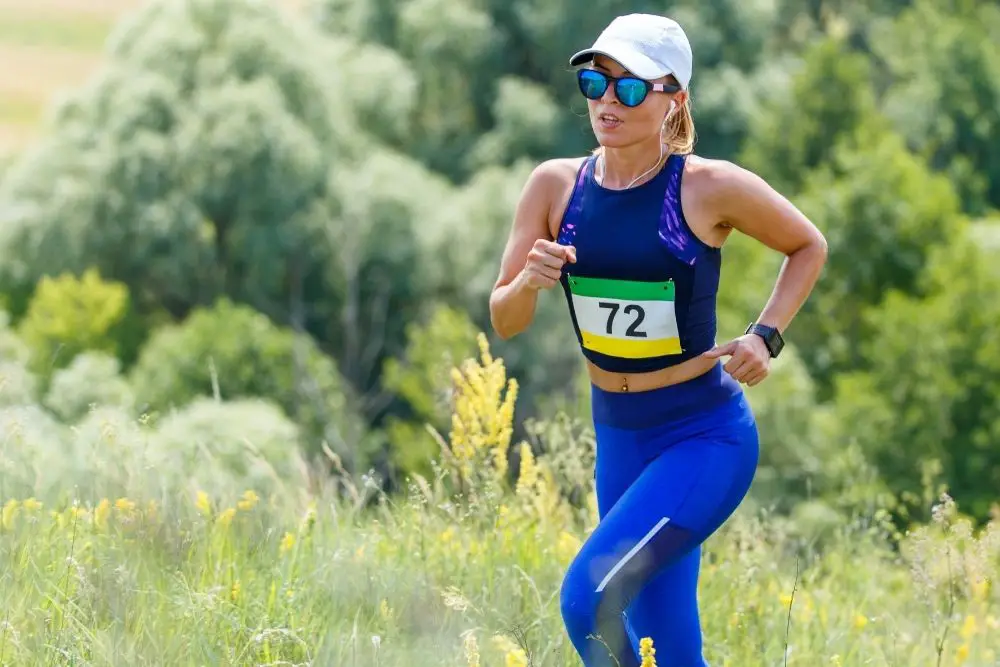 Do Not Forget About Your Cap!
On the sun front, you might also want to invest in some kind of hat.
This can actually be useful to keep the sun out of your eyes, and this can also help you if you are dealing with rainy conditions. 
A cap can really help keep that rainwater off your face as well as keeping that sunlight out of your eyes.
Also, if you are someone who has super wild baby hairs then a cap can really help to control this too.
Get Some Good Quality Running Socks And A Running Belt
You need to consider investing in some good-quality running socks.
We know this might seem like a trivial kind of investment, but you should actually notice a huge difference between wearing running socks and just normal trainer socks.
When you are running sometimes your feet will swell and this will actually lead to blisters and serious discomfort.
Running socks will dry fast and also fight odor so this is another added bonus to investing in running socks.
We also really recommend that you consider investing in a running belt and this can be really helpful for marathons that ban hydration packs. Make sure you check the guidelines of the marathon you sign up for to see if this is the case.
This is a really great way to keep your essentials with you when you are running, and you will barely notice that it is there.
Time To Pick The Outfit
So, the time has come to pick the outfit that you are going to wear for your marathon.
The biggest factor that you need to take into consideration when you are picking your marathon outfit is the temperature. 
Also, you really need to remember that how you feel when you are at the start line is not how you are going to feel when you are moving your body.
Also, it is important to take into account what makes you feel comfortable. After all, you are the person who is going to be running this marathon, and you want to feel your absolute best in the process. 
Don't stray too far away from what you usually wear when you are running, it obviously makes you feel comfortable, so you should stick to what you know and what makes you feel your very best.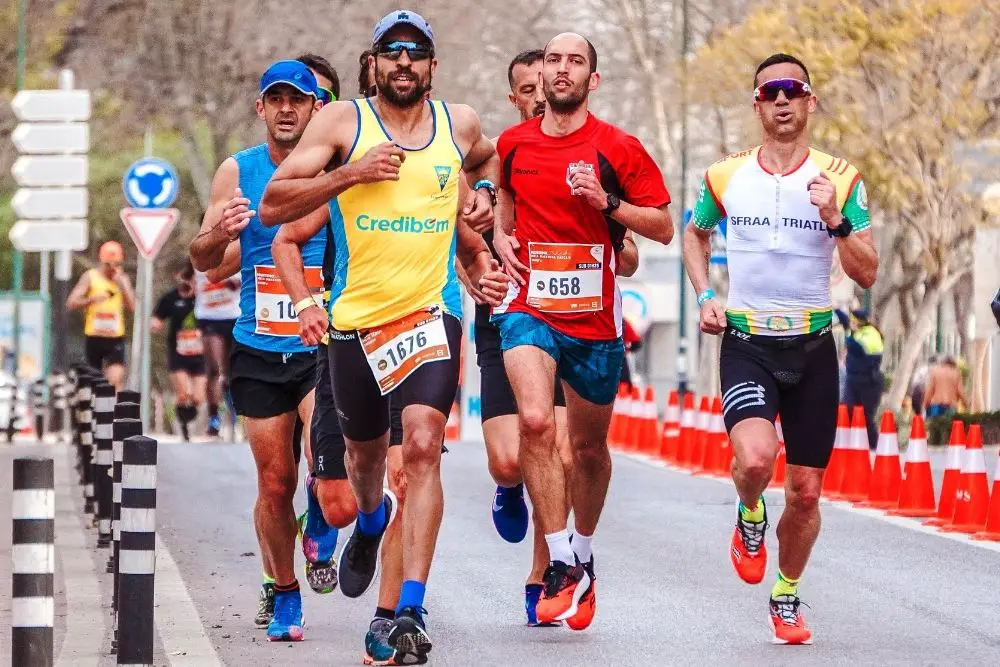 Does Running Give You Abs?
If you are wanting the perfect abs, then running can end up being your best friend because this is an exercise that burns fat especially quickly.
Running does more than just help with abs though because it also tones the legs and lifts the buttocks and also works that entire abdominal wall.
In fact, when you are starting out in running you might find that your abs region will be sore – this is a good sign.
This is your body telling you that your abs have had a pretty good workout. 
However, running alone will not give you abs.
You also need to work on your diet along with the intensity of your exercise and also the frequency at which you exercise.
Does running give you abs? Well, not by itself – but it certainly helps.
In Conclusion
Overall, it is down to you what you wear on your marathon – you should wear what makes you feel the absolute best.
But, there are definitely some items that you should consider investing in that will just make your marathon experience much less stressful.
Investing in some cool gadgets will help you out massively, and you will feel great when you get to that finish line.