Not all running shoes are born equal, and there is a surprising amount of variance between different models within a brand, let alone the entire market.
Quite often the needs of the runner will dictate certain preferences and designs in a pair of running shoes, as some will prefer a lighter more casual style, while others will want something much more supportive and heavy-duty.
It can be difficult to decipher what running shoe is going to work for you before you actually get any use out of it, which is why getting some knowledge prior to buying is absolutely key to making the right decision.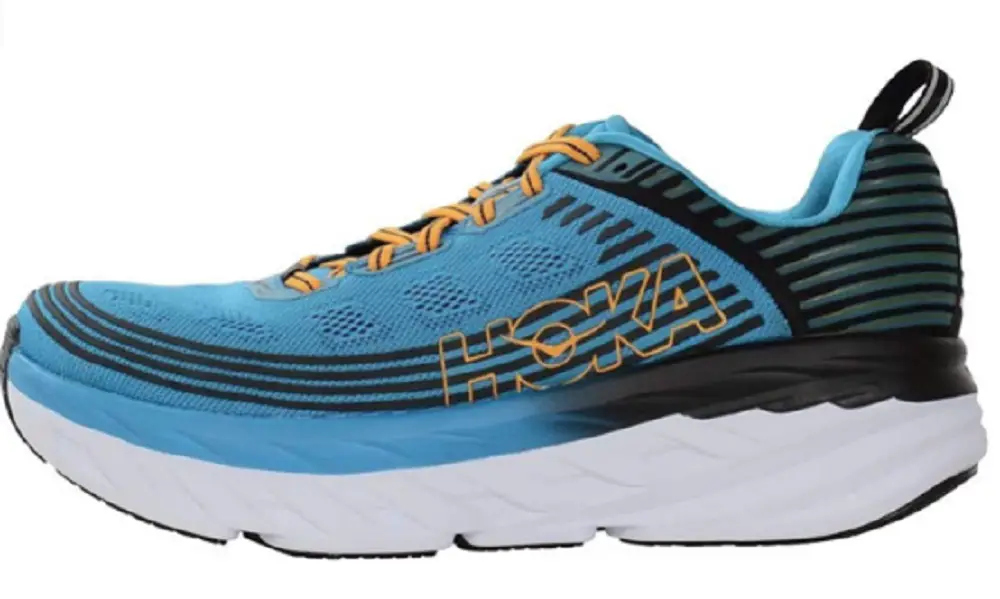 In this guide, we're going to look at some of the key features of the Hoka Bondi 6 running shoes, including the materials used, the design, the feel of the shoes, their aesthetics, and any key issues they have. This aims to be a comprehensive look at the shoe and its performance, with a view to helping you decide if these are the right shoes for you.
This brings us to Hoka, a brand of running shoes founded in 2009 in France by two avid runners who wanted to produce high-quality running shoes that focused purely on performance and durability instead of simply aesthetics as a lot of large brands do.
The result has been that Hoka has built up a dedicated following of runners who value the attention to detail, unique aesthetics, and quality that Hoka builds into their shoes.
The Hoka Bondi 6 is the, you guessed it, 6th iteration of this popular shoe and a slew of improvements and adjustments which we're going to look at in more detail later!
But first, let's take a quick look at why good running shoes are so important.
Why Running Shoes are Important
Running shoes are incredibly important for protecting your joints from damage due to the repeated impact of your feet on the ground. This is particularly important if you run on hard surfaces such as concrete or even a treadmill, as the impacts are that much more… impactful.
There are varying schools of thought about how much support and how thick the soles of running shoes should be, but generally thicker means more support and more comfort, while thinner means lighter and more agile.
It's a trade-off with plenty of implications for you and your running style, but it's best to choose something that suits you and your own fitness and health requirements.
Intended Use

The Hoka Bondi 6 running shoes are clearly a more heavy-duty shoe that is incredibly supportive and comfortable, and they benefit from many iterative improvements that make them a quality option for dedicated runners.
They can handle serious distances and variable conditions thanks to their quality tread and sole, as well as a solid lacing system, good heel design, and a raft of other features that make these shoes a quality choice for serious runners who want maximum support and performance.
The unfortunate downside is that these shoes aren't as given to everyday wear as some running shoes, and aren't particularly easy on the eye due to their large size and clunkiness.
They can be worn around if you really need the extra comfort, but generally, there are probably more comfortable and practical options for everyday wear, as the size and weight of these shoes can be a little unwieldy at times.
Fit
The fit of these shoes is incredible. They are extremely comfortable and benefit from a revamped heel design, as well as a large toe box and ample arch support for an almost luxurious amount of support for your feet.
These shoes are a fine choice for people with larger feet or those with foot-related health problems such as flat feet.
The laces tie up tightly and the tongue is fairly discrete making for a comfortable fit and seal around the ankle too.
Grip
The grip on these shoes is very good, thanks to a fairly aggressive tread and a soft midsole that allows you to really plant your weight with authority.
They can cope with wet conditions quite effectively and are true to the Hoka heritage, they work well in off road conditions, despite not being true trail shoes.
The outsoles feature a mixed texture and highly grippy rubber bottom that works very well and seems durable, meaning these shoes will likely retain their grip for a good amount of time.
Laces
The laces on these shoes are relatively simple, but crucially they are a flat design and quite low profile which makes them grippy and helps heel them out of the way, unlike rounded laces which often come loose easier and are harder to tuck away effectively.
The eyelets are reinforced to help them last and give a little extra rigidity to the upper, and the laces cover a good portion of the shoe to provide good stability and security.
Material
The uppers are primarily mesh, however they are a little less breathable than in prior versions of the Bondi series which makes sweat-wicking and cooling a little less effective. It is however more durable which lives up to the toughness and pedigree of these hard-wearing shoes. 
The heel area is made of lycra and is reconstructed to provide extra comfort, and this is a noticeable improvement over prior versions of the Bondi series.
The midsole is classic EVA foam with a slightly softer feel which is forgiving yet durable, while the outsole is a tough and tacky rubber.
Sole
The sole is a grippy rubber outer and forgiving foam mid that combine well to provide good traction and support. The only downside to this combination is that the thickness of the midsole is responsible for the weight of these shoes which is considerable, and it makes them a little less precise and nimble than some other running shoe designs.
Feel
As we've touched on already, these running shoes are on the heavier side.
This is primarily due to the large midsole which provides support and comfort at the cost of weight.

This makes the shoes feel a little clumsy sometimes and can take some getting used to, however, they are insanely comfortable and supportive once you're used to them.
Some say that heavier running shoes negate the effectiveness of the additional foam in the sole by making your footfalls heavier, however, with good technique these running shoes will protect your knees and ankles from the rigors of running very capably.
Durability
These are a very durable running shoe, with ample tread on the soles, an ample mid sole, a stronger, reinforced mesh upper, and a strong yet comfortable lycra heel area.
The laces are strong and the eyelets are reinforced, making these as near to bombproof as possible for a pair of serious running shoes.
Aesthetic
The aesthetics is arguably one of the weakest areas of this shoe, even in a world that seems to currently value larger and clumpier styles of shoes.
The colorways Hoka lean towards are often vivid and eye catching, but they aren't particularly casual or fitting with the athleisure aesthetic, and this is betrayed mostly by the sheer size of the midsole and the aggressive tread of the outsole.
While some may value these unique characteristics, in general, these shoes aren't the easiest on the eye and are more geared towards performance than presentation.
Issues
The main issue with these shoes is the slightly reduced sweat-wicking and cooling performance from the prior Bondi 5 version, and the weight which is considerable at 10.9oz.
These are tradeoffs for the otherwise immensely impressive characteristics of these shoes, and honestly, for someone who wants maximum comfort, support, and durability, these are a fair trade-off.
Price
These running shoes come in at a slightly more expensive mid-range price of $120 to $150 dollars depending on the retailer, which isn't surprising given the excellent detail and performance provided by these running shoes.
Final Thoughts
Overall, the Hoka Bondi 6's fill a very niche yet very important area of the running shoe market and cater to this niche with care and an eye for detail.
While heavy and a little clumsy, they provide near unbeatable performance in nearly every other category, making these a runner's running shoe suitable for punishing long-distance excursions.