The Garmin Forerunner 45 is  two things above all. Firstly, it's an entry-level GPS fitness tracker. And secondly, it's from Garmin.
Perhaps weirdly, the fact that it's from Garmin really elevates our expectations above the norm for other entry-level GPS fitness trackers.
But if we hold the Garmin entry into the market to a higher standard, Garmin has no-one to blame but itself. It has been a forerunner in the GPS wearables market for a long time now, and it has consistently evolved and updated its offerings, making ears prick up whenever it launches something new.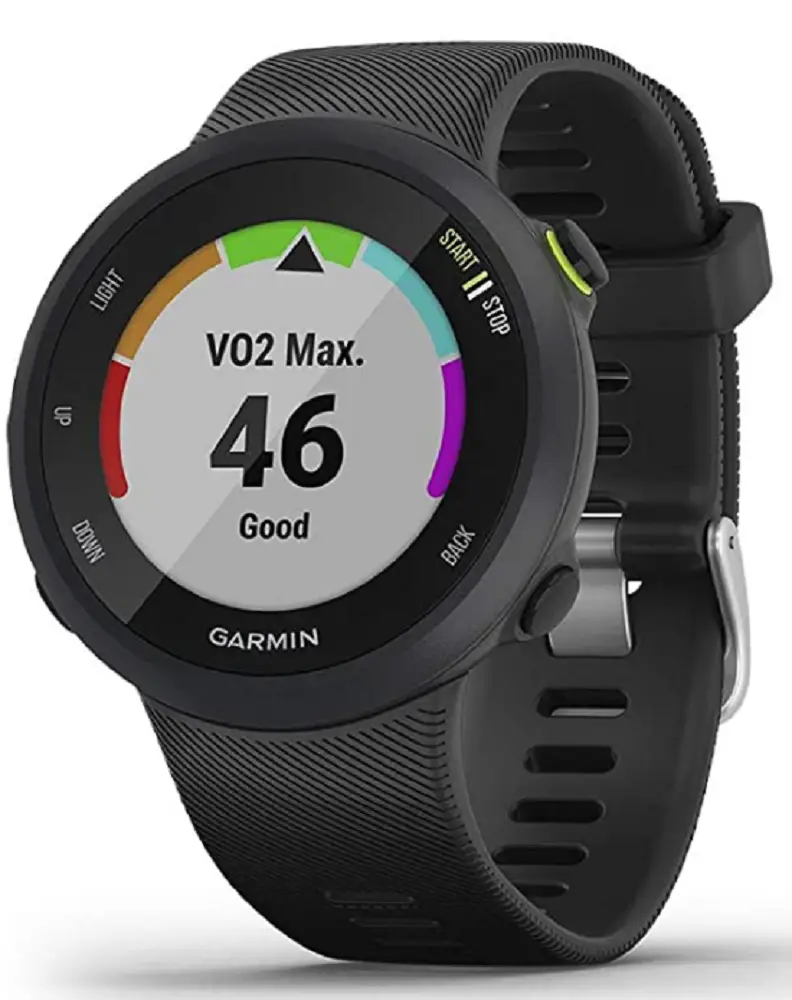 The Forerunner 45 is an upgrade of the previous Forerunner 35, and it turns a degree of no-frills styling into a design statement. "You don't want frills, dammit, you're a runner!" it declares in a styling choice that is both audacious and a touch presumptuous.
Where the Forerunner brings the magic though – and where it challenges all-comers – is in its features. In the tricks it does, rather than in its pretty face. And the fact that it does the tricks at the price-point it inhabits.
The secret, really, is that Garmin's Forerunner 45 is able to leverage its market position to bring some seriously high-end features right down to earth in an entry-level model. Then it flutters its eyelashes at the more expensive brands and models, and sweetly asks them why they're charging so much for the things it can do all the way down here at entry-level.
It's delicious and disingenuous at the same time. But the result is a GPS fitness tracker that does a whole heck of a lot without costing you anything like what other brands are charging.
Result? Frankly – Garmin wins.
The features
So what are these magical features that Garmin brings down to your level?
Well, the built-in GPS is of course a given – number #1, it's Garmin, GPS is the most fundamental thing the company does, and number #2, what kind of fitness tracker doesn't have GPS two decades into the 21st century?
You also get an optical heart rate monitor, VO2 max, activity tracking, sleep tracking, and special Garmin adaptive training plans.
Oooh, right?
There's more. You can also monitor your stress levels, get your smart notifications on the watch, and have access to smart tracking features like incident detection – that sends your real time location to emergency contacts through your paired smartphone. And on top of that, there are specific Garmin apps for running, cycling, indoor track, treadmill, elliptical, cardio, yoga and more.
That's a lot of tech for a relatively small price tag.
The new must-have for runners?
Mmmmaybe, maybe not. It's worth keeping in mind that while it looks like a watch, it's not really a smartwatch, so its direct competition is more in line with Fitbits than Apple Watches.
If you want to go down the smartwatch route and you're a die-hard Garmin fan, you're probably better served by the newish Venu Sq model. There, you get the slimline design, the fitness tracking profiles, the pulse ox sensor and the like, but because of its relative newness and its position in the range, you're going to be paying considerably more for one of those.
If you don't need the slick bling though, the Forerunner 45 may well be more your speed.
It's certainly more your price – Garmin has worked hard to put all this tech into a device which can be retailed more or less in the middle of the budget price range for fitness trackers.
The 45 is available in two sizes, the regularly chunky 45 and the 45S, for those with slimmer wrists. You get a full-color 1-inch screen, and as we said, you have to force the Apple Watch out of your brain. The colors on the Garmin are there to make sure you can read information clearly, they're not there to dazzle you with their brightness or virtuosity.
There's a five-button control setup here, which if you have experience with Garmin trackers, will be familiar, and the menus in the fitness tracker are surprisingly intuitive.
Joyously lightweight at just 1.2 ounces, it avoids that feeling of exercising in a prison yard, and certainly feels more like a standard watch in that regard.  
Apps and data
You read our mention of the swimming app? That's valid here because the Forerunner 45 is waterproof to over 160 feet, so you can absolutely take it in any pool you care to name.
Now, a question – how deeply are you into the science of training? If you want to know the intricate details of calorie burn and muscle build and all that kind of data, you're going to be looking at a higher-end fitness monitor. In fact, that's essentially half of the more expensive models' answer to Garmin's challenge – up the higher end, you get a lot more elegance in design, and you get more hardcore data for the hardcore athlete.
Down at the Garmin end of the pool, what you get are friendly, useful coaching plans (through the Garmin Coach app), that will get you off the couch, guide you towards the goals you set, and be more of an annoying pal reminding you to feel the burn than a screaming personal trainer yelling in your ear at 4 in the morning about electrolytes and protein shakes.
With the Garmin fitness apps, there's a limit – you can only have six on your tracker at any one time. So – we know it's hard – but pick your six favorite energetic activities and somehow learn to live with it for a while, unless you want to splash out and get one of the more expensive fitness trackers.
If you already have a good level of fitness and, for instance, you just want to chart your progress as you build that fitness, the VO2 max feature will help you do that. And if you want to improve your running form, there's a handy cadence monitor here, along with the things you'd expect – pace, distance, and speed. That can really help tighten up your form and make you a better runner all around.
Stress monitoring and the Body Battery
What are less specific to the Garmin Forerunner 45 are things like 24/7 activity tracking and step counts. If the tracker detects you haven't moved in a while – hard morning banging out spreadsheets, maybe? – it will prompt you with an alert to get up and walk around, as much for your mental health as your physical.
Also, neatly, you don't necessarily have to tell the tracker what kind of activity you're doing – it can automatically differentiate between walking, running, swimming and cycling, and can log the time you spend doing each of these activities, so you have a record of your effort while making… erm… minimal effort to overtly record it.
If you have such gruesome things as intensity minute targets, you can set your daily goals and the Garmin will prompt you to up the intensity right now if you want to meet those goals. While it's less inherently personal trainer than some of the more expensive fitness trackers, it can bring the drill sergeant when you want it to.
Stress tracking is a new development for the Forerunner 45 – it's been proven that stress has as much of an impact on overall fitness levels as sleep, diet, and exercise, so it was inevitable that eventually it would be folded into our model of healthy living, and therefore activity monitoring. Using heart monitoring as a guide to stress (and using a baseline assumption of regular heart health), it monitors perceived stress levels throughout any given day
In addition to this, the Forerunner 45 adds in a feature called "Body Battery tracking."
Yeah – we didn't know, either. Body Battery tracking is essentially a combination of statistics that chart how much energy you have at various points throughout the day. Before breakfast, after breakfast, mid-morning, after lunch, etc.
It charts how your energy levels fluctuate, largely in relation to other data on food, exercise, sleep, and so on, to establish a generalized – we should stress Generalized and underline it a couple of times – picture of how your "Body Battery" drains and recharges throughout the day.
Multiple systems
We've said that GPS is the first and foremost thing Garmin does, but to be fair to the satnav giant, that's a little out of date. FPS is an American network of global position and navigation satellites, and for a good handful of decades, it was the only game in town for satellite positioning.
Now though, there are three major networks of satellites – GPS (American), GLONASS (Russian), and Galileo (European). The use of three networks means a lot more satellites (along with sub-systems to narrow down precise position), so now, your Forerunner 45 has technology inside that uses all three systems, for a much more reliable position fix than you could get with GPS alone.
With a 7-day battery while used as a running watch, and 14 hours of power when used constantly as a navigation tracker, what Garmin has produced in the Forerunner 45 is a watch that offers health and sport benefits both to experienced runners and exercisers, and to those who need a prod or two to put down the burger and go walk around a couple of blocks.
It lets you access a lot of data and a ton of alarms and apps that will make health tracking a thing you can get into without feeling like Big Brother, the FBI, or come to that, the Russians are watching you jog (they only do that through Facebook. Kidding!).
The Forerunner 45 puts a lot of tech in your hands and on your wrist, for a price some other companies can't possibly match. That way, it expands the entry-level end of the market, and it lets you know the level of technology it's possible for you to access for that entry-level price.