Having been around for well over a century, New Balance is one of the oldest sporting footwear companies in the world, even older than industry stalwarts, Brooks. As such, it's never a bad decision to choose one of their products as your go-to running shoes.
That said, no amount of experience in the active footwear industry will make up for a bad fit. If you buy the wrong size, your running will suffer, which is why it's important to question how New Balance shoes fit before committing to a purchase.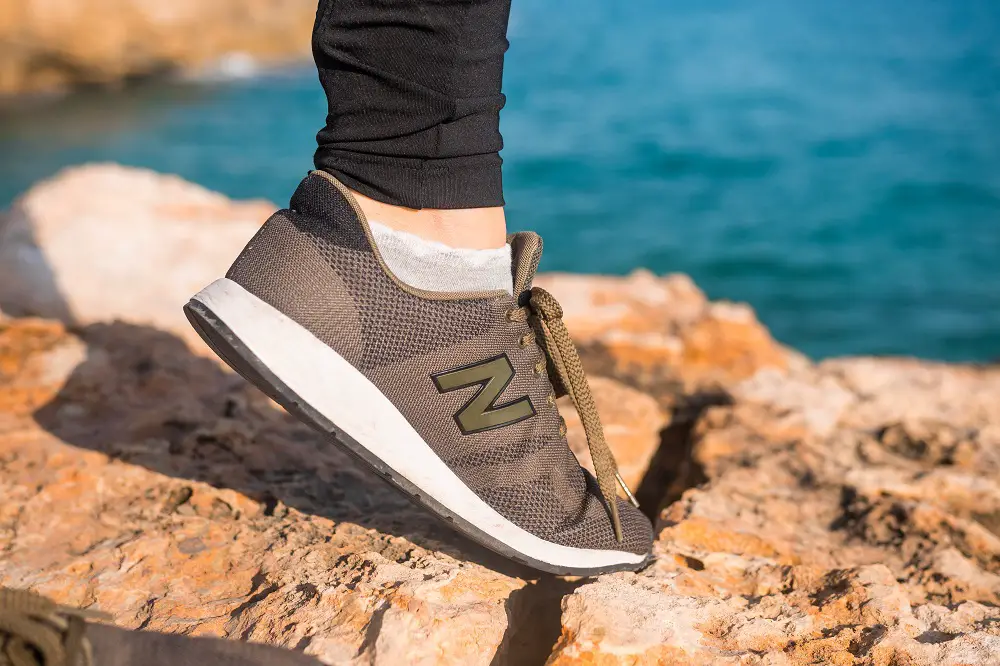 The good news is that New Balance embraces people's differences, and understands that every foot is unique, even from its partner in crime. They offer multiple widths of most of their models, so you can get something that fits just right, helping you to push the boundaries during your exercise — perfect! 
But how do their shoes fair lengthwise?
Do New Balance Shoes Run Small?
There are minor deviations depending on the range of footwear in question, but for the most part, New Balance shoes run true to size, including popular models such as the Roav V1, the Trail V1, and the 880v11.
How Does New Balance Sizing Compare With Other Brands?
Oftentimes, the best way to get a feel for how a pair of shoes will fit is to compare them with shoes from a similar competing brand.
If you've already had experience with products from one of the following brands, simply use what you know already as a baseline to ascertain what size of New Balance shoe you'd need.
Adidas
Adidas shoes normally run pretty close to national shoe size averages, but many runners report that they lean a couple of millimeters towards the small side of the spectrum.
New Balance shoes will almost always be a few millimeters bigger than an Adidas pair, so if your latest Adidas sneaks were a perfect, true-to-size fit, you may want to go a half size down for your New Balance shoes, but that's only for casual wear.
Our feet expand when we exercise, so the extra wiggle room of a true-to-size New Balance fit will be perfect.
Nike
Nike makes some pretty slight shoes — especially their technical running lines. They tend to be short in both length and width, so New Balance shoes can be almost a half size bigger, even if they carry the same size label.
I personally buy a whole size up when shopping for running shoes from Nike, which means I'd go true to size with a New Balance pair.
Check out our article on whether Nikes run big or small for more information on the brand's unique sizing.
Brooks
Brooks does a respectable job when it comes to sizing. Most of their products will fit true size whilst offering plenty of breathing room in the toe box for foot expansion throughout the day and during exercise.
New Balance has a very similar fit to Brooks sneakers, so if you've had a pair of Ghosts, Adrenalines, or Glycerines in the past, just pick up the same size shoes from New Balance.
Reebok
Although they can run pretty narrow (not quite as narrow as Nike), length-wise, Reebok sneakers run true to size.
If you have particularly broad feet, you may have had to size up your Reeboks in the past, but as New Balance offers more flexibility in terms of width, you can stick with your true size.
Asics
Generally speaking, Asics run a little bigger than New Balance, yet their shoes are narrower, which can make finding the right fit a little tricky for runners with wider feet. 
If you've had to size down your Asics in the past, true-to-size New Balance shoes should be perfect.
Saucony
It's the same story with Saucony running shoes. At times, they can run a full two inches larger than New Balance shoes rated for the same size. 
So, if your Saucony sneaks were a true to size, glass slipper fit in the past, you'll likely need to go a half or full size up for when entering the New Balance ecosystem.
Hoka
Hoka sizing is similar to Saucony in terms of width, but they're mostly only a half size longer than the national average. 
If historically, your Hokas fit like a glove, you may need to go a half size down for New Balance.
New Balance – A Width Guide
One of the best things about New Balance as a company is their customer-kind ethos on fit. They produce multiple different shoe widths for each model, ensuring you get a pair that's just right for your natural biomechanics.
The only problem is that we sneaker freaks aren't used to such care, which can make understanding New Balance's width sizing a little confusing. Not to worry, though. I'm going to break it down for you right here, right now! 
New Balance – Men's Shoe Widths
There are six widths for men to choose from, with D being the run-of-the-mill average. There are two narrower widths. These are B (narrow) and 2A (extra-narrow). 
On the other side of the spectrum, you get three extra widths to experiment with. These are 2E (wide), 4E (extra-wide), and 6E (XX-wide).
New Balance – Women's Shoe Widths
There are also six grades of width for their lines of women's shoes, with B being the norm. On the smaller side of B, there is 2A (narrow) and 4A (extra-narrow). 
Then, on the broader end of things, we have the D (wide), 2E (extra-wide), and 4E (XX-wide).
New Balance – Kid's Shoe Widths
Kids get 3 widths to choose from, M (standard), W (wide), and XW (extra-wide)
Do New Balance Run Small – The Final Word
There you have it, folks; New Balance almost never run small. In fact, they're one of the most consistent and reliable brands when it comes to true-to-size footwear.
Their shoes also boast roomy toe boxes, giving your feet plenty of space to expand into during exercise or when evening rolls around, so even if you plan on hitting the track with them, you shouldn't need to size up. Happy running!