Having spearheaded their fair share of groundbreaking research on the form and materials of sports footwear, it goes without saying that Nike makes some of the best running shoes on the planet. That said, much like any other shoe manufacturer, their products – magic as they are – rarely run true to size.
It's for this reason why purchasing new running shoes can be so dang tricky. If they're too large, they'll slide around on your feet, reducing stability and causing blisters. If they're too small, you'll be in severe pain before you've made it down your driveway.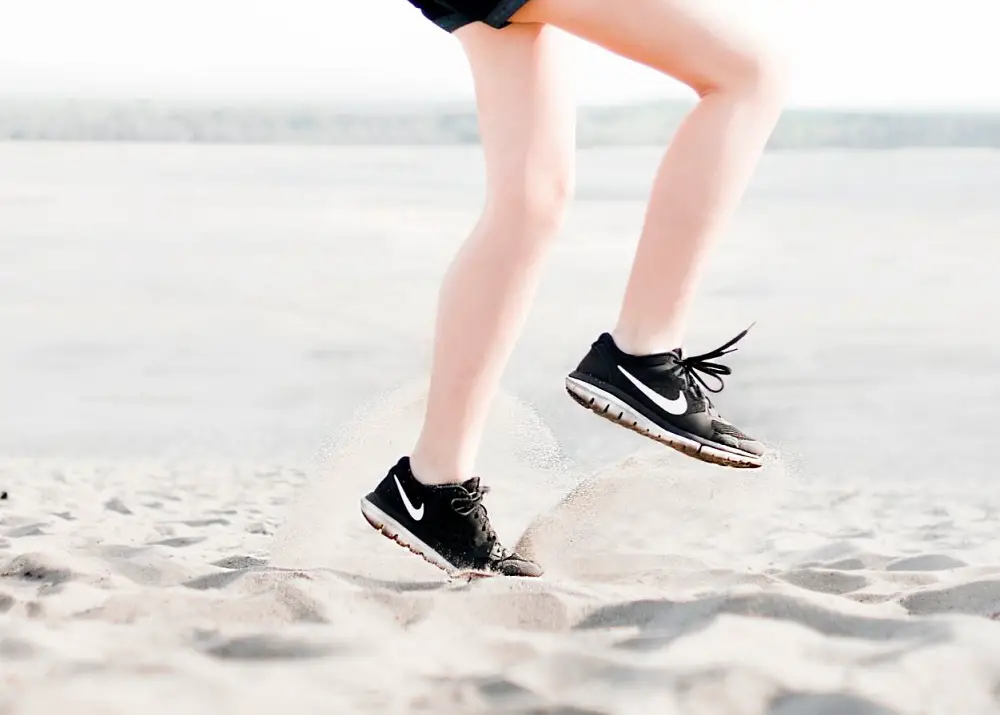 Of course, if you're purchasing your running shoes from a brick-and-mortar store, you're in the clear. Just try them on a few different sizes until you find the perfect fit. However, if you're shopping online to take advantage of a wider array of styles and better offers, it's essential you find out if a pair of shoes run big or small before committing to a purchase.
So, where do Nike shoes usually stand on this sizing spectrum? Read on to find out, friend.
Nike Shoes — Do They Run Big or Small?
Nike shoes famously run quite small in both width and length, so – for the most part – it's best to buy them at least half a size up. In fact, as your feet expand during exercise, it might be best to go a full size up, and if you have particularly wide feet, a size and a half shouldn't be out of the question either.
If you've been using a competitor brand such as Adidas or Reebok, you'll instantly notice the difference when trying on a Nike shoe in your size. 
Nike claims that, due to their breathable, second-skin materials, their shoes are adaptable, which is true to a certain extent, but you're still better off sizing up.
I recently invested in the Nike Air Zoom Pegasus 38. I'm usually a US 10, so I sized up to an 11, and they fit perfectly. There's just enough space in the toe box to give my toes a little wiggle room when they bloat during a run. For casual wear, I think I would have been fine with a US 10.5.
Do All Nike Shoes Run Small?
Making your mission to find the perfect running shoes even harder is the fact we really can't generalize and say that all Nike shoes run small. Many of them run big, and some do actually run true to size — annoying, I know! No wonder roughly 60% of people end up wearing the wrong size shoes.
The only thing we can do to bring a bit of clarity to the situation is address some of Nike's most popular silhouettes individually.
Nike Sizing – One Shoe at a Time
The Epic React running shoe from Nike is designed to have a sock-like fit, so it goes without saying that they're pretty snug. As such, it's best to go a half size bigger for casual wear, and a full size for active wear. If you have wider feet, go a full size up, regardless of the intended application.
Surprisingly, Nike's Air max lineup actually runs pretty close to the national shoe sizing average. That said, people have reported that the 270s are a little narrower than the rest, so if those are the ones that have caught your eye, go at least a half size up, especially if you plan on wearing them for exercise.
Most Nike Vapormax shoes run true to size, but the ones with the breathable Flyknit upper are a tad smaller, so if you plan on wearing them for exercise, go a half size or full size bigger depending on the width of your foot.
Nike's Free RNs are guaranteed to be a snug fit, so you'll need to wear a size up just to give yourself room to wear socks. 
For intensive exercise, those with wider feet should consider going a size and a half up. People have reported that they haven't even been able to get their foot into the shoe when buying true to size.
The Nike Air Huarache is something of an optical illusion. They appear to be a lot chunkier than other shoes in the various Air ranges, yet they run shockingly small.
You'll need to size up by a half even for comfortable casual wear, and for exercise, you'll need a full size bigger at the very least.
If you're quite broad footed, it's probably best to avoid the Huarache altogether.
The Metcon is unanimously considered a true-to-size shoe. They also have a slightly wider toe box than most other Nike silhouettes, making them a comfortable prospect for those with wider than average feet.
Much like the Metcon, the presto iteration of Nike's React model seems to run true to size, with a slightly roomier toe box — a great choice for people with broad feet.
I'd recommend going with your true size for the Roshe. If anything, they run a little big, so if you're looking for a snug, casual fit, it's best to go half a size down.
Most are in agreement that the Waffle Racer runs a little small, so a half size up will be just the ticket. A full size up is best for wide feet.
These rather attractive shoes run pretty small, so I'd recommend going a full size up, and even then, they're pretty narrow, so if you've got broad feet, it's best to choose from a different Nike range.
The Nike React silhouette is supposedly true to size, but I'd still recommend going a half size up for running or if you enjoy wearing cozy socks.
Do Nikes Run Big or Small – The Final Word
Generally speaking, Nikes run small, but they've released an astonishing amount of shoes over the years, so it stands to reason that the sizing would fluctuate from range to range and sometimes even model to model.
If you can afford to, I'd recommend ordering two pairs in different sizes, so you can try them both on, see what feels best for you, then send the other pair back. 
And remember, you'll want a bit of breathing room in the toe box for when your feet hulk out during exercise.