As Brooks trainers go, the Revel series seem to have flown relatively under the radar. They have not received nearly the same kind of cult following or consumer attention as other Brooks offerings, such as the Ghost series and the Adrenaline lineup. But the Brooks Revel 4 is a trainer that deserves your attention. It is durable, smooth running and affordable, and most importantly, it has great versatility for all your running needs.
Sure, there are more exciting and maximalist sports shoes on the market, but the Brooks Revel 4 is the unsung hero of hardwearing, hard working footwear, so read on to find out all you need to know about this hidden gem of a trainer.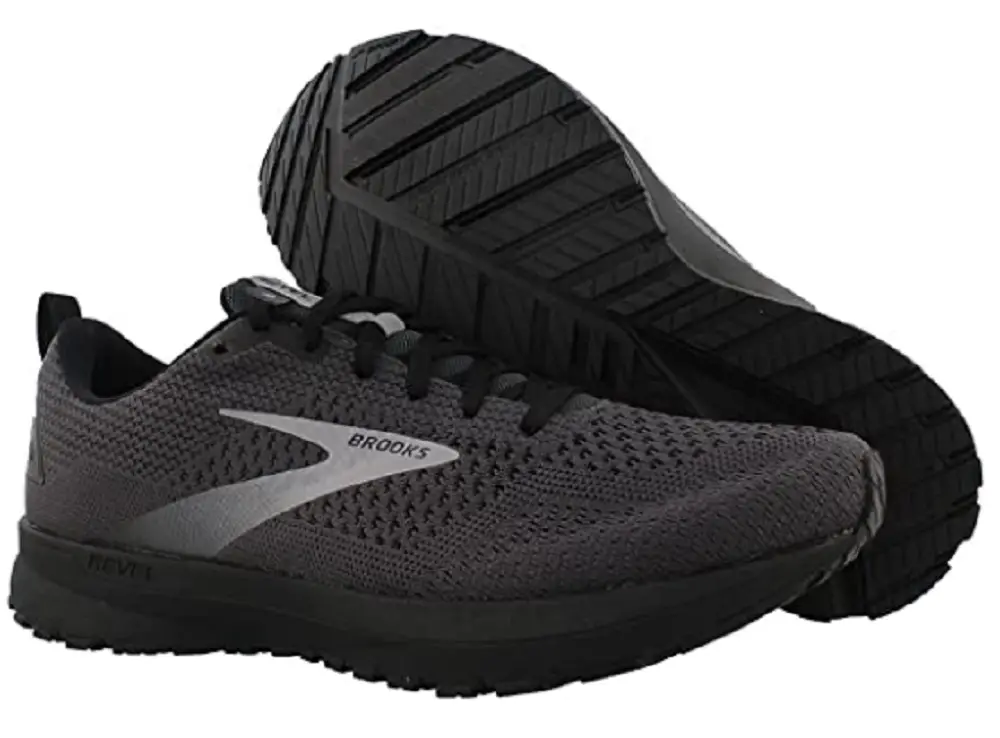 Who is the Brooks Revel 4 perfect for?
Due to its brilliant versatility, the Brooks Revel 4 is a trainer that any running enthusiast could benefit from having in their kit bag, and it is an affordable backup shoe too. Great for road running in long, short and mid distances, for training runs and recovery runs, this shoe will have you covered for all eventualities. 
Who is the Brooks Revel 4 less suitable for?
The trainer is less well suited to speed running, tempo training and sprinting due to its soft, BioMoGo DNA midsole. This squashy midsole tends to sap the energy from your stride rather than strike back with snappy resistance like stiffer midsole options can. 
Equally, if you are injury prone or require special support around the foot, ankle or knee areas, then there are more suitable options available than the Revel 4, which is a more basic trainer intended for no nonsense daily use.
Weight
The first thing to say about the Brooks Revel 4 is that it is a pretty lightweight trainer which won't feel heavy and cumbersome on your legs even as they get tired towards the end of a long run. The stats are simple: a men's US size 9 shoe weighs in at 8.7oz, which is far lighter than other competitor shoes like the Brooks Ghost 13 that weights 10.01oz.
A women's US size 8 weighs 7.9 oz, so once again is a very nifty and light shoe. Although there are lighter options out there, the Revel 4 balances lightness with support, so covers multiple areas, and is a great trainer for recovery runs when your legs are feeling particularly heavy and stubborn.
Fit
The fit on the Revel 4 is really true to size, with no unexpected curves or crazy high insoles that start to squeeze on your foot 10 minutes into a run. The simplicity of the design is a real asset because it moulds to most average foot  shapes easily and hugs all the right places. 
There is enough room in the toe box for a good, healthy toe splay, but the Revel 4 is not too wide a fit at the front so as to let your toes slip as you stride. The toe box is a good height too, so there is plenty of wiggle room.
What is more, the ankle collar and heel counter are not too high. This is great because it prevents chafing and irritation around the achilles tendon and allows the ankle plenty of freedom to move. There is just enough cushioning in the ankle collar to make it comfy without feeling cumbersome.
The tongue on the Revel 4 is narrower than average but manages to achieve a nice balance between being streamlined and plush. It is not obtuse and successfully keeps the pressure off the top of your foot as you run. The Revel 4 label sewn along the length of the tongue also looks pretty smart and gives the shoe that distinctive Brooks aesthetic.
There is quite a bit of excess material on the upper which can seem unnecessary to some, but it does mean that this trainer can accommodate a wider foot shape and also allows relief room for anyone with bunions on the medial side of their feet.
This excess can easily be cinched together for a snug fit if you have narrow feet. All in all, considering that the Brooks Revel 4 has a mainly knit upper, it achieves a great deal of lockdown and security in the fit, with no slippage to speak of.
Fastening
The Brooks Revel 4 laces are a real highlight because they are so straightforward and unfussy. They are no fashion statement but the flat, nylon material lies snug to the foot and holds fast through the woven eyelets that run along the upper.
If anything, these laces are a little on the long side, with plenty of excess left over, but they have great bite and you will be able to keep cinching them tighter and tighter as you wear the shoe in so as to maintain a lovely, secure footing.
The heel tab is well positioned for easy pull-on access and adds a nice accent of color at the back of the shoe, however it is fairly cheaply stitched and can come loose if tugged too roughly.
Ride
The Brook Revel 4's BioMoGo DNA midsole is fairly standard for a daily trainer and it does its job well without offering anything particularly revelatory to the mix. It has an 8mm drop from the back of the heel to the toe, so a gentle slope that assists with a smooth ride.
The midsole is bouncy and energized without becoming mushy and really sapping speed from your run. However, it is not as crisp and zippy as harder soled options and is therefore not great for interval training or racing. Really, the Revel 4 does not have a specific run-type that it is designed to assist as it is not an easy, cushioned jogging shoe either.
This may put some runners off, and sure, there are purpose designs out there that suit individual running needs better, but for versatility the Brooks Revel 4 comes top. It is an excellent day shoe that can go the distance without becoming uncomfortable and without becoming laggy and mushy either. For reference, the Nike Pegasus Turbo and the Skechers GoRun 7+ Hyper are two trainers with a similar ride style to the Revel 4.
Some runners have noted that the shoe could do with having a little more responsiveness in the forefoot, especially for running on flat surfaces when the ball of the foot tends to strike the ground first. However, the overall responsiveness of the midsole is good, and will allow you to pick up pace when you wish to, whilst letting you go slow when you want to as well.
Grip
The outsole of the Revel 4 is green rubber (therefore better for the environment) and has excellent coverage which results in increased durability. There are decoupled sections along the forefoot that create just enough flexibility without making the shoe too soft, and these help to gain good traction on a number of different surfaces too.
The arrow-point pattern on the outsole is effective in encouraging a smooth transition from heel to toe with each stride. These arrow-points also speed up the weight transfer for a bit of fun running speed too. The grooves do tend to get clogged up with dirt after a few runs, but that is fairly unavoidable, and the payoff of being able to take these trainers over gravel, hills and country climbs is great.
Of course, it is worth switching to a sturdier trail shoe if you are really heading off-road but, once again, the Revel 4's design makes it a pretty impressive and versatile option to have in your kit.
The outsole wears slowly, and as the shoe is affordable in the first place, this means that the Revel 4 is a very long lasting shoe and a great investment.
Breathability
The Brooks Revel 4 has a largely knit upper which means that the breathability is less effective than in mesh trainers. The weave opens up over the toe box, and does allow some aeration around the front of the foot. However, the knit tightens to a more dense weave around the sides of the shoe and the heel, in order to create support  and stability.
The downside is that these shoes can get pretty clammy in hot weather and, even in cooler temperatures, if you run for a long time your feet will feel the heat. The breathability of the Revel 4 is not so bothersome as to be off-putting, but it is something that the developers may consider addressing with future iterations of the Revel. 
In Summary
Overall, the Brooks Revel 4 is a brilliantly versatile and reliable running shoe that keeps things simple in order to do it all. Light and firm enough to let you gain speed, soft and bouncy enough to cushion your long distance runs, this trainer is friend to all and foe to none.
It is durable and adaptable to most foot shapes, and it is affordable as well. The only thing you might notice is the lack of breathability due to the close knit upper, but even this is not enough to dent the Revel 4's rewards.