Black Mountain is a mountain located in the western part of North Carolina, and it's home to many trails that are perfect for running. Do you find yourself in this area and are you looking for the best running trails?
If yes, then you came to the right place. This article lists some of the top running trails in and around the Black Mountains.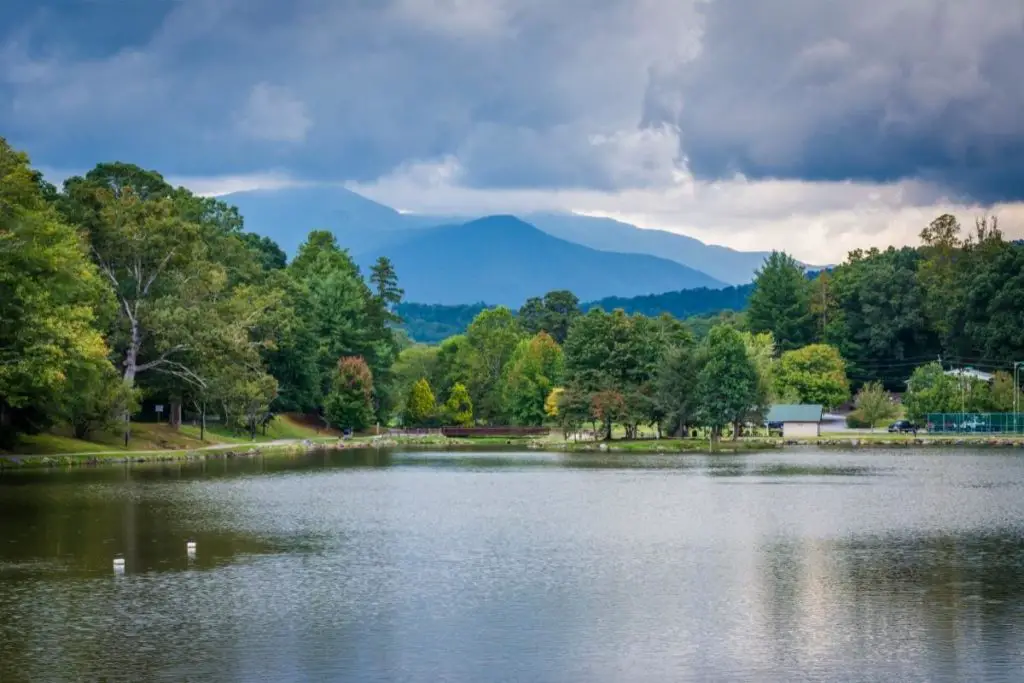 Running is a great way to stay fit and enjoy nature at the same time, and being out in nature is also good for your mental health because it allows you to connect with others while enjoying the beauty of nature.
Running around the Black Mountains NC is a great way to achieve both of these goals!
There are various types of running trails in Black Mountain, such as paved roads, dirt paths, and even mountain biking trails. The best thing about these trails is that they offer a variety of terrain.
They range from flat to hilly, rocky to smooth, and grassy to wooded. Whilst trail running is generally safe, up in the mountains there are a few more risks than you might find out in the city, so this guide will tell you about these trails in detail, as well as some safety information.
Firstly, we will take you through the 5 best running trails that the area has to offer, including the approximate distances of each trail, as well as a little about the terrain.
We've also added a short FAQ section at the end of the article, to answer any vital questions you might have.
Let's see what the best running trails in Black Mountain are!
The Best Running Trails In Black Mountain
Let's get straight into it! Check out our five best running trails in Black Mountain below. Don't worry, we have plenty of detail about all the trails so you can become an expert without needing to leave the house.
Little Creek Trail
Distance – 24.9km
This trail starts by going along the banks of the Little River, which is a tributary of the French Broad River. It's a long trail and we do not recommend this for beginners.
If you are looking to run a small part of it then make sure you come prepared. You should bring plenty of water, food, and energy gels.
Be careful on this trail because it goes over rocks and roots.
At the end of this trail, you'll reach a beautiful waterfall – a great reward for a difficult run!
Little Creek Falls Trail
Distance – 4.5km
This trail takes you to a beautiful waterfall near the town of Hot Springs. It's a lot shorter than some of the other trails on this list, so it's great for beginners. You can access this trail from the parking lot next to the falls.
From the parking lot, head down the hill and cross the stream. Follow the path until you reach a wooden boardwalk. Take the steps leading to the falls.
This trail is not very steep, but it does require you to climb a few stairs. On this trail, you will get views of the river and surrounding mountains, which will no doubt inspire you as you run! 
Mill Run Trail
Distance – 6.7km
Mill Run Trail is one of the most popular hiking trails in Black Mountain. It's a very scenic trail that follows the banks of the French Broad River, giving you views of the surrounding forests and fields.
From the parking lot, walk down the hill and turn left onto Mill Run Road. Keep following the signs for Mill Run Trail until you reach a fork in the road. Go right and follow the signs for Mill Run and you'll be able to start your trail. 
This is a fairly short trail, though it is quite steep in parts. It's recommended for those who want to go for a run with some of the most gorgeous views around!
Blue Ridge Parkway Trail
Distance – 11.8km
The Blue Ridge Parkway Trail is an easy hike that takes you up into the mountains. It's a much tougher run though because of the elevation. If you're looking to run something more challenging, then this is a good choice for you.
We think that this trail is great training for a 10k! It's steeper, a little longer, and will make you strong and practiced in being uncomfortable.
That's not to say you miss out on the gorgeous nature all around you though, this is a great way to see the area while running. At the beginning of the trail, there is a nice view of the valley where you start your journey.
As you go higher, you'll be surrounded by trees and shrubs. After about 1.5 hours, you'll reach a small lake. There are benches here if you want to stop and rest or enjoy the scenery – a great resting spot for when you truly need it.
Mount Mitchell Trail
Distance – 13.2km
Mount Mitchell Trail is a great trail for those who love nature. It's a great trail for runners as well. It's a pretty tough trail, but it's worth it.
Although it's fairly short, you'll have to do quite a bit of climbing. But don't worry, after you finish the trail, you'll be rewarded with amazing views of the surrounding countryside!
This is more of a trail to do if you're looking for steep inclines, rather than long distances, and another great trail that will make you deadly when running a 10k challenge!
Final Thoughts 
We hope that this article has given you insight into some of the best trails around the Black Mountains in North Carolina. When deciding what trail to run, always make sure you are comfortable with the terrain and weather conditions.
Try to choose a trail that is within your ability level. You may even find yourself wanting to try out a new trail that you wouldn't normally consider trying.
Don't forget to bring your camera along with you too; you never know what you might come across! Below is a short FAQ section that will answer some questions around safety when running on hiking trails!
Frequently Asked Questions
Get your last-minute questions answered here! 
Can Humans Run Faster Than Bears?
When it comes to running near mountains we are often asked, can you outrun a bear? So what is the answer? Read on to find out. 
The answer is no, bears are very fast. They can easily overtake a runner. If you come across a bear then the most important thing is to remain calm and keep moving.
Do not panic or attempt to fight back. Instead, slowly move away from the bear until you feel safe enough to continue.
Any time a runner encounters a bear, they should assume that the bear is dangerous.
If you find yourself trapped by the bear and there might be others nearby, then you need to try and make sure the bear will make noise, yell, wave your arms, etc. This will help alert others to the situation. 
How Far Can I Run Without Getting Tired? 
It depends on many factors such as your age, fitness levels, weight, etc. As your fitness grows, you will be able to run much longer distances without getting tired.