Runners everywhere can probably agree that one of the hardest parts of long-distance running isn't the distance itself – it's carrying all your essentials. 
Of course, there are plenty of options when it comes to taking your water bottle, running gel, snacks, phone, and keys on your run. The obvious solution might seem to be a backpack, but the downside of this method is that it can throw off your posture, affecting both your alignment and your running times.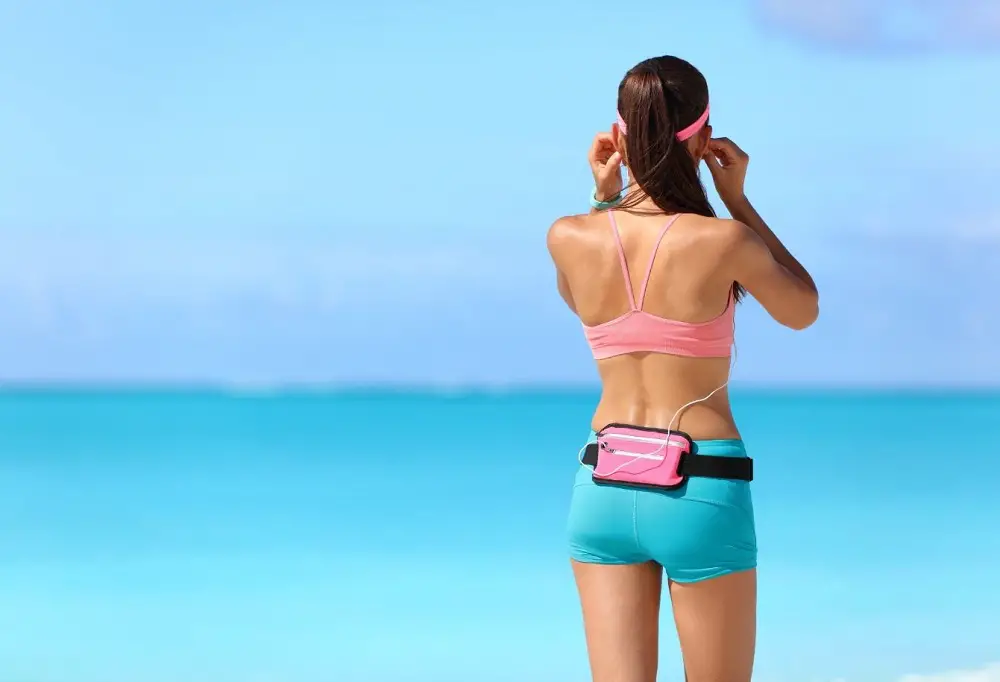 Many runners choose to carry what they need in their pockets or their hands. However, rummaging through all your pockets to find your gel is unlikely to help you set a PB, and even something as small as holding a water bottle in your hand can impact your form. 
This is why, at PCR-Timing, we advocate for the use of running belts. A running belt is essentially a streamlined bag, somewhat like a fanny pack, that fastens around the waist and is specifically designed for runners. A running belt should provide space for all of your essential items while helping you to maintain proper posture and run more effectively. 
We have 5 amazing running belts to review for you today, so let's go check them out!
The Top 5 Best Running Belts 
The FlipBelt is the most highly recommended running belt available through online retailers.
The first thing you'll notice about this belt is how streamlined it is. This is due to its tubular construction, which ensures that the belt does not stick out too far and feel cumbersome. Because of how the belt is constructed, it's really comfortable to wear and won't distract you while running. 
Built into the FlipBelt are 4 pockets, providing all the storage space you could need. These pockets don't have fastenings, so the openings are elasticated. This means that you can use the pockets to store just about anything, from your phone to a water bottle, and the elasticity of the material is so effective that even very small or large items won't fall out. 
The FlipBelt is made from polyester-lycra fabric, which is machine washable for ease of cleaning. It's also moisture-wicking and fast-drying. 
On the front of the running belt, you'll notice a reflective FlipBelt logo. This is a really useful feature for those who often run at nighttime or in low light conditions because it provides an added level of visibility. 
You can purchase the FlipBelt in a range of 13 different colors, from plain black to neon green. There are also fun patterned options, including 'Acrylic Summer' and 'Ocean Bloom'. No matter what colors you typically wear for running, matching your new FlipBelt to your gear shouldn't be an issue. 
The only issue we found with the FlipBelt is that it tends to rotate slightly with vigorous movement, which means that your pocket positioning may change over the course of your run. 
Pros
Tubular construction – Streamlined and comfortable
Four pockets – Plenty of storage space
Reflective logo – Nighttime visibility 
Polyester-lycra fabric – Machine washable
Available in 13 colors – Match to your running gear 
Cons
Rotates during movement – Pocket position may change 
FlipBelt Running Belt, Black, Large
Four openings (two in the front and back) to easily slide in and access items throughout the belt
Polyester/Lycra fabric for moisture wicking, quick drying, stretch, and softness against your skin
No fasteners that can cause uncomfortable chafing and the tubular, even design eliminates bouncing
Machine washable, and dry on tumble low or hang to air dry
Reflective 3M logo
After the FlipBelt, the next best running belt we'd recommend is this one from Sport2People. 
One of the biggest selling points of the Sport2People Running Belt is the premium-quality material, which is not only lightweight and soft to touch but also water-resistant. This means that the belt won't rub or chafe if it comes in contact with your skin, and you can safely use it in the rain without worrying about the safety of your phone. 
This running belt has 2 pockets: one small and one large. The small pocket measures 5.12 inches in length, while the larger pocket is 9.06 inches. The large pocket is perfect for holding your phone, while the smaller one is great for gels, keys, and other compact items. 
You'll notice that the Sport2People belt features reflective stripes running across the pockets. If you do a lot of your running in the early mornings or evenings, the reflective pattern will help to keep you visible to traffic. 
In addition to the pockets, this running belt also features an earphone port. This allows you to keep your phone safe and dry while passing your earphones through the hole to listen to music. If you need music for motivation but are always worried about your phone being dropped or getting wet, this is absolutely the belt for you!
You don't have to worry about finding the Sport2People Running Belt in your exact size because the buckle closure is adjustable. By tightening or loosening the belt, you can make the belt fit your body perfectly. 
Unfortunately, this running belt does not have a slot for a water bottle. However, if your water bottle or hydration bladder allows for it, you could attach your water to the belt externally using a clip. 
Pros
High-quality material – Soft, lightweight, and water-resistant
2 pocket sizes – Suited to large and small items 
Reflective stripes – Safety feature 
Earphone port – Facilitates listening to music 
Adjustable buckle closure – Versatile fit 
Cons
No space for water bottle – Clip attachment needed for hydration
WATER-RESISTANT Running belt for men, Running fanny pack women, Running phone holder fits most cell phone, Running waist packs, Reflective Phone holder for running, Running bag, Money belt
US and EU DESIGN PATENT running fanny pack for extreme COMFORT: The back of the pockets, which is in contact with your skin, is designed seamless for more joy during your sports ACTIVITIES. It doesn't move, bounce or rubbing.
ADJUSTABLE RUNNING BELT for men and women fits all body types. It is 27.5" to 40.5" long and suits different size of people. Two extendable pockets keep your smartphone and other necessities safe. ENJOY OUTDOOR OR GYM ACTIVITIES CAREFREE AND HANDS-FREE!
WATER-RESISTANT running phone holder is made from two layers: reinforced inner layer of TPU to keep your items dry, and outer layer of durable lycra. A water-resistant zipper keeps your items dry in any weather condition.
REFLECTIVE Running belt with two highly reflective strips and logo keep you seen during outdoor activities. Store your essentials during travel, large crowd events, walking or sports activities in running waist belt.
We are US Company with quick responsive customer Service. Feel free to contact us.
If you need to fit your running belt purchase into a tight budget, our recommendation would have to be the MoKo Sports Running Belt.  
Despite its highly affordable price point, the MoKo Sports Running Belt is made of premium-quality material. This fabric is soft and breathable and also has a good level of resistance to moisture, protecting the contents against water and sweat. 
There are 2 separate pockets built into the MoKo Running Belt, one of which is larger than the other. The larger pocket is specifically designed for phones measuring up to 6.5 inches in length. The other pocket can hold items such as a credit card, keys, or running gels. Separating your phone from the other items in your running belt will help to prevent it from getting scratched.
For those who enjoy listening to music while running, the phone pocket has a headphone or earphone port leading out of it. Using this port, you can protect your phone and get your groove on at the same time!
We love that the zipper running across both pockets features a reflective strip because it will allow late-night and early-morning runners to enjoy a safer running experience. 
The buckle closure of this running belt allows for size adjustment between 29.5 inches and 35.4 inches. The material also has a good level of elasticity, so it can stretch to 55 inches. However, in stretch mode, the belt can feel very tight, and it can't be shortened beyond 29.5 inches, so it's not the best choice for people with waists smaller or larger than the 29.5 to 34.5 range. 
Pros
Premium material – Breathable, soft, and water-resistant 
2 separate pockets – Prevents phone scratches
Reflective zipper – Enhances visibility 
Headphone port – Convenient for music 
Adjustable size – Between 29.5 and 35.4 inches 
Cons
Small size range – Not ideal for especially small or larger waists
Sale
MoKo Sports Running Belt,Outdoor Dual Pouch Sweatproof Reflective Slim Waist Pack,Fitness Workout Belt Fanny Pack Compatible with iPhone 11/11 Pro Max/X/Xr/Xs Max/8/7, Galaxy Note 10/10 Plus, S20/S10
Running phone holder for iPhone 11/ 11 Pro/11 Pro Max/X/Xs/Xr/Xs Max, 8 plus, 7 plus, 8, 7, 6S plus, 6s, 5S, Galaxy Note 10, Note 10 Plus, S10, S20, S10 Plus, S10e, S9 plus, S9, S8 Plus, S8, S7 edge, S6 Edge, Note 9, 8, 5, 4, 3, Nexus 5X, Nexus 6, LG G4, Moto Z Droid, Pixcel XL, Keys, Credit cards & more that up to 6.5 inch. Features a combination of functionality and style.
Two pockets design, ultra lightweight with extra storage grid separate your phone and earphones, wallet, cash, coin, keys or any other sharp things keeps your goods secure and protected.
Perfect for sporting, traveling, cycling, mountain climbing, walking trip, shopping and more. Adjustable and removable waist strap: 77 - 127cm / 30.5 - 50 inch. Maximum stretch length: 55 inch.
Two controllable buckles allow easy access to adjust the belt's length to fit your waist.
Built in Reflective strip around the zipper for safe running in low light conditions.
AiRunTech's Hydration Running Belt is the perfect choice for runners with a lot to carry. 
There are 3 main pockets built into the AiRunTech belt, but because the main pocket features a divider, there are technically 4 compartments. The main pocket is large enough to hold a 6.5-inch phone along with keys and a credit card. There's also a headphone port so that you can listen to music and podcasts on your run without compromising your phone's safety.  Meanwhile, the elasticated side pockets are designed to hold water bottles, helping you to stay hydrated. 
Speaking of water bottles, your purchase of the AiRunTech Hydration Running Belt will include 2 6 oz, BPA-free water bottles. This should be enough to keep you hydrated for about an hour. If you tend to run for longer, you can also select 10 oz bottles for a higher price. 
This belt's reflective strap will help you to stay safe in low light, altering traffic and other runners to your presence. 
Something we really appreciate about the AiRunTech Hydration Running Belt is that it's designed to fit a wide variety of body types. The velcro closure allows the belt to be adjusted to fit waist sizes between 18 inches and 51.2 inches. Moreover, the silicone grips around the inside of the waistband help to prevent the belt from moving around as you run.
The downside to the velcro closure, however, is that it may be more likely to succumb to wear and tear over time than buckle closures, for example. 
Pros
4 compartments – Storage for personal items and water 
Silicone grips – Reduces movement 
Reflective strap – Safe for nighttime use 
Highly size-adjustable – Fits 18-inch to 51.2-inch waist
Includes 2 6 oz water bottles – Facilitates proper hydration
Cons
Velcro closure – May become worn over time 
AiRunTech Hydration Running Belt with Bottles Zero Bounce Design for Running, Triathlon, Ironman, Marathon, 10K, 5K, Trail Fit for Most Smartphones(2 * 6 OZ bottle)
ANTI-SLIP TECHNOLOGY FOR ULTIMATE FIT AND FRICTION-FREE COMFORT : AiRunTech Upgraded run belt hook&loop tape's in place nicely and doesn't loosen while running, give you the ultimate freedom of movement and comfort, personalized fit for hips from 18-51.2 inch (46cm-130cm), Designed to be worn low down on the hips, contoured grips ensure total comfort by removing friction, allows for a snug fit that stays in place without bouncing or chafing during use.
HEALTHY & CONVENIENT HYDRATION: Include 2x 175ml NO RESIDUAL TASTE BPA-free Water Bottles, which apart from safe is also incredibly durable, You don't need to remove the cap in order to drink your water, this drinking bottle has a leakproof PUSH-PULL nozzle that allows you to enjoy your water even while you're on the move! TOP TIP, wash the flask out a few times before using.
SPATIAL DESIGN AND SPORTS PROFESSIONAL: The bottle running belt is perfect for credit cards, ID, keys, paper towel, bars choc, energy gel packs, running accessories, etc, very convenient. Convenient 6.5 Inches Large Pocket fits most smartphone phones up to 6.5 inches, like iPhone 8 Plus, 7S Plus, 6 Plus.
SUPER EASY TO WEAR & SAFE: Complete with headphone hole, enjoy the music during running. Design of 2 removable race bib strap toggles can hold your race number for triathlons, marathons or running race. Reflective tab on the pocket ensures your safety in the night runs. Ideal for endurance running & training. Also suitable for walking, dog walking, hiking, golf, skateboarding, snowboarding and cycling.
PEACE OF MIND AFTER SALES SERVICE - We, AiRunTech Team, provide lifetime after sales service for you unconditionally on all the products to make sure that customers enjoy to buy our products.
Aikendo's Running Belt Waist Pack Bag is an affordable, high-quality option for runners of virtually all shapes and sizes. 
The high-quality fabric used to construct this running bag is soft and comfortable to wear as well as water-resistant. You'll enjoy wearing this belt while knowing your personal items are protected from rain and sweat. 
There are a total of 3 pockets in this belt: a larger main pocket and 2 side pockets for smaller items. The larger pocket measures 7.9 x 4 inches and features a divider so that you can separate your phone from anything that might scratch it. Please bear in mind that this pocket size is not large enough for some of the newer, larger phone models, so make sure you know your phone's dimensions before you buy. 
An earphone port and a toggle for your keys are also built into the Aikendo Running Belt, demonstrating that this belt has been designed around the concept of convenience. It's also been designed for safety purposes, with reflective stripes in the corner of the main pocket to help keep you visible at all times.
This belt will fit a wide range of waist sizes, from 27 inches to 44 inches, thanks to the adjustable buckle closure. 
Pros
High-quality material – Soft and water-resistant 
3 pockets – For phones and small items 
Earphone port and key toggle – Built for convenience 
Reflective stripes – Safe in all lighting conditions
Size-adjustable – 27 to 44-inch waist
Cons
Does not hold larger phones – Not the best choice for newer Apple models
Running Belt Waist Pack Bag,Workout Gear,Gym Fitness Fanny Pack for Phone,Cell Phone Holder for Running,Jogging Pocket Belt for Women & Men,Running Accessories(Blue)
【Soft Material & Form fitting】: The best Outdoor Running Belt You Can Find! AIKENDO Running Waist Belt is made of soft fabric, so the runners belt is very soft and breathable, fits comfortably to your body and Doesn't move, jiggle, bounce, ride up or chafe. Our Jogging Belt Phone Holder have more durable zipper than other brand, thousands of tests, keep smooth.
【Adjustable, Fits All Sizes】: You don't need to search for the right size of running waist band anymore. AIKENDO running waist pack Fits waist sizes from 27" to 44" with elastic and adjustable strap, the Cell phone holder for running will fit to all of your family members.
【Large Capacity】: Gym Waist Bag Main pouch size: 7.9 x 4 inches (WxH), you can carry Key, Cash, Cards, earphone, passport and small valuables. The athletic waist pack fits all smart phones with case.Go ahead, add it to your cart! You won't regret it!
【WATER RESISTANT】: Water resistant material protect your phone and other valuables safe and dry from sweat and almost any weather condition ( (not fully waterproof). The running fanny pack has a special HEADPHONE HOLE design, you can enjoy music all the time.
【SAFER and MORE COMFORTABLE TRAVELING】: THREE POCKETS Roomy running fanny pack for your valuables, put it around your waist, cover with shirt or jacket. Perfect for storing your essentials during large crowd events.
Buyer's Guide 
Before you go running off (excuse the pun) to buy your new belt, take a few minutes to consider the features listed below. This will help you to make the best choice for your needs as an athlete. 
Material 
All running belts are made from some type of fabric, but not all fabrics are created equal. That's why it's important to make sure that the material used in the construction of your running belt is high-quality and designed to improve the function of the belt. 
The material of your running belt should, ideally, be moisture-wicking and water-resistant. This is because you'll be producing sweat while running, and sometimes, you may end up running in the rain. In these situations, you'll want to ensure that all of your belongings are safe and won't be damaged by moisture. 
We also recommend prioritizing soft, non-abrasive material to prevent chafing. Running for long periods of time can feel painful enough without adding a rash into the equation. 
Pockets and Compartments 
Something else you'll want to pay attention to is the number of compartments or pockets built into your running belt. This will dictate how many items you can carry with you.
Running belts will always have at least one main pocket, usually located at the front of the belt. However, it's usually best to have more than one pocket to work with. Many belts will have 2 pockets – one for your phone and another for small essentials. Other belts will have 3 or even 4 compartments. Sometimes, a single compartment can function as 2 pockets if it features a divider. 
Make sure to check the dimensions of each compartment and whether they have specific, designated functions. For example, some running belts feature pockets exclusively designed to hold water bottles. 
Additionally, if your phone is too large for the phone pocket of your running belt, it will essentially be useless to you. Most running belt pockets are designed for 6.5-inch phones, but it's possible to find belts that cater to larger phone models as well. 
Closures and Fastenings 
You should consider the closures and fastenings built into your running belt before you complete your purchase. 
Not all running belts have compartment closures. Sometimes, highly elasticated material can be enough to hold items in place, and this type of construction has the benefit of providing easy, unrestricted access. Alternatively, if having a closure for each pocket provides you with a sense of security, there are plenty of running belts on the market with zipper compartments. 
Where the fastening of your running belt is concerned, your main options are velcro or a buckle. There are advantages and disadvantages to both. 
With a velcro fastening, it's very easy to quickly adjust the belt to your preferred size. However, velcro often gets less effective and weaker over time, especially if it gets caught on things on a regular basis. 
On the other hand, a buckle is a very robust type of fastening that won't break easily. However, a buckle will usually take longer to adjust in terms of size, which can be especially frustrating if you realize you need to readjust your belt in the middle of a run. 
Safety Features 
Many of us pick up running as a sport to improve our overall well-being. However, running can come with its own risks, especially if you run in low light conditions, so it's important to keep yourself safe. 
One of the easiest ways to ensure your safety while running is to wear something reflective so that drivers, bikers, and pedestrians can see you coming in the dark. 
Luckily, many running belts come with reflective logos or stripes printed on them for this exact reason. If you usually run early in the morning or after sunset, we recommend prioritizing this safety feature. 
Additional Features 
Staying hydrated while running is so important for your health. But if you don't yet have water bottles to take with you on your running sessions or marathons, don't worry! There are running belts out there that come with water bottles included. 
Buying a running belt with included water bottles is a great idea because the bottles will be designed to fit the pockets in the belt, which eliminates the stress of taking measurements beforehand. 
If you're somebody who needs motivational music to run at your full potential, we recommend choosing a belt with an earphone port leading out of the phone pocket. This will come in useful if you find yourself running in the rain because it allows your phone to stay dry while you enjoy your favorite tunes!