Running a marathon requires thorough preparation and a great deal of mental toughness. However, no matter how well you prepare both physically and mentally, there are very few things more important when it comes to running a marathon than having a pair of high quality, reliable running trainers. 
To put it simply, without a trusted pair of shoes on your feet, it's going to be a struggle to complete the 42.1 km (26.2 mile) race. This is why marathon shoes need to be high performing, supportive, and durable.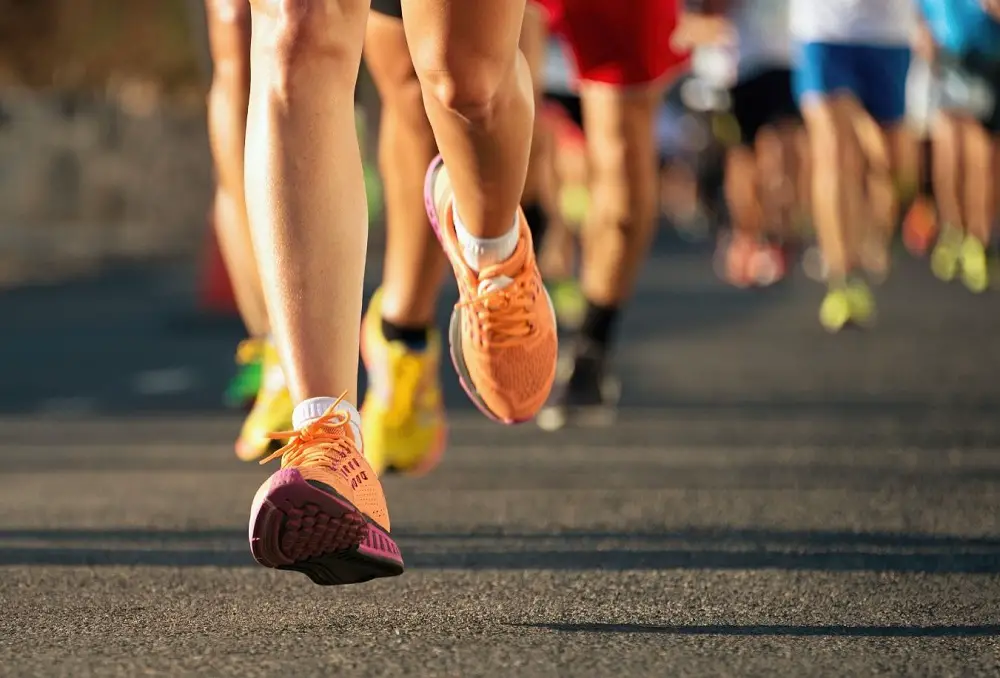 However, with such a wide breadth of options available on the market, it can often be a daunting and time-consuming task trying to make the all-important decision. 
So, to make things a little easier for you, we've compiled a list of five of the best marathon shoes on the market, each having their own strengths and weaknesses. 
We've also put together a handy buyer's guide with some of the frequently asked questions to further remove any confusion when selecting the perfect pair of marathon shoes for your specific needs. 
List of Best Marathon Shoes
The first pair of shoes on the list are the Ultraboost 21 from adidas. Not only do these running trainers provide top-notch quality due to adidas' continued pursuit of excellence, they're also one of the best on the market when it comes to comfort and responsiveness. 
Whether you're preparing for a busy few weeks of long training runs or you're planning your tapering period to the race with some shorter, more explosive workouts, the Ultraboost 21 are guaranteed to offer you an energized run. 
They come equipped with the Linear Energy Push system which increases midfoot and forefoot stiffness, providing an extra boost of energy and cushioning in each step. Furthermore, the outsole of the trainer is flexible for a natural energized ride and the rubber construction offers superior traction. 
Other useful features include a Primeknit upper designed for optimal support and comfort, as well as a sock-like fit which ensures your foot remains secure throughout long runs. 
It's also worth mentioning that the product is made with Primeblue. This is a high-performance recycled material that's made in part with Parley Ocean Plastic. 
Pros: 
Advanced cushioning system increase forefoot and midfoot stiffness 
Reliable and industry-leading brand guarantees quality
Flexible and grippy outsole 
Primeknit upper provides excellent support and comfort
Secure sock-like fit for peace of mind while running 
Cons:
A number of users have reported that the shoe has a tendency to cut into the bottom of the heel when running
Sale
adidas Men's Ultraboost-21 Running Shoe, White/Black/Solar Yellow, 9.5
Men's Ultraboost shoes for an energized run
Sock-like fit; adidas Primeknit upper for support and comfort
Midfoot cage and heel counter for support; Boost midsole for a responsive feel
Stretchweb outsole flexes naturally for an energized ride; Continental Rubber gives you superior traction
This product is made with Primeblue, a high-performance recycled material made in part with Parley Ocean Plastic
The next shoe on our list is the New Balance Fresh Foam 880 v11. Not only is the trainer built to last and one of the most durable on the market, it's also incredibly comfortable and delivers a snug fit. 
This updated model comes equipped with a redesigned midsole that feels considerably livelier and offers a softer sensation on landing. Despite this softer feel, the 880 can still readily firm up when you push off the ground to deliver a similar snappy toe-off to previous versions of the trainer. 
If you're looking for a marathon shoe that's going to serve you well during your long training runs, this offering from New Balance is perfect for clocking up the miles – mainly due to the durable blown rubber through the forefoot. 
Pros:
Soft and breathable fit thanks to the super comfortable double jacquard mesh
Molded external heel counter helps to effectively control heel movement 
Excellent durability with blown rubber through the forefoot 
Redesigned midsole provides a livelier and softer feel while running 
Cons: 
The trainer is a little heavier than many of the other options on the market, so not the best for speedwork 
Sale
New Balance Men's Fresh Foam 880v11, Black/White, 9 Medium
Discover a lightweight, ultra-cushioned ride in the New Balance Fresh Foam 880v11.
Lace-up closure.
Engineered double jacquard mesh upper for breathability.
Fresh Foam midsole cushioning is precision engineered to deliver an ultra-cushioned, lightweight rideLace closure ensures a secure fit.
Molded footbed increases comfort.
If you're looking for a high quality marathon shoe that's going to hold up on some tricky terrain, there's no need to look further than the Gel-Venture 7 from ASICS. Equipped with both GEL technology and an EVA midsole, this running trainer is perfect for athletes who love to run and explore in the outdoors. 
The GEL technology in the rearfoot of the shoe provides essential shock absorption, while OrthoLite sockliner offers a handy additional layer of cushioning under foot. What's more, the trainer even molds to the exact shape of your feet, making each run more comfortable and enjoyable than the last. 
Other notable features of the Gel-Venture 7 include an internal heel counter which helps your foot remain in its natural line of motion throughout a run, as well as a sturdy upper constructed from synthetic leather to provide extra support. 
Pros:
GEL technology in rearfoot of trainer offers good shock absorption
Internal heel counter helps keep your feet in a natural line of motion
OrthoLite sockliner provides extra cushioning under foot
Sturdy upper crafted from synthetic leather offers further support
Cons:
ASICS Women's Gel-Venture 7 Running Shoes, 8.5, Sheet Rock/ICE Mint
Rearfoot GEL technology cushioning system: Attenuates shock during impact phase and allows for a smooth transition to midstance.
Ortholite X-40 Sockliner: This premium sockliner features higher rebound properties while providing excellent moisture management and a high-level of breathability (Ortholite is a registered trademark of O2 Partners LLC.)
Removable Sockliner: A sockliner which can be removed to accommodate a medical orthotic.
Ortholite Sockliner: Moisture management (Ortholite is a registered trademark of O2 Partners LLC).
Trail Specific Outsole: Reversed lugs provide uphill and downhill traction on all types of terrain.
This next marathon shoe from Nike is a great choice for runners looking for a versatile product. So, if you're someone who prefers to run in only one pair of shoes at a time, the Air Zoom Pegasus 36 is the ideal companion for any element or environment. 
In terms of tweaks and improvements from previous Pegasus models, the stand-out difference is the shoe's redesigned upper which features a new and improved tongue with a thin, asymmetrical cut. 
Furthermore, the mesh upper offers enough breathability for long, sweaty runs in warm conditions, as well as preventing too much water from getting in when forging streams on the trail. 
Another key factor to draw attention to is the shoe's full-length layer of Air Zoom. The cushioning is firm but forgiving, and closely resembles New Balance's line of Fresh Foam trainers. 
Pros:
Extremely versatile shoe, suitable for all environments and elements
Redesigned upper provides excellent breathability as well as a new and improved tongue
Firm but forgiving cushioning offers high levels of support and comfort
Exposed flywire cables ensure comfort even when speed rises 
Cons:
The shoe feels at its best after a break-in period of roughly 20 miles
Despite the newly improved upper, some users have reported difficulty in tightening the lacing 
Nike Men's Track & Field Shoes, Multicolour Gunsmoke Oil Grey White Gum Light Brown 1, Womens 8
Poroton.net sells top quality women's, men's and children's footwear and clothing.
Our whole stock comes directly from brands and vendors who deals officially the products in our region.
Size picking
Use the size charts below to help you determine the perfect fit for many of the brands and styles that we sell. If your measurements fall in between, we recommend that you order the next larger size. You may also refer to the actual brand website for their size chart.
International Shipping
The final marathon shoe on the list, and by certainly no means the least, is the Charged Assert 8 from Under Armour. These trainers are ideal for runners looking for a balance of cushioning and flexibility. 
A lightweight mesh upper delivers high quality breathability, while durable leather overlays provide stability to securely lock in your midfoot. 
Other useful features include an EVA sockliner for soft, step-in comfort, a solid rubber outsole for enhanced durability, and a charged cushioning midsole which uses compression molded foam to provide optimal energy return and cushioning. 
Pros:
Offer a great balance of cushioning and flexibility 
Lightweight mesh upper perfect for providing breathability
Excellent stability with durable leather overlays 
EVA sockliner provides a soft and comfortable fit
Cons:
A number of users have complained that the insole is too flat to cope with the demands of a long run 
Under Armour Men's Charged Assert 8 , Black (002)/Black , 10.5
NEUTRAL: For runners who need a balance of flexibility & cushioning
Lightweight mesh upper with 3-color digital print delivers complete breathability
Durable leather overlays for stability & that locks in your midfoot
EVA sockliner provides soft, step-in comfort
Charged Cushioning midsole uses compression molded foam for even greater responsiveness & durability, providing optimal cushioning & energy return
Buyer's Guide
Buying a pair of marathon shoes may not seem like a big deal, but it's essential to know exactly what to look for, as well as what to avoid. There are a number of important factors to take in account when it comes to finding the perfect pair for your individual needs. 
Taking the extra time to make sure you're choosing the right product is worth the effort, as the last thing you want is to be stuck with a pair of trainers that fail to properly support you on your long runs and put you at risk of injury. 
With this in mind, we've taken a look at some of the key areas to focus on when selecting a pair of marathon shoes. Giving a little extra thought to these will hopefully steer you towards the best option, saving you a considerable amount of time and effort in the long run! 
Upper
This part of the shoe refers to anything above the sole. Uppers are traditionally made using layers of fabrics and mesh sewn and glued together. 
The modern models currently on the market often use 3D printing and knitting to produce one-piece uppers that can stretch and support your feet in all the right places. 
Ideally when you're trying to find a suitable, high quality marathon shoe, you'll pick one with an upper that's shaped like your foot and smooth to the touch – with no chafing anywhere. 
Outsole
This is the bottom of the shoe where it meets the surface that you're running on. The vast majority of marathon shoes have an outsole made of foam or rubber compounds placed in certain areas across the bottom of the trainer to enhance bounce and flexibility, as well as to increase the wear life of the shoe. 
When choosing the right shoe for you, prioritize materials that offer both traction and durability without adding too much stiffness or weight. It's also a good idea to find a footprint shape that closely resembles yours. 
Midsole
The midsole of a running trainer is the part between the outsole and the upper. Midsoles are usually made of foam material and are designed to cushion the athlete from the force of impact. 
If you want to find a top-end midsole that'll facilitate your performance, look for one with a thickness and material that feels comfortable at running speeds. An effective midsole is also one that's neither too firm nor too soft, and doesn't add any excess weight. 
Heel Counter 
This is usually a semi-rigid cup inside the rearfoot of the shoe that provides important support for your heel. There are some shoes which opt instead for an external heel wrap that serves a similar function, while more minimalist designs eliminate the heel counter entirely to deliver full freedom of movement. 
When making your decision about which pair of marathon shoes to buy, look for a heel that provides a comfortable ankle motion. 
Toebox 
This part of the shoe extends from the front of the eyelets all the way down to the end of the shoe. They're usually capped with a reinforced toe bumper to keep the fabric away from your toes. This bumper also prevents the risk of stubbing your toes on rocky terrain. 
The toebox is an important consideration to keep in mind as you'll want one that does the job, but also stays out of the way. 
In other words, it needs to allow your foot to spread out both widthwise and lengthwise without the occurrence of any binding or rubbing. Furthermore, the extra space is useful when swelling arises. 
Heel Cushioning 
In an ideal world, you'll pick a pair of marathon shoes with heel cushioning that provides a balance between stability, cushioning, and ground feel. 
It's also good to take into account whether the shoe makes contact with the surface where you expect it to and rolls into the stride of your running in a way that feels comfortable and right. 
Sockliner 
This is the removable section of foam inside the shoe that cushions the bottom of your foot while running. It's the sockliner which provides the most arch support and gives the shoe its initial step-in comfort. 
The best type of sockliner is one that feels natural on the foot. Softer isn't always better as the foot needs to work dynamically to provide some of its own cushioning and support. 
Marathon Shoes vs Racing Flats? 
There are some runners that decide to run marathons in racing flats rather than marathon shoes. These are usually better-suited for elite or vastly experienced runners as they're best known for minimal heel drop, minimal cushioning, and minimal weight. 
All of these features are fine if you're an experienced marathon runner and your body has adapted to the difference, but for beginner or casual runners, it's probably best to avoid racing flats as you need all the support and cushioning you can get. 
It's worth keeping in mind that not all experienced or elite runners opt for racing flats. It all comes down to personal preference, so it's a good idea to do your own research. 
Break-In Period
When buying a pair of marathon shoes, it's important to keep in mind that you should never jump straight into running a marathon with brand new running trainers. 
As a general rule, it's a good idea to log at least 50 to 80 kilometers (30-50 miles) in them first. This allows your feet to get used to the feel of the new shoes, reducing the unnecessary risk of blisters, soreness and pain while running. 
Frequently Asked Questions 
How long does the average pair of running trainers last? 
Most high quality running trainers should last between 300 and 500 miles. So, for runners who run an average of 20 miles per week, this would be roughly four to six months. 
How long before a marathon should I buy new shoes? 
As mentioned previously, a break-in period is essential to really feel comfortable in your new shoes when running a marathon. Therefore, you'll want to run them in for at least two weeks before the race, and ideally have completed at least one long run in them too. 
If your new shoes are a similar make or model as your old pair, there shouldn't be any significant issues so you could probably get away with buying them closer to the race. However, it's still always better to be safe than sorry. 
What shoes do the fastest runners wear? 
One of the leading brands in the sports industry, Nike, have led the way in recent years with their creation of "super spikes" – shoes that help athletes maximize their running potential. Most other popular brands have their own version of "super spikes", but Nike's are by far the most effective – reflected by the fact that Nike runners took the most podium spots at the recent Olympics. 
How many miles a week should you run training for a marathon? 
Most training plans you find for a marathon will last anywhere from 12 weeks up to 20 weeks. For beginners, it's a good idea to gradually increase the weekly mileage up to 50 miles over the four months leading up to the race. In order to cover this distance, usually three to five runs per week is more than sufficient, and these should be done at a comfortable pace.