We all have great intentions when it comes to health and fitness, and it would be great to be one of those rosy cheeked individuals who manages to get up at 5.30am every day and do 17 laps round the local nature park before tucking into a breakfast of bran flakes with a protein shake chaser.
But the reality is that life (and the weather) very often gets in the way. Having a treadmill at home is an amazing way of helping yourself stay fit and healthy no matter how wet and miserable it may be outside, or how busy and hectic your schedule becomes.
There is no need to make any effort to go to a gym or park, and no need to wrap up in waterproofs over your jogging shorts either. And as a result, you will find that your willingness to exercise, self discipline and motivation are all improved too.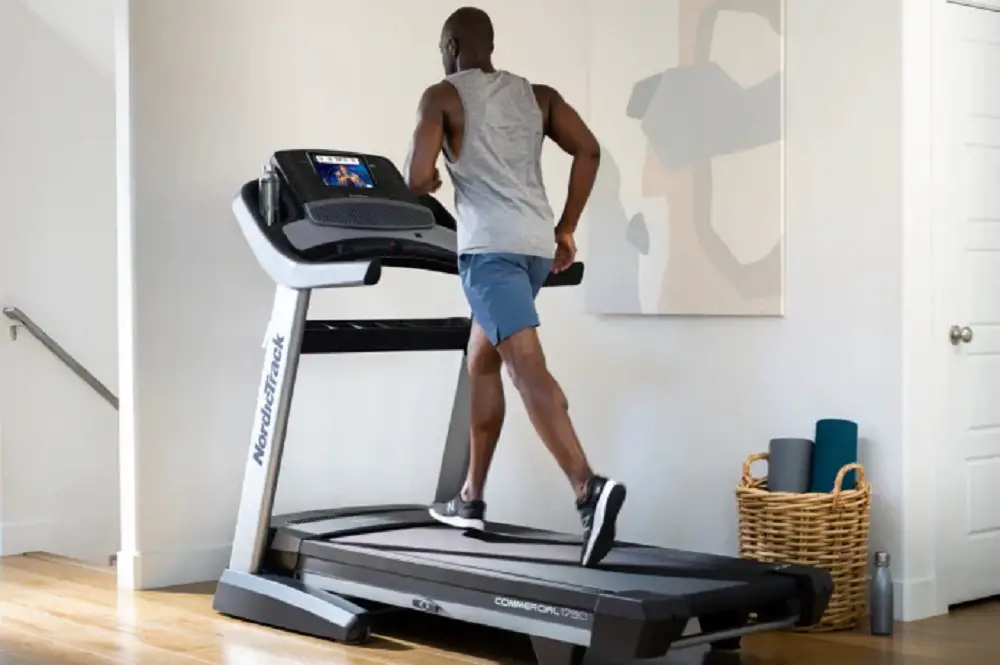 NordicTrack makes quality treadmills to suit every type of training requirement. They have a great range of machines that vary in price, size and features in order so that there is something for everyone.
No matter what your budget, space restrictions of training level may be, NordicTrack will have a treadmill for you. So read on to hear about 3 of the top treadmills in their collection today.
Overview
The NordicTrack Commercial 1750 is a mid-price machine that is incredibly good value for money considering all the many high-ticket features it provides.
Size
The Commercial 1750 is a fairly sizable treadmill that has a sturdy frame and a wide running belt. You will certainly feel that you have plenty of room to maneuver on this machine and will really be able to stretch your legs. It does take up a lot of space however, so is best for those with room to spare.
Touchscreen Technology
The Commercial 1750 has a large and easy to view screen that is perfect for streaming live workout sessions, delivered through NordicTracks iFit app. There is also a wide selection of on demand workouts to choose from, and the clarity of the on-screen picture is wonderfully clear so you will be able to follow along easily.
These workout sessions are brilliant for motivating you when you are at home and are really great for those starting out on their treadmill journey as they provide excellent guidance.
Live Response
A really nifty feature of the Commercial 1750 is that it responds automatically to whatever workout you are following and alters the incline and decline of the track without you needing to do a thing.
This is great for avoiding sweaty fingers slipping on the screen, and also lets you concentrate on your running technique and fitness rather than on figuring out the machine.
Bluetooth connectivity
The Commercial 1750 has Bluetooth connectivity and also boasts in-built speakers that deliver a really great quality sound. This means you can link your phone or tablet to the treadmill and listen to whatever music or audiobook you like to help you enjoy your workout to the maximum.
The connection is reliable and stable, and works both ways, so you can play the workout audio into bluetooth earphones too. This is great if you don't want to disturb others at home but still want to hear the motivating words of your trainer.
Smooth Ride
The RunnersFlex cushioning that lines the training belt is especially designed to respond to your stride and protect against injuries. What is really cool is that this cushioning can also be made harder or softer depending on what type of run you would like to do.
This opens up a whole range of workout possibilities that are not available on other machines, and will allow you to strengthen muscles in areas you didn't know you could reach. The Commercial 1750 can reach up to 19.3km per hour and is a joy to run on.
Overview
If you are perhaps new to running and don't fancy spending so much on your first treadmill, then the NordicTrack T Series 6.5 S is a really excellent (and very popular) option. This machine has all the key features that you would want from a treadmill, but does not boast the integrated touchscreen element of some of the pricier alternatives. This appeals to those who value ease-of-use and simplicity over high tech functionality.
Size
The T Series 6.5 S is a slight machine, which is great if you don't have bags of room to spare at home. You can set this treadmill up in a corner of the bedroom, or even the garage and it would impose on the rest of the space. It has a 22 X 55 inch treadbelt, which is plenty big enough for standard workouts, and a clever spacesaver design that makes it even more space efficient.
What is more, the T Series has a far simpler set-up than something like the Commercial 1750, so you won't find yourself having to call in a handy man to help you put the thing together!
Backlit Display
The T Series 6.5 S has a neat little backlit display on which you can keep track of all your performance statistics like calories, heart rate, speed and distance covered. This is very fuss-free and easy-to-use so you won't feel confused by lots of complicated buttons and training options. The display is small but is still clear and easy to read.
iFit Compatible
Although it does not have the integrated touchscreen boasted by the Commercial 1750, the T Series 6.5 S is compatible with the iFit app which you can stream easily on your phone or tablet.
It has in-built speakers through which you can play the audio to these workouts and enjoy all the guidance and motivation they provide without paying a huge price.
Comfortable Ride
Like the Commercial 1750, the T Series 6.5 S has a cushioned deck that is excellent protection against injury. So often people don't realise the impact that running on roads has on knees and ankles, but with the FlexSelect cushioning on this machine, aching joints won't be a problem.
The treadmill reaches 16 km per hour which is not as fast as others but is great from most runners, and can achieve a 10 degree incline for great workout versatility. This machine doesn't have all the fancy interactivity of some of its more expensive cousins, but it is user friendly, space efficient and runs really well.
Overview
The Commercial X22i is a beast of a treadmill, built for maximalist runners who take their exercise seriously. This machine is one of NordicTrack's most pricey options but boy, do you get your money's worth!
With interactive technology and a huge range of mechanical functions, this machine allows you to take on a wide range of workouts for the ultimate training experience.
Size
The Commercial X22i is a large machine, and though it isn't as wide as the Commercial 1750, this machine is not foldable so it doesn't offer the storage solutions of other similar machines.
It has a sturdy frame that will allow you to run with great confidence, but is perhaps best for those who are not wanting to store it away between sessions.
Touchscreen Technology
It is not only the frame of the Commercial X22i that is big, but the screen is very large too. The 56cm display allows you to view workouts even from across the room, which is excellent if you are choosing to do some yoga that takes place on the ground rather than a treadmill based workout.
The screen is HD for maximum clarity and the display is very well designed for easy use. The touch screen is responsive and hassle-free.
Hands Free Workouts
The Commercial X22i has integrated, trainer-led technology that allows your iFit trainer to adjust the settings of your treadmill in keeping with their live workout, so you can be completely hands free and only need to focus on your running.
The live workouts are brilliant for adding structure to your day – because you have to stick to schedule, and they are also really motivating because you can see other people's progress and even work your way up an interactive NordicTrack leaderboard! There is nothing like healthy competition to get the adrenalin pumping.
Incline / Decline Capabilities
The Commercial X22i has greater incline and decline capabilities than many other treadmills and therefore allows you a huge array of workout opportunities.
It has a maximum incline of 40%, which really feels like mountain climbing! And a decline of 6% which will certainly make you engage your abs. So if you like pushing your body to its limits, this treadmill is for you!
Ultimate Ride
The Commercial X22i has a cushioned deck for a safe and smooth running experience, and can run at a maximum speed of 19.3km per hour, so it is perfect for sprinters and long distance runners alike.
It really does have all the bells and whistles of a high-octane exercise machine, so if you have the space, the cash and the drive, this is the NordicTrack treadmill for you.