When it comes to running shoes, there are many options available from a vast number of brands. There are many different designs to choose from and it can be difficult to know if a running shoe is going to perform well, and suit your style.
In this guide we're going to look at the Nike Renew Run shoe and look at some of the most important features and failures of this shoe to make sure you can make an informed decision and purchase a running shoe that's going to help your performance and comfort, enhancing your running experience.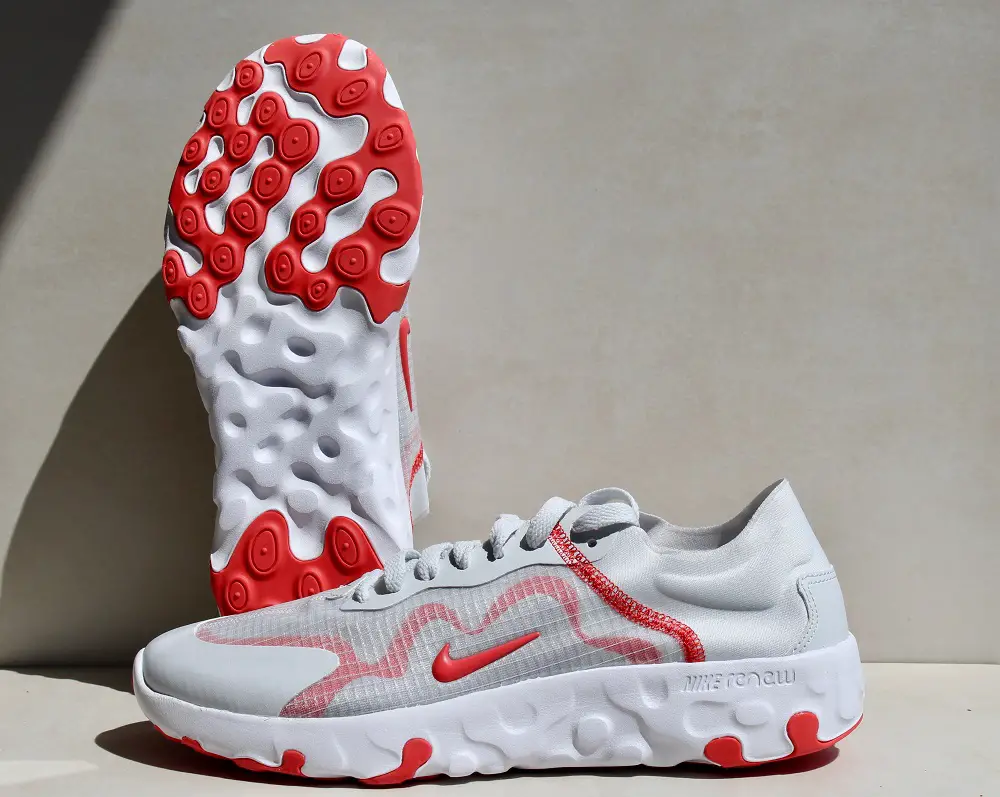 Why Running Shoes are Important
A quality running shoe is a must-have for anyone who is jogging or running regularly, as the repeated impact of your footfalls puts a lot of stress on your feet and joints, and this can cause injury and pain if not properly prevented.
Injuries in the lower body tend to be cumulative, and an injury to one joint often leads to issues with the other joints as your body attempts to adjust to accommodate any pain and discomfort injury causes.
Running shoes help prevent this and this is why it's important to find a pair that suits you and your needs.
Let's take a look at if the Nike Renew Run is the best choice for you by looking at their intended purpose.
Intended Use
Nike's Renew Run shoes are a classic running shoe and are intended for jogging and running in warmer weather, as evidenced by the lightweight and breathable outer material, and thick, spongy soles.
These shoes are intended for light running or indoor use at the gym but aren't going to be a particularly good choice for more demanding runs over variable terrain and in difficult weather conditions, as they will be unable to stand up to this sort of extreme pressure.
They are a fine and comfortable choice for most light running and jogging and offer decent performance overall, but let's dig into some more details.
Fit
Most running shoes are quite narrow and are often not a great choice for people with wide feet. However these are actually one of the widest pairs of running shoes in Nike's range, and they offer plenty of space for larger, wider feet making them comfortable even if you don't want to use them for running and prefer them as a comfortable everyday shoe.
There is plenty of room for the toes and there is good support for the arches of the feet thanks to the progressively thickening sole, and the heel area is well padded and holds the foot well.
Overall, these running shoes offer an excellent overall fit with good consideration for larger feet, but still being a fair option for average-sized feet too.
Those with smaller or narrower feet may find them quite roomy, and this may cause some issues for a select few, and the lack of support may be a little uncomfortable for those people.
Grip
The traction these shoes provide is excellent, and there is a fairly well-chosen tread that is perfect for running on pavements, treadmills, running tracks, or other fairly hard compact surfaces.
The sole is grippy and functions fairly well in the wet, but the tread isn't so aggressive to give maximum traction and confidence in these conditions so a little more care is needed in variable conditions and environments.
The contouring of the tread is interesting as it incorporates several quite unique features such as interweaving perforations and holes that are great for cooling and add feeling to the shoes, but that can be troublesome, offering grit, mud, and small stones the chance to lodge in your shoes and potentially cause discomfort or issues to both your shoes and your feet.
We'll touch on this in a little more detail later, but overall the grip provided by the inner and outer tread pattern is fair for most average running conditions, but it doesn't stand up to use on more challenging terrain or in very wet/slippery surfaces and conditions.
Laces
The laces for the review run are actually very nice and a bit of a highlight as they are low profile, flat laces that fit very nicely against the shoe and sit well in the eyelets making them low profile and aesthetically pleasing.
The laces grip and hold well and are secure, and they feel quite durable too which is essential.
The eyelets are well located and are fashioned into slits to suit the flatter profile of the laces, which makes them more comfortable and less prone to damage.
This is also a positive of their flatter profile, as it makes them less likely to catch on debris or each other.
Though simple and relatively understated, the laces performed well and were overall a much better choice than in some other running shoes from Nike.

The eyelets are reinforced with rubber to ensure that they are also long-lasting which is a nice touch.
Material
The uppers of these shoes are made of a mesh synthetic textile material with perforations that allow for good breathability and sweat-wicking which is essential in good modern running shoes.
The mid-sole is made of a dual-density EVA foam material that is very soft and spongy and is incredibly thick which attests to the maximalist style of these running shoes.
The soles are rubber which is what gives them their fairly good traction and grip. 
The materials feel quality and are well-chosen, and the rubber soles in particular feel tough and will likely last a very long time with proper use and care.
The substantial midsole is well protected and will also last while providing excellent comfort, and the only concern is that the mesh may not be very waterproof which is why these aren't a great choice for more variable conditions.
Sole
These are a maximalist shoe, and the sole is substantial, as you may have already noticed.
The result is that these are incredibly comfortable for everyday use and running, but can take a little getting used to as we will touch on in the following section.
The insoles were fairly comfortable and worked well, without much in the way of features of notable performance.
Feel
These shoes will definitely take some getting used to, even by runners who are used to the larger soles these shoes require.
The simple fact is that these are a large shoe, with a wide profile and a thick sole, which makes them feel comfortable, but also heavy and somewhat clumpy.

Indeed at 350 grams, these shoes are actually quite a bit heavier than some other available options, and this is the drawback of such a substantial mid-sole.
While this is somewhat out of favor in most running shoe designs of the day, it's a great choice for people who want maximum insulation for their joints, or who prefer a wider running shoe.
They are airy and comfortable inside and are relatively robust, and overall they feel like a quality running shoe, something you would expect from Nike.
Durability
The durability of the shoes overall was very respectable, and they will likely last many miles for everyday use and jogging, particularly on less demanding terrain.
The laces and uppers were fairly strong for a mesh but may not stand up to water very well, while the soles were tough and will last for a very long time if looked after properly.
Aesthetic
The aesthetic of the shoe is one of its weaker areas, and while there are several colorways available, the shape and profile of the shoe won't suit everyone. 

They are large and clumpy to look at, and unlike some running shoes they don't blend in well, which is a shame as they are very comfortable and would make a good everyday choice.
This may be something to trade off if comfort is particularly important to you, but if current design aesthetics are important to you these shoes certainly buck the current trend.
If you're a fan of a more old-school look, however, these are a great choice and are definitely more sleek than several other brand's offerings thanks to Nike's unmissable swoosh and well-paired color options.
Issues
The key issues for this shoe are;
Slightly heavy
Slightly clumpy
Debris can get stuck in insoles
Not suitable for wet weather
Price
The price of these shoes varies but the RRP can be anywhere between $100 to $150 dollars depending on sales, availability, and the particular version of the shoe chosen.
This puts them in a fairly accessible area for a good running shoe, but there are definitely cheaper options out there, as well as several more expensive and high-performance options.
Final Thoughts
Overall these are truly great running shoes for those who want to get maximum comfort and longevity, and those who have wider or larger feet.
They are a solid choice on the budget to mid-tier level and while they are clumpy and a little heavy, they perform well and are a solid choice for beginner to intermediate runners and everyday wear.