It can be hard to know whether shoe brands are true to size, and there's nothing worse than ordering a new pair of shoes online and them not fitting. 
If you've never bought a pair of Nike shoes before, you might be curious to know: Do Nike shoes run small?
In this article, I will cover some key information about Nike shoes, including whether they run small.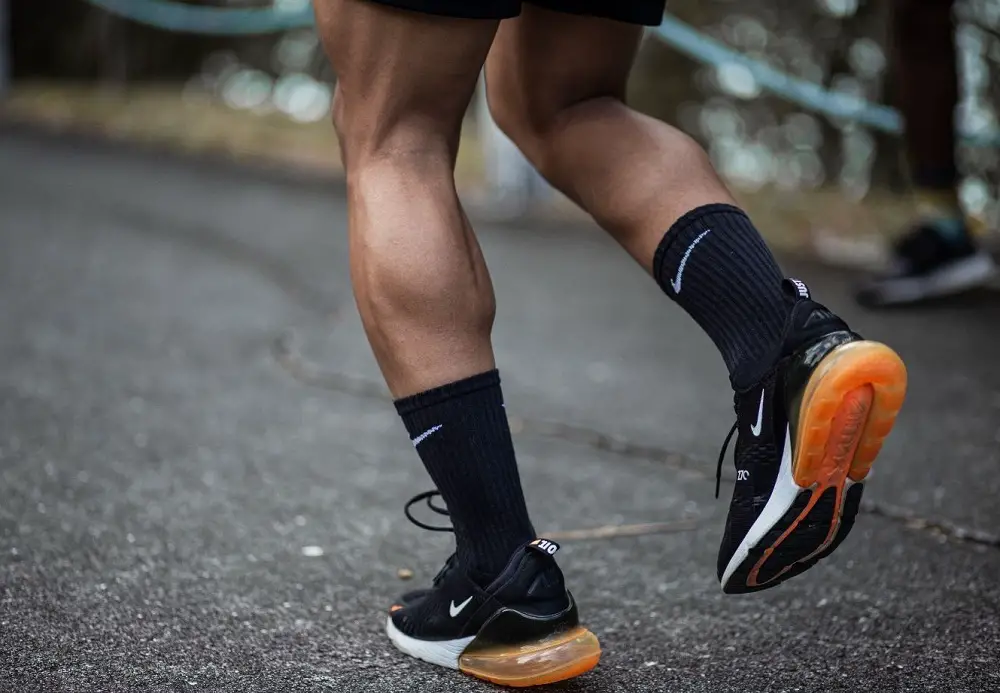 Without further ado, let's get started.
Do Nike Shoes Run Small?
To make a blanket statement that all Nike shoes run small would be a sweeping generalization. This question is largely subjective and has a variety of variables that you will need to consider. However, it primarily depends on the model of shoe and the shape of your feet.
While certain models of shoes might run small, others might not. That being said, in terms of both width and length, there is some discourse around Nike shoes being smaller in comparison to other sports brands.
However, despite this debate, there's no getting around the fact that the type of shoe can affect how it fits and whether it runs small or not. Bearing this in mind, you will need to research the specific model of shoe that you're interested in before going ahead with your purchase. 
It is also important to note that how specific models of Nike shoes fit you is subjective to you. Your feet are unique to you, and thus, the shoes will need to fit your feet whether you have normal arches, high arches, or flat feet.
As a result, there's no better way to figure out what size shoe to buy than actually trying a few sizes to see how they feel on your feet in the store. This is especially important when it comes to high impact sports, such as running, as wearing ill-fitting shoes can quickly result in injuries that can hinder your training routine if you're not mindful.
Nike shoes aren't a cheap investment, and if you find that your shoes don't fit you in the way that you'd hoped, you won't get the wear out of them or will end up injuring yourself. 
Nike shoes are often described as 'fitting' and tend to be adaptable. That being said, some consumers with wider feet have complained in the past about Nike shoes being too narrow. However, this is a subjective opinion to their feet and their feet alone.
Even if there is a trend, you won't know until you try them on your own feet. This is why it's much safer to try them on in store, especially if you find that you can be between sizes in different brand's shoes.
If you know that you have particularly narrow or wide feet, you might find that you need to buy a size smaller or larger when choosing from the variety of Nike shoes. If you find that your feet are on the wider side, you might find that your feet feel squashed, as you need a larger shoe to accommodate for this. 
Intended Use
In terms of quality, Nike reviews tend to be more positive than negative. The general consensus is that different models can measure slightly differently as they are made for different purposes.
This is where your intended use is important, as what size of shoe you opt for might alter depending on the situation that you're going to be using them for.
Nike makes shoes for a variety of different sports, from basketball to tennis shoes, and running shoes to gym shoes. To claim all Nike shoes run small would be wrong, as not all Nike shoes are built and designed the same way or for the same purpose.
Take running shoes, for example. When choosing running shoes, your feet need more room than your average sneaker. This comes down to the fact that your feet swell when running due to them becoming hot and sweaty due to the high impact exercise.
Tips When Buying Nike shoes 
It can be challenging to gauge whether a shoe is the correct size even after trying it on, and it usually takes testing what walking or running would feel like to get a better idea. 
The bottom line is, you can't know how a shoe fits until you try it on. To avoid disappointment, I highly recommend going into a Nike store to try on any shoes before you buy them. 
You may be able to gain a better understanding about whether a particular model in a particular year runs long or short, but there's no getting away from the fact that how they fit on your feet is subjective to you. When you try on a pair of shoes, it still may not feel that way to you, if your foot doesn't fill the entire shoe.
If you do want to order Nike shoes online, you can find Nike's size chart on their website here. It's important for you to know that the reality is, if you're ordering shoes online, the likelihood of you needing to return them because they don't fit properly is significantly higher.
You should always try to use a retailer that offers free shipping and returns, and try the two sizes most likely to fit you in whichever model of Nike shoe you decide to purchase.
In Summary
It would be a generalization to claim that all Nike shoes run small, as how they fit comes down to many variables such as the type of model and your feet shape. Bearing this in mind, you should either visit a Nike store to try on any potential shoes or try a couple of sizes.
When ordering online, always make sure that you opt for a retailer that offers free shipping and returns to make ordering multiple shoe sizes more convenient.
However, you will not know if a size bigger is too big before you try them on in person. So, if you want to avoid sending them back, it's best to go to the store.