If you are thinking about getting into the running business, you might find yourself thinking you can just run in any old trainers. Well, that's where you'd be wrong!
If you are embarking upon long-distance running, then you're going to need shoes that will give you enough support and comfort to help you run longer.
The built-up heel on a thicker running shoe will make it feel like you're not running on the hard tarmac or grass at all. This is a shoe that you buy if you have a particularly sensitive foot or that you are suffering from fallen arches.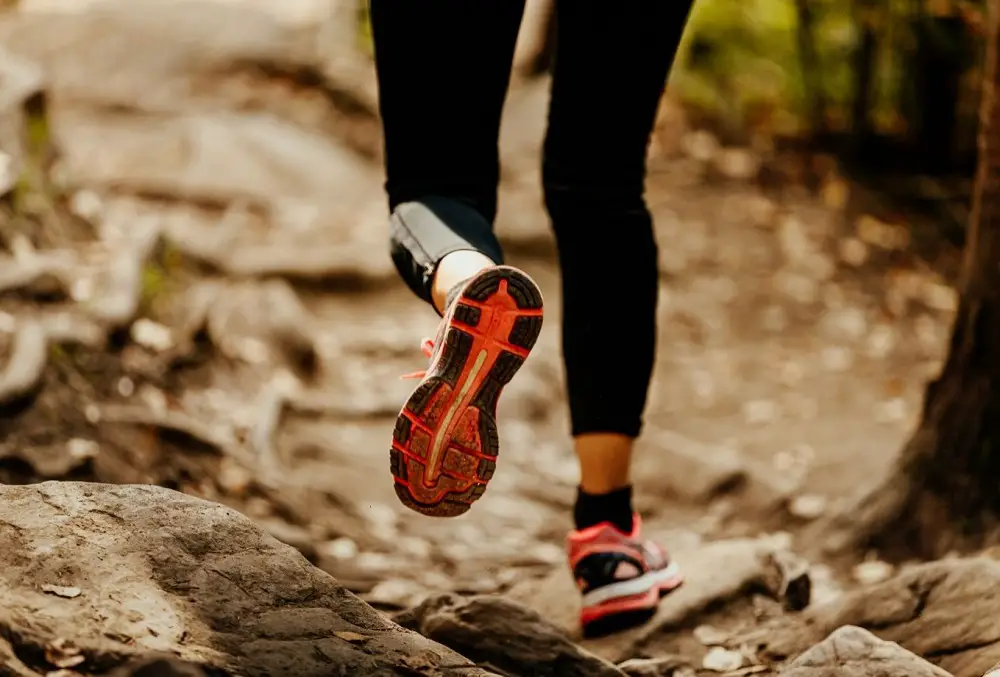 These shoes are also not strictly just for running. You can be sure that you'll be able to go for a brisk stroll in these shoes.
If you like to go hiking up a gravelly trail, then having a thicker shoe will certainly help you when it comes to walking. These shoes are also very good for traction, allowing you to scale large rocks and cliff sides.
So where can you find a pair of decent cushioned walking or running shoes? What other properties do these shoes have along with a thicker undersole? How do these shoes help you to walk further?
How do they help shape your foot? How much will a pair of these shoes cost you on the high street?
Well, if you want the answers to these questions and a whole lot more, then we would certainly recommend that you keep reading. We have compiled a list of some of the best shoes on the market with a decent under foot lining.
We also have a pros and cons list along with a buyer's guide that will help you decide what shoe to choose.
List Of Best Cushioned Running Shoes
If you're looking for a soft shoe to rack up plenty of miles in, look no further than the New Balance Fresh Foam More V3 running shoe. It may be the softest training shoe for long-distance runners on the market right now, and is a huge improvement over previous versions of the shoe.
The incredibly soft Fresh Foam X midsole foam is what makes this shoe so soft. You'll feel like you're running on a cloud with these running shoes!
The thick midsole is rather deceiving, making this shoe appear heavier than it actually is. Truthfully, the shoe is featherlight and incredibly bouncy, giving you a literal spring in your step and providing plenty of support during those long-distance runs.
Pros:
The Fresh Foam midsole cushioning is precisely engineered to deliver a lightweight, ultra-cushioned wearing experience.
The mesh upper is engineered to provide comfort to the wearer.
The lace closure with Trace Fiber eyelets ensures these shoes are fitted securely on your feet.
The laser engraving in the midsole highlights performance design.
Cons:
Some customers have reported that the back of the shoe is too high.
Some customers have also reported that the foamy, spongy material is comfortable but not entirely supportive, and cautioned that it's only really supportive for people with healthy feet.
Sale
New Balance Fresh Foam More v3 Black/Magnet 8 B (M)
Fresh Foam midsole cushioning is precision engineered to deliver an ultra-cushioned, lightweight ride
Engineered mesh upper helps provide comfort
Laser engraving in the midsole highlights performance design
Lace closure with Trace Fiber eyelets for a secure fit
4 mm drop; due to variances created during the development and manufacturing processes, all references to 4 mm drop are approximate
This shoe comes in two different forms, one of which is a thicker insole version that gives you much more stability.
You can use this second shoe for running and the first version for walking or casual wear. The specialized foam also conforms to the shape of your feet, giving you all the benefits of a quality run.
Pros:
This shoe hits all the points regarding stability and great cushioning. You can be sure that this one will keep your leg in perfect alignment.
This is also a very breathable shoe, giving you optimum ventilation, which is important when you're out running for longer than an hour.
You can be sure that this shoe is very lightweight and will not hold you back when you are out on the track.
This shoe is also really stylish, coming in a few colors that will blend well with most running apparel.
Cons:
Some users have reported that this shoe can be worn down on the outside of the rubber sole after a few months of intense use.
Brooks Men's Glycerin GTS 19 Supportive Running Shoe (Transcend) - Navy/Blue/Nightlife - 11.5
THIS MEN'S SHOE IS FOR: The Glycerin GTS 19 is perfect for runners who think there is no such thing as too much cushioning and want trusted GuideRails support. The plush internal fit and soft transitions keep runners surrounded by softness. Predecessor: Brooks Transcend 7
GREAT SUPPORT: The Glycerin GTS 19 is the more supportive version of the Glycerin 19. The integrated GuideRails holistic support system keeps excess movement in check to keep you moving comfortably and providing support beyond just the feet, to the most injury-prone part of a runner's body: the knees.
MAXIMUM CUSHION AND SUPPORT: Provides maximum support while offering the maximum amount of cushioning. Ideal for road running, cross training, the gym or wherever you might want to take them!
SUPER-SOFT CUSHIONING: The ultimate in softness and supreme comfort, designed for runners who want pillowy soft cushioning. The Glycerin 19 with DNA LOFT offers our most plush underfoot experience yet — so runners enjoy comfort that goes the distance.
SMOOTH TRANSITIONS: The plush transition zone makes every move from heel to toe feel incredibly soft and smooth.
This next shoe is probably the most supportive in terms of heel and side foot coverage. It has unique GEL cushioning technology that will conform to the outer layer of your foot, giving you much more of a comfortable walk or run for a longer duration.
This is a great shoe to wear for hiking – introducing ASICS Men's Gel-Nimbus 23 Running Shoes.
This features plenty of recycled material which is what accounts for the breathability and the sweat-wicking properties. You can be sure that you'll have everything that you need to keep the chilblains and blisters at bay by reducing the amount of heat in your shoes.
Pros:
This comes in lightweight mesh material, giving you everything that you need for a very cool foot over the course of hours of running.
This shoe is also very flexible, despite the thickness that you might get on the sole of the shoe. You can be sure of having plenty of wriggle room in the toe box too.
This will give you proper compression in the heel and toe, allowing you plenty of circulation without it being too loose.
This comes with recycled material, so it will certainly be one to wear for people who are a little more environmentally conscious.
Cons:
Perhaps owing to the recycled material, this shoe tends not to last a long as some of the others on this list, often experiencing a little wear and tear, especially in the heel.
ASICS Men's Gel-Nimbus 23 Running Shoes, 13, Black/White
Engineered mesh upper improves breathability -
GEL Technology - Cushioning provides excellent shock absorption
Trusstic System technology - Reduces the weight of the sole unit while retaining the structural integrity of the shoe.
FLYTEFOAM Propel Technology - ASICS energetic foam formulation that provides supreme bounce thanks to a unique elastomer compound.
FLYTEFOAM Technology - Provides lightweight cushioning
This shoe is very plush both on the inside and the outside, with EVA foam on the inner shoe that will give you maximum comfort and great energy transfer from the base of the shoe to the inside.
This comes with a H-shaped piece of material that you can be sure will give you everything you need for a very responsive and high-speed run – introducing Karhu Women's Synchron Ortix Blue Bell.
This will give you a much softer landing, especially on tarmac. This is great if you have issues with your spine and you really want to reduce the levels of high impacts of running on hard surfaces.
Many professional runners have actually stated that this helps reduce the levels of vibrations that often lead to herniated vertebrae.
Pros:
This is great for reducing injury, especially in the spine. You can be sure of a far more cushioned run with these shoes, even if you are running on the tarmac.
This will give you much softer landings and much better heel-toe transitions. Runners have complimented this shoe by improving their running form significantly.
This will help your feet to recover a lot quicker in between runs. You can be sure that this will also cut down on foot-related injuries too.
This has technology in the sole that will conform to the shape of your foot. This is very important for increasing both your running times and running speeds.
Cons:
Coming in only white color, this might not be the best shoe to use on muddy tracks and trails.
This next shoe will give you a very springy running start, which is very important for improving your lap time and increasing the speed of your running.
This will absorb a lot of the impacts of any harsh landing, so you won't have to worry about it injuring your back or knees, which is a perennial issue for long-distance runners – introducing Saucony Men's triumph 19 Running Shoe.
This shoe comes in a very snug fit, wrapping itself around most types of shoe. However, it will not restrict your movements, rather moving with the fluid motion of the foot.
This shoe is also great for casual wear or if you have a job in a kitchen or at a hospital where you can expect to be on your feet for long hours at a time.
Pros:
This shoe will really help you to stay on your feet for longer without suffering from painful blisters of chilblains that will cause you a significant amount of pain.
This shoe will allow you to run for much longer, giving you everything that you need for a decent rebound and energy transfer between shoe and pavement.
This has great traction on the undersole, allowing you to grip any surface for much longer. You can be sure of having enough grip for a trail hike.
The price – this shoe is very reasonable in terms of price. If you are new to running and you want to try out a pair of shoes before you start increasing your running time, then this shoe is a great place to start.
Cons:
This shoe can often feel restrictive to anyone who might be into really hardcore running that lasts you longer than 3 hours.
Sale
Saucony Men's Triumph 19 Running Shoe, Black/White, 11
Dreamy cushioning: Super plush and responsive, PWRRUN+ feels incredible at any distance. Light-as-air feel: New mesh and an articulated eye-row give you a sleek, personalized fit.
Crafted design: Soft suede detailing helps you transition effortlessly from your workout to the rest of your day. Lighter Footprint: This style is vegan and contains recycled upper materials.
This next shoe utilizes CloudTec technology to ensure that your midsole is completely protected against the elements. It has plenty of padding in the midsole that will give you everything that you need for support, especially if you have fallen arches – introducing On Running Men's Cloudstratus Synthetic Trainers.
This shoe comes with a widened toe box, giving you everything that you need for freedom of movement, which is very important if you are wearing these shoes for any athletic competition.
You'll always need support and flexibility and this shoe has them in an abundance.
Pros:
This shoe is one of the most stable that we have on this list. It has a very sturdy rubber in the sides, giving you everything that you need for a straight and true running style.
This can support a lot wider foot shapes, which will definitely be a boon for heavier or taller runners.
This shoe will give you plenty of wriggle room, especially in the toe box. It is important to have a shoe that does not work against your shoe.
This has a very responsive cushioning, giving you great rebound off the tarmac, which is perfect if you are mixing running, walking and jumping in your exercise.
Cons:
The price – this shoe will cost you nearly $200, so if you are a first-time runner or are on a budget, then we would recommend that you look for something different to start.
Buyer's Guide
When you are picking out a running shoe, you'll have to make sure that it has certain features that both improve your running form and prevent injury.
You might not notice it at first, but after a lot of running, you'll certainly start to notice an increase in injuries and difficulty hitting your best time. You can even get a stitch wearing the wrong trainers!
Here are some things that you'll want to be looking at when picking out your next pair of trainers:
How Well Do They Fit?
Having a snug pair of trainers will be very important when you are running, as this will be how they give you so much support.
However, don't mistake this for tightness. If your shoes are too tight or don't give you much room in the toe box, you can expect them to rub you and give you plenty of blisters.
You need shoes that are made from a flexible material. This is why cushioned shoes are very preferable, they are very comfortable to wear and they will allow you to run a lot faster and for longer.
How Much Cushioning Do They Have?
Having this kind of padding both on the inside and the outside is crucial for a comfortable run. If you find yourself running and having to stop because you have sore feet, then the chances are that you are wearing shoes with not enough padding.
You'll have to get the balance right between padding and flexibility. If you load up on the padding, then it is likely that your shoe will not be that flexible to take the repetitive heel-to-toe movement of your run. Again, this will be likely to lead to injury.
How Breathable Is It?
You'll often hear shoe manufacturers talking about ventilation and breathability.
This will be very important for decreasing the amount of heat that is on the inside of your foot. A build-up of sweat will be the cause of chilblains, blisters and cramping in the foot.
You'll want a trainer that contains mesh so that the hot air that is coming from the inside of the shoe is dispersed well through the fabric of the trainer as you are running.
Having two layers in your shoe will often be the preferred method of discharging this heat.
Frequently Asked Questions
Why Is It Better To Have A Cushioned Shoe For Running?
Quite simply, because it will soften the impact of your feet on the surface of whatever you are running on.
This will especially be true for tarmac, which is often very hard. This hardness will send shockwaves up your legs, into your knees and back. Over time this will cause you serious injury.
Cushioning will also help you to avoid blisters, which can severely impede your running form and the distance and speed at which you're able to run.
Our Final Say
We hope that our list of cushioning running shoes has helped you when you are picking out your next model.
Not only is it important that you get the right trainer for your style of running, but it is very important that you have the technology on the inside of the shoe for maximum comfort and support.
Make sure that when you are getting a padded shoe that it is not too full on. If you have too much of this padding, then you can be sure that the flexibility will be reduced and you will experience cramping in the foot.