One of the most on-trend sneakers on the market, the Yeezys are a coveted shoe by all sneakers lovers. However… one thing that is on a lot of buyers' minds is whether or not Yeezys make the perfect shoes for running. Now this is not just as talking about running for public transport – we are talking about actually going for a run.
Naturally, there are a lot of different styles of Yeezys – we have the Adidas Yeezy 500, the Yeezy 700 and also the Yeezy 350. Here's the thing, we could talk about the Yeezy 750s – but these are not the kind of sneakers that are remotely designed for running so let's not dwell on this too much…
Are Yeezy 500 Sneakers Good For Running?
Originally named the Desert Rat Yeezy 500s, these sneakers have a multi-layer upper with a combination of suede, mesh and also leather. This style of Yeezy comes with round shoelaces and also a Adiprene midsole. The sneaker itself was inspired by the KB8 when Kobe was with Adidas in the early 2000s. 
So, we have a mixed answer to the question: are Yeezy 500s good for running?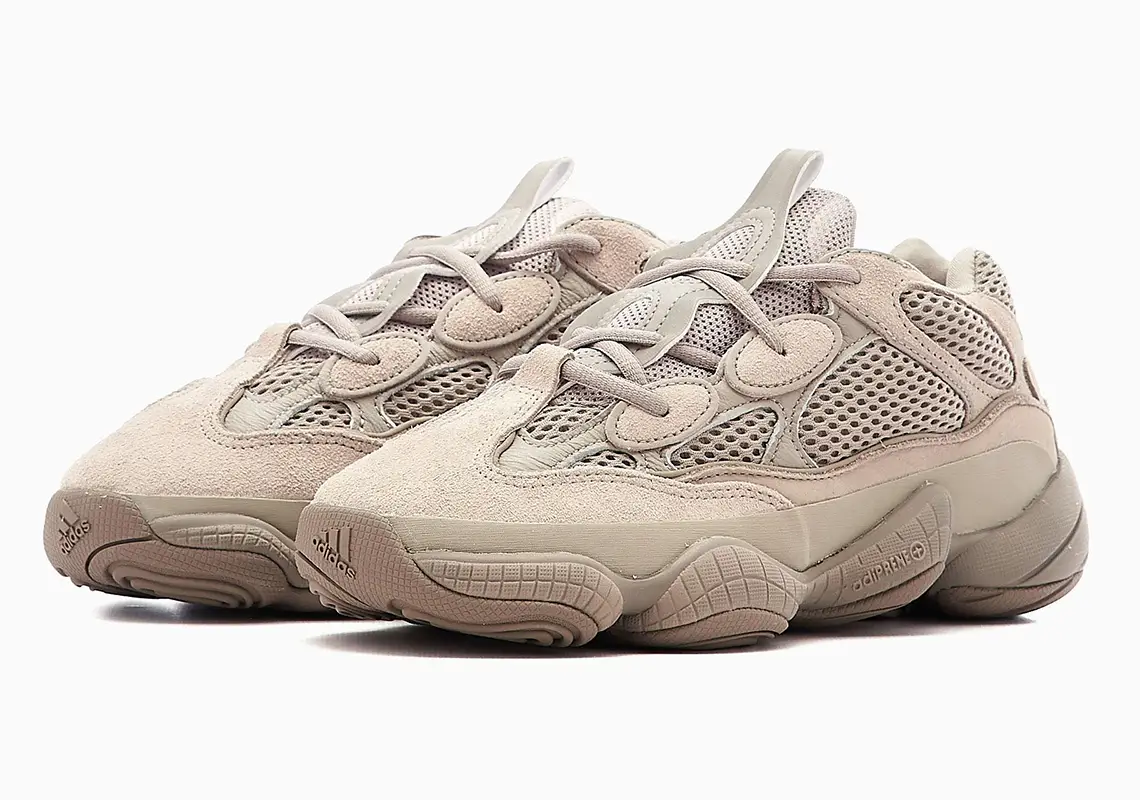 Here's the thing, you will find that you are able to run in the Yeezy 500s for particularly short distances – however you can't really do much more than this. If you are looking for sneakers to use in 'serious running' situations and this is a rigid part of your daily routine – then these might not be the perfect running sneakers for you.
If we're being really technical, you will find that the Yeezy 500s are not running shoes – they are in fact a basketball sneaker. This might conflict with your general perception of the functions of a basketball sneaker. After all, when you play basketball you have to run.
The reason as to why this sneaker is not ideal for running is because there is a pretty big difference between basketball shoes and also running shoes. Additionally, you will find that basketball sneakers are usually a lot bulkier and a lot bigger than standard sneakers. It is true that basketball sneakers are mainly used for jumping up and down.
However, basketball shoes are not all that flexible, and when it comes to thinking about purchasing running shoes you will be wanting a shoe which is a lot smaller and a lot more malleable than the average basketball sneaker.
Are The Yeezy 700 Sneakers Good For Running?
Now, let's move on to the Yeezy 700s. These sneakers also come with a multi-layer upper that has a combination of suede, mesh and also leather. This sneaker has a thick boost midsole. However, you will be pleased to know that Yeezy 700s can actually be used for running. Who knew?!
That's right, the 'dad sneaker' has a midsole which is designed for ultimate stability and comfort.
Naturally, these are two things which every runner will want in their running shoe. It is important to note that the upper portion of the Yeezy 700 is pretty flexible, and this will allow air to travel inside the sneaker as well as giving your feet some breathability.
You will find that these sneakers give you maximum support which makes them great for running, although we would not recommend using these sneakers for long distance running. These Yeezys would be best suited to a 5k run, no more than this really.
Are The Yeezy 350 V2 Sneakers Good For Running?
So, moving onto the deceptive Yeezy 350 v2 sneaker… this answer is a bit of a yeah and nope kinda vibe. This is because the 350 is made with the Primeknit upper, which means that it has one big stitching which goes from the toe box all the way up to the very top of the tongue.
The Yeezy 350 v2 sneakers also come with the boost midsole. 
On the one hand we would say that you would be able to run in the Yeezy 350 v2 for more casual running. These sneakers would work if you are a neutral runner, so if you are someone who only needs minimal support around the arch and also the heel area. 
However, the Yeezy 350 v2 sneakers would not be our 'go-to' running sneakers if you are planning on dedicating these to being your running sneakers. We can safely say that these are not sneakers that you are going to want to use for running because of the material.
Put simply, these sneakers will tear pretty easily. These sneakers are not thick enough to be able to give you comfort when you are running, be it a shorter or longer distance. 
Sure, the midsole does have foam on the inside but this does not mean that the sneaker is strong enough to be able to cope with elongated periods of running.
Here's the thing, even though the upper part of the sneaker is especially flexible and even though it has a lot of breathability – the sneaker will not be strong enough to give the heel or the ankle the support that you will require for running. 
The bottom line is that if you are someone who takes running especially seriously and if you are one of life's regular runners then you really need to invest in sneakers that are specifically for running. Yeezys might not fit this bill quite right.   
In Conclusion
Overall, we know that there are a whole lot of sneakers on the market – and it can be really difficult to work out which sneakers are the best for you. If you are looking for some cool new running sneakers, then Yeezys might not be the right choice for you.
We say this because for the price point of these sneakers – you are not going to want to use these for running. Or, if you are in the market to invest that kind of money into running sneakers – you will actually want to buy sneakers that are designed for running.
When it comes to looking for the perfect running sneaker – you need to take a lot of elements into consideration.
You need to think about the support that the sneaker will provide your foot and also your ankle for the impact of running. You also need to consider how cushioned the sneaker is along with how they will help to enhance your performance.
You need to really do your research when you are considering purchasing running shoes – you will want to be as informed as you possibly can be when you are about to make this big investment purchase. And, we are sad to say that Yeezys might not be the right fit for running.