'Nordic' translates literally as 'Northern' and refers to a group of regions in the North of Europe including Denmark, Finland, Norway, Sweden and Iceland amongst others. These Norse men and women are joined by traditions and cultural ties that go back centuries, and are generally perceived by the rest of the world to be a bold and brave people.
They are internationally recognised for their imposing physiques, hearty beers, and political passivity. Their fairy tales are both gruesome and beautiful in equal measure and their home decor solutions are cosy yet uncluttered. In truth, Nordic people are admired all around the world, so what is it that joins the folk of Northern Europe together so closely when they are geographically scattered and linguistically diverse? One thing… Socks!
Seriously, these guys have the best socks on the planet, and my goodness they need them. Freezing cold climates have besieged the Nordic lands since the beginning of time, and inhospitable weather conditions have posed obstacles to these folks' creative and industrial endeavours relentlessly.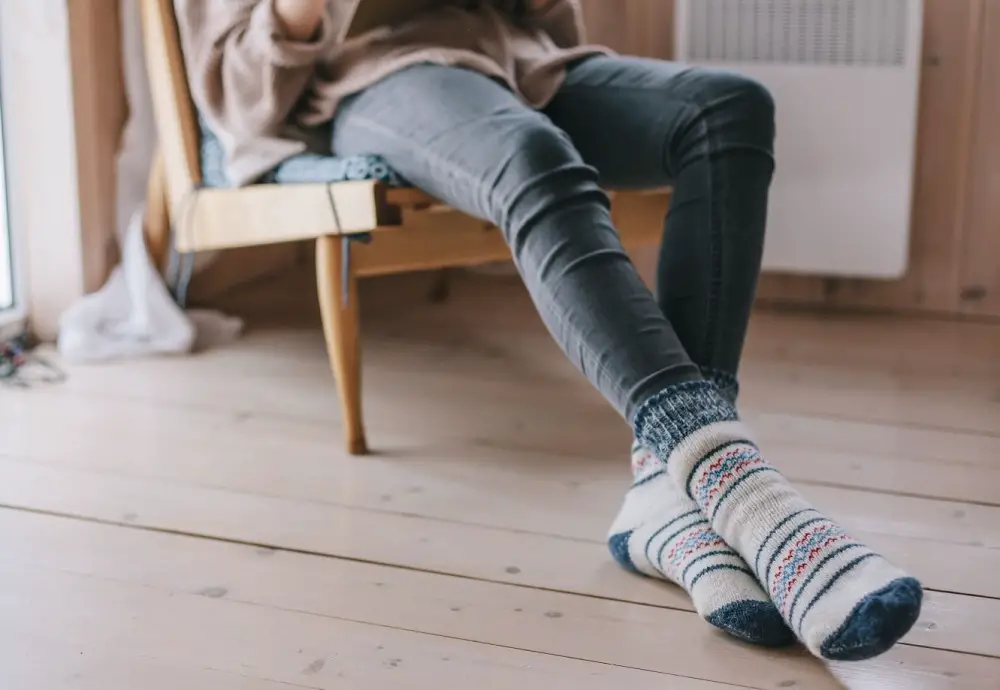 Yet, ice cold lakes, snow peaked mountains and crashing seas did not stop the Vikings, and today Nordic folks are just as unstoppable (in a less axe wielding way). So if you want to get yourself some of that Nordic resilience, read on to find out all about Nordic Socks and why you should buy a pair today!
The Company
Nordic Socks has a catchy company motto: 'There is no such thing as bad weather, just bad clothing'. This pretty much sums up their ethos, they are witty and creative and very, very knowledgeable about socks.
Their aim is to produce beautiful and eye-catching socks that do not compromise on quality. They are based in Europe and ship all over the world in order to bring a bit of Scandinavian style to those who will most appreciate it.
The Product Range
Nordic Socks offer a great range of designs, particularly for a small company. They separate their socks into three key categories: Classic Collection, Mountain Collection, and Novelties.
These collections are fairly self explanatory and there are 6 different style options in both the Classic and Mountain collections, whilst the Novelty collection is intended to release themed designs in line with holidays and other one-off celebrations.
Depending on what it is that you are looking for, you can select a collection that is appropriate and be sure to find a top quality pair of socks that suits your size and taste.
The Classic Collection
Overview
The Classic Collection is designed for everyday wear, around the house, at the office and going about your daily routine. They are a winter sock, made with warmth and comfort in mind, however they can be worn all year round if desired. These are the company's most popular socks and are a favourite with millennials and baby boomers alike.
They are sold in batches of 5 pairs, with each classic sock sporting a different variation of a cohesive pattern and color scheme. The price-point is mid-range and is great value considering the versatility and quality of these socks.
Quality Material
The Nordic socks in the Classic Collection are made from a combination of wool, acrylic, polyester and elastane. The wool gives these socks plenty of softness and insulation, great for keeping cold toes toasty in the winter months, and for wearing when snuggled up on the sofa with a cup of tea.
The acrylic and polyester elements add a practical element to these everyday socks, making them easily washable without all the complicated care considerations of pure wool products. The elastane makes these socks stretchy and foot hugging, even after lots of wear.
Yes, there is something romantic about buying pure wool products, but the balance of materials that make up these socks ensures they are soft and snuggly whilst also being low maintenance and durable.
The Classic Collection of Nordic Socks are divided into 6 different designs, titled Espen, Ragnar, Tore, Arne, Bergen, and Magnus. The Nordic names will give you an indication of the kind of earthy tones and traditional patterns that these socks boast. Checks, stripes, crosses, chevrons and diamonds adorn the length of the socks, whilst the toe, heel and ankle bands are woven in solid block colors for a clean finish.
The Scandinavian aesthetic is all about clean lines and natural tones, and these socks deliver on both. If you prefer an intricate design then Arne are delightfully detailed and will really finish off any everyday outfit. If you are looking for a more minimalist sock, Magnus has a limited color pallet for a fuss-free finish. And if you are looking for that festive feel then Bergen has a beautiful snowflake design that will really turn heads.
Fit and Feel
The Classic Collection is available in medium and large sizes for men and women. The sizings are pretty regular and the feel is incredibly comfortable. The weave is warm but not too thick, so they fit comfortably inside trainers, office shoes and boots without making your feet sweaty and clammy. The unisex nature of the designs makes these socks great gifts for all the family. They wear well, wash well and look stunning. 
The Mountain Collection
Overview
Nordic Socks Mountain Collection is the real star of the show. This is where the company produces the kind of hearty, woollen footwear that you would traditionally associate with Scandinavia and the North.
The socks are thicker and warmer than the Classic Collection with a design that will keep feet warm when out on hikes and mountain trails. These are an outdoor sock, but that doesn't mean that they don't double as a delightful bed sock and that you won't find yourself shuffling around the house in them on winter weekends.
Quality Material
The Mountain Collection socks are made with a higher wool content than the Classic Collection, which obviously increases their price point, but they are worth every dime. The quality wool is soft to touch, stretchy, durable and incredibly insulating.
These socks also contain 25% more material than their slimmer cousins and will therefore keep your feet warm in snow and wet weather conditions. However, the thickness is not so imposing as to feel bulky and restrict your movements inside hiking boots and snow boots. 
The designs in the Mountain Collection are more zany and colorful than those in the Classic Collection. These socks are divided into Svew, Ida, Arvid, Bjorn, Sofia and Kjell designs, and each contains 5 pairs of socks sporting 5 different but related patterns. Many people associate outdoor clothing with neutral tones, mountain greys and stoney blues, but Nordic Socks will add an accent of vibrant color to any outdoor outfit.
Svea has the checks and stripes of a traditional Scandinavian sweater, running in earthy tones that have plenty of warmth. Sophia introduces some really punchy candy blues and pinks, balanced out by chocolate orange and pumpkin spice browns which compliment each other wonderfully. And Ida are a favourite with customers, due to their wide range of yellow, purple, red and blue threads intertwined and criss-crossed for a truly eye-catching look.
The Mountain Collection displays a wider variety of patterns than the Classic Collection, with polka dots and stars jazzing up the traditional stripes and checks. These Nordic socks are definitely designed to energise and outfit whilst still supplying all the practical warmth and comfort necessary for a mountain sock.
Fit and Feel
The Mountain Collection comes in both medium and large sizes for men and women. The large socks will suit a men's US size 9-12 and a women's US size 10-13, whilst the medium socks are suitable for a men's US size 5-8 and a women's US size 4-9, and all the sizings are true to fit due to the wonderful elasticity of the fabric.
The 25% extra material involved in these socks makes them super toasty, but really doesn't make them bulky and cumbersome like some mountain socks can be. These socks are in fact lightweight enough to double as an everyday sock in the winter months, and they are certainly stylish enough as to make you want to wear them out and about.
All the designs are unisex, and it is great that these unisex designs don't shy away from bright pinks and yellows but make color and beauty available for all!
Summary
There is a growing demand for Nordic socks from customers all around the world. And it is no surprise, considering how classy norse patterns are, how playful norse color schemes are, and how warm norse fabrics are.
As sock companies go, Nordic Socks offer a great range of designs and color combinations that means there is something for everyone, and the quality of their products is brilliant too.
The Mountain Collection is energetic and eye-catching whilst the Classic Collection is classy and cosy. These socks are great value, especially as they come in batches of 5 pairs, and will be a great addition to any winter wardrobe.