Big News! Brooks have developed the 13th iteration of their incredibly popular Ghost trainer series for all you exercise enthusiasts and active-wear addicts. Softer and more flexible than the previous Ghost models, the Ghost 13 is expertly designed for daily use and road running.
But how does it compare to other similar trainers, and will it suit your sporting needs? Read on for an in depth review of all you should know about the Brooks Ghost 13 trainer.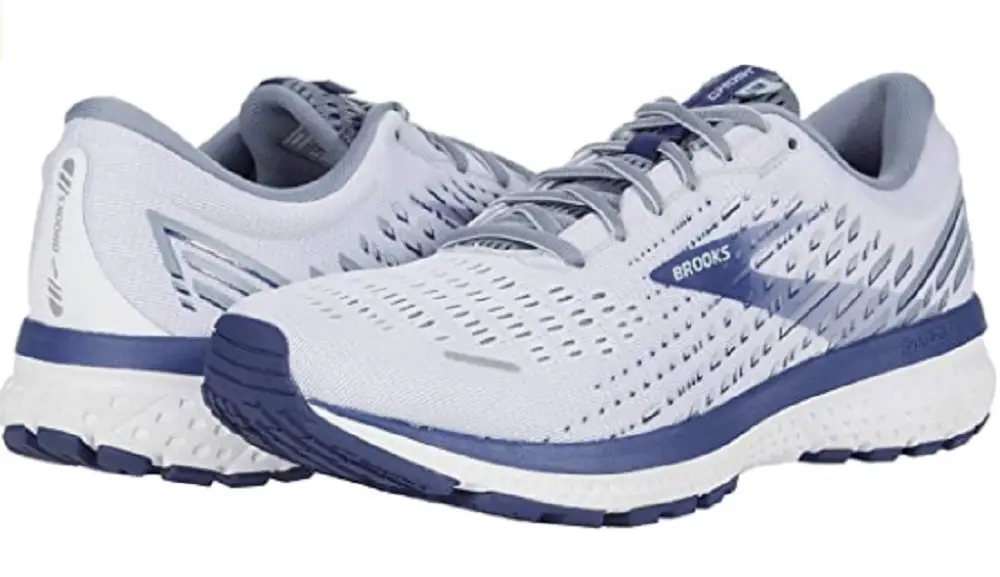 Who is the Brooks Ghost 13 For?
This trainer is absolutely perfect for people who like to run on the daily, and prefer a maximalist shoe with tons of support and stability. Due to it's sturdy design and ultra padded fit, the Ghost 13 provides plenty of cushioning for road runners who like to pound the pavements on a regular basis.
The pillowy feel also supplies lots of impact absorption and comfort for recovery runs after events and serious training sessions, and is great for slow-paced long distance running too.
Who is the Brooks Ghost 13 Not For?
If you are someone who wants a fast and very lightweight training shoe then the Brooks Ghost 13 probably isn't the best fit for you. Speedrunners and sprinters will find this shoe too heavy for their purposes, and should look to buy something like the Nike Zoom Fly 3 instead. The New Balance Fresh Foam 1080 v10 is also a great choice for speed and agility. 
For anyone with overpronation (or flat feet) the Ghost 13 won't necessarily provide the specific type of support that you're after. You should therefore check out the Brooks Adrenaline GTS 21 for a very stable road running alternative.
The Comfort Factor
Above all else, the Brooks Ghost 13 is an unbelievably comfortable shoe and the designers have added loads of features to maximise this feature. Most notably, the midsole and upper of the Ghost 13 are both highly cushioned for lots of luxurious padding around the foot.
The upper is lovely and stretchy and incredibly soft so that the shoe has a super easy step-in functionality. This means no twiddling with laces unnecessarily and loads of softness on the top of the foot with every stride.
Whether you are running for a long distance or your feet are sore after a heavy training session, the comfort of the Ghost 13 will provide relief and ease.
Bags of Room
Another design innovation of the Ghost 13 is the amount of room inside the footwell and the toe box in particular. There is ample room for a natural toe splay in the newly widened toe box, which is great for runners with wide feet or anyone who suffers with bunions.
The generous design really accommodates tired feet as they swell during and after long runs, but is elastic enough to stay snug as well. 
Those with narrow feet should avoid the Ghost 13 for this very reason as some runners have reported that their toes slide around inside the shoe and others have experienced a small amount of lateral slippage during runs. If you are narrow-footed you should give the Brooks Levitate 4 a try for a slim-fit alternative.
Brilliant Breathability 
The elasticated, mesh-like fabric of the Ghost 13 trainer is light and thin for unbelievable breathability. So effective is the ventilation in these shoes, some runners have reported being able to feel the ice cold air rushing through them on wintery runs.
Of course, this is great news for summer runners and those who get particularly sweaty feet. The breathability of the Brooks Ghost 13 means that there is minimum clamminess and maximum comfort no matter how hot the weather may get or how long you run in them for.
Breathability is not only important for comfort, but also for foot health and hygiene as the toes and sole of the foot benefit from good aeration whilst running, so there are multiple benefits to this one innovative design feature.
Fantastic Flexibility
The Brooks Ghost 13 has uniquely positioned flex grooves all along the sole of the shoe in order to provide boundless flexibility in all the right areas. The positioning of these grooves has been expertly considered, so that the bend and flex of the foot's natural motion are optimized for a springier gait.
The result is that the Ghost 13 promotes a much smoother foot movement than many of the similar trainers available on the market. Some runners do not care for such flexibility as they prefer the snappier toe-off provided by stiffer shoes, however if you like comfort and suppleness then the Ghost 13 is an ideal trainer for you.
Great Grip
The deep trenches and grooves carved into the sole of the Brooks Ghost 13 make it a trainer with excellent grip, so you don't need to worry about slipping and sliding.
Runners have reported that the Ghost 13 manages to hold traction on both wet and dry surfaces, which is great news for those of you situated in rainy climates, although it does mean there is no excuse for you to get out of your early morning run anymore! Whatever the season, whatever the terrain, the Brooks Ghost 13 will keep you firmly on track.
Sensational Stability
One of the ways that the Ghost 13 has improved on the Ghost 12 design is in its general stability and smoothness. The trainer has a firmer heel than its predecessor, which gives better shock protection and therefore makes for a smoother ride with greater consistency of motion. The Ghost 13 has a drop of 12mm, which helps to encourage the body weight nicely forward and suits runners who have a traditional heel-toe foot strike.
The 12mm drop is great for protecting your achilles tendon and calf muscles in particular, so if you suffer with injuries in those areas then these trainers are a great protective choice. The Brooks Ghost 13 also has a full-contact outsole, meaning every part of the bottom of the shoe touches the ground with each stride.
This is excellent for promoting balance in your stride and encouraging a comfortable foot position. The full-contact outsole also helps you to achieve smooth and effortless transitions of weight and direction.
Heavyweight Champion
Although the Brooks Ghost 13 is lighter than its predecessor, the Ghost 12, this trainer is still on the heavy side. The Ghost 12 was a mighty 10.4 oz, whereas the Ghost 13 is 10.01 oz, however the 13 is considerably heavier than rival road running trainers like the Nike Epic React Flyknit 2, which is only 8.7 oz.
This heavy feel can put some runners off, and if you prefer a lighter, faster shoe then something like the Saucony Ride 13 might be more up your street. However, the hefty feel of the Ghost 13 adds to its stability and sturdiness, and means that this trainer is very comfortable and protective.
Aesthetic Appeal
The Brooks Ghost 13 is a very good looking sports shoe, and the best part is that it comes in a really wide range of colors and combinations. This trainer comes in both Men's and Women's designs, and in a wide range of sizings too.
For men there are 15 different color choices, ranging from deep cobalt and white to samba red and black. And for women these trainers come in some incredibly lovely colors such as coral, ice flow and pink, so there really is something for everyone design wise. 
What are the Downsides to the Brooks Ghost 13?
With all these amazing features you might be thinking that the Ghost 13 is too good to be true, yet, like all things in life it has areas that are less impressive too. One such area is the shoe's durability, which has been described by some reviewers as being 'as bad as it gets'. The main reason for these negative reports is that the outsole is said to wear down very fast – something that is not ideal for a long distance shoe.
Runners have described the outsole as having worn down to just half its original thickness after 100km, and others have noticed that the midsole becomes worn and exposed after 200km. This greatly impacts the longevity that you can expect to get out of these trainers, especially if you are running in them every day.
The other area for improvement in the Brooks Ghost 13 is the trainer's responsiveness, which critics agree is below par. Rather than making you feel like it is responding to the ground beneath your feet and powering your stride with buckets of energy, the Ghost 13 is said to have a more deadened feel due to its heavy weight and thick sole.
Of course, this is more important to sprint runners than your average jogger and there are plenty of other great footwear options for those of you looking to work on speed rather than distance.
Summary
Overall, the Brooks Ghost 13 trainer is a plush and incredibly comfortable sports shoe, ideal for long distance and road running.