If you need to give your running wardrobe a stylish overhaul, you've probably considered the Nike Vapormax. These iconic shoes were one of the most anticipated releases of 2017, and since they first appeared, they've become one of the most popular Nike models in the world. 
With their lightweight, fly knit technology and compressed air bubble cushioning, it's no surprise that so many runners consider making the Vapormax a new addition to their collection. 
Here's the burning question, though: can you actually run in a pair of Nike Vapormax? Can they walk the walk AND talk the talk, or are they just another misleading trainer that does nothing to support your feet when you're out on the track?
Well, if you want to know more about Vapormax, you've come to the right place. Let's find out if the Vapormax lives up to expectations and if these marvels of engineering are worth a spot in your trainer collection.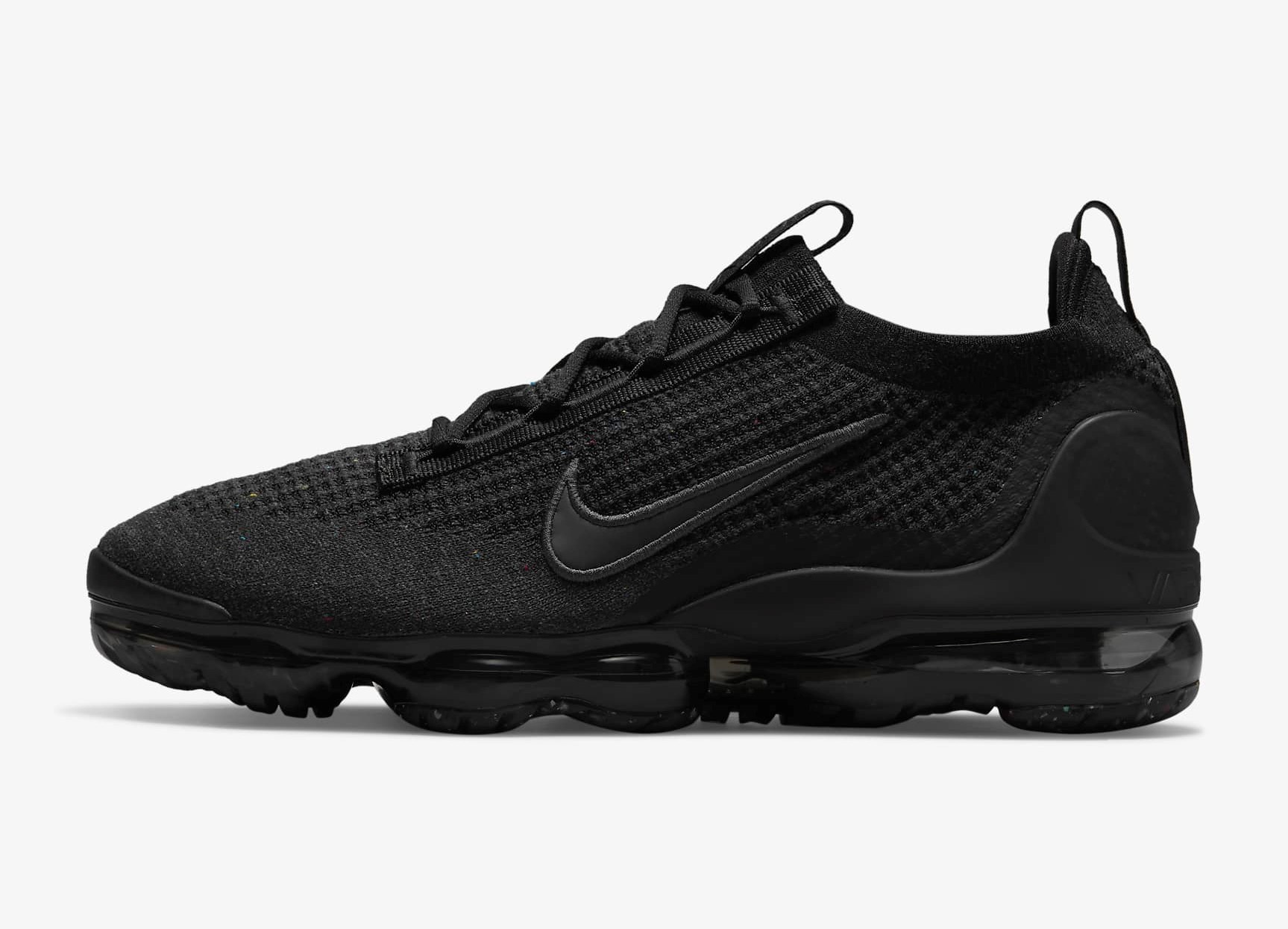 What is Nike Vapormax? 
Vapormax are lightweight and flexible shoes by Nike, designed with style and comfort in mind. The shoes were first released in 2017 on May 26th, otherwise known as Air Max Day. The shoes were branded the "pinnacle of Nike Air," and since their debut, they've become one of the most sought-after shoes by Nike. 
Despite being a relatively new addition to the Nike family, the Vapormax is available in various colorways. They may not be up there with Nike's most popular shoes of all time, but they're still a popular choice for sports fanatics and casual wearers alike. 
Nike Vapormax: Key Features 
Wondering what makes the Nike Vapormax so popular? Let's take a look at its key features.
Note: there are several models of Vapormax, so we'll be discussing some of the most notable, shared features. 
Sustainable Materials
Many Nike Vapormax models are made with at least 40% recycled materials, giving them their iconic stretchy, breathable fabric. 
Durable Soles
Many models boast a 'bubble on' bottom sole, which is impressive from a visual and practical standpoint. Their pods and lugs on the outsole deliver traction and provide enhanced durability. 
Nike Flywire
Flywire is a precision-engineered material that's been specifically designed to target areas of the foot that require more stretch and support to enhance performance. 
Vapormax Air Pockets 
Like other Nike shoes, the Vapormax features air pockets that use pressurized air inside a flexible membrane. These have been designed to provide more support and cushioning. These air bubbles will compress on impact and immediately return to their normal shape and volume after impact. 
Are Vapormax Good for Running? 
We've now taken a look at the key features of the Vapormax, and what makes them such a distinctive addition to the Nike family. Now, let's see if Vapormax can handle the stress of running. 
Running: What You Need From Your Running Shoes
Before we get started, though, do you know what you need from your running shoes? 
Running is an incredible sport that burns more calories than other mainstream exercises, and it can even reduce your risk of developing illnesses like heart disease, diabetes, and strokes. However, running can also put stress on your body and make you more susceptible to stress-related injuries. This is why wearing the right footwear is so important. 
Let's explore some of the most important features you should be looking for in your next pair of running shoes. 
Lightweight or Trail Run?
Lightweight and trail run shoes are two of the most popular running shoe designs on the market. Unfortunately, lightweight running shoes are less durable and cushioned than your everyday shoes, but they're often best for faster races and workouts. 
Trail running shoes feature logs on the soles to provide better grip, and their upper tends to be more durable than other models. These shoes are best for running on rugged terrains, like dirt and rocky trails. 
The Right Fit 
Whatever your taste in shoes, you'll need to pick the right fit. Here are some of the things you should be looking out for: 
No Sliding or Pinching: Your shoes should contour to the shape of your foot and leave no room for sliding and no pinching at the front of your feet. 
The Right Width: Whether you have narrow or wide feet, you'll need to pick shoes designed to accommodate your natural width.
Thumbs Width In Front of Toes: Ideally, you should leave a thumbs width of space between the end of your toe and the end of your shoe. This will accommodate foot spread and prevent swelling in your feet. 
Now, let's see if the Vapormax fits the bill for a sturdy and supportive running shoe. 
The Nike Vapormax (2017)
We'll be taking a look at the 2017 release model of the Nike Vapormax. These Vapormax shoes are still popular with thousands of runners and style fanatics. 
Unlike other running shoes, Vapormax has no foam. None whatsoever. This is somewhat different from competitors in the running industry. So you'll see those distinctive air pods taking pride of place in the midsole, instead. 
These pods are just visually distinctive, but it's instantly apparent that they offer some serious grip. They feel sticky when you're running on the pavement, but you can expect less traction when you're running on looser surfaces like gravel. 
Because these air pockets are placed strategically at pressure points, you can expect to feel a very literal 'spring' in your step, especially when you first set off for your run. 
These shoes are also pretty lightweight. The men's model (size 8) weighs 255g, and the women's model (size 5.5) weighs just 207g. No runner wants to feel weighed down when hitting the trails, and you certainly won't have to worry about that with the Vapormax. 
Can You Really Run In The Vapormax?
Yes, it's entirely possible to run comfortably in the Vapormax. However, not all runners may find them comfortable, and here's why. 
Because there's no foam on the midsole, you can expect to feel something unique compared to other running shoes. The fly knit material, although incredibly breathable, can feel less supportive on the heel. If you want to feel more heel support on your run, you might not get on with the Vapormax. 
The Vapormax also offers no pronation control. This simply means that the shoe lacks arch support and other forms of support that prevent your feet from rolling too far out or in.
The Vapormax, like other Nike shoes, is all well known for running small. If you have narrow feet, you may struggle to fit these comfortably, or get that desired thumb-width of space between the tip of your toe and the inside of your shoe. 
The Vapormax would be ideal for runners who enjoy running on challenging terrain and don't mind the feel of less heel support and a bouncy midsole.
Plus, if you want to look stylish when you hit the track, the Vapormax won't let you down here. We think they'd look great with some Jaybird Tarah Headphones in your ears and some matching Nike running gear thrown in for good measure! Read our Jaybird Tarah review to find out more.